FRANCE
(director/writer: Bruno Dumont; cinematographer: David Chambille; editor: Nicolas Bier; music:Christophe; cast: Blanche Gardin (Lou), Benjamin Biolay (Fred de Meurs), Léa Seydoux (France de Meurs), (LJuliane  Köhler (Mme Arpel), Gaëtan Amiel (Joseph de Meurs), Marc Bettinelli  (Lolo). Jawad Zemmar (Baptiste), Emanuele Arioli (Charles Castro); Runtime: 133; MPAA Rating: NR; producers; Rachid Bouchareb, Jean Bréhat, Muriel Merlin, Dorothe Beinemeier: Kino Lorber; 2021)-France-in French with English subtitles)
"A dark comedy about a famous woman trapped in an idealistic crisis because of her fame."
Reviewed by Dennis Schwartz

A dark comedy about a famous woman trapped in an idealistic crisis because of her fame. It's summarily written and directed by the renown arty indie French filmmaker Bruno Dumont ("Slack Bay"/"Flanders"), who keeps it bleak but exciting as he rips into the shoddy reporting of the news on the Internet..

The title is chosen because it's the first name of the well-photographed lead character, the former sexy Bond girl, Léa Seydoux. She plays France de Meurs, a glib and unflappable superstar evening TV journalist whose career, home life, and psychological stability become in a turmoil after she recklessly drives into a young delivery man (Jawad Zemmar) on a busy French street in a freak accident. The title is also chosen because the film is set in France.

After the accident, France attends a charity event and gets a chance there to praise to the skies her belief in capitalism's credo of a trickle-down economic policy for government.

As a newscaster, with her loyal assistant Lou (Blanche Gardin), she believes TV news is not to be taken seriously but viewed as a visual spectacle.

The director runs with his belief that the well-off France adopt this uncharitable outlook for how to run a government and paints France as a dark country favoring the well-off over the marginalized citizens. He finds the ordinary people are more obsessed with celebrity than their own lives, and are so unaware of what's going on in the world that they often can't see the obvious and how to behave politically to get from their government all the help they need.

In a scene from a news story at a conflict zone in the Sahel, France tells ISIS fighters to look more fierce for the cameras to impress her viewers. And influences other shots, which also shows how the news is influenced by the media and doesn't allow it to go on the air or written if unfiltered.

By viewing her home life, we see how France lives in an artificial world of her own making. In other words, she's a phony like her smart-assed cronies, and these are the folks the French people rely on to get the news.

When the newscaster tries to make a connection with regular folks, it seems contrived, as if she does it only because it will benefit her some way in the end.

A good nuanced performance by Léa Seydoux doesn't make her unbearable character sympathetic, as much as it makes us aware of how cold a place the world can be if people are selfish and only act in their own interest.

I think Dumont succeeds in getting his message across, and how much you enjoy the film depends on how much you buy into his message.

It's a Brechtian film,  one that's cynical even as it wishes we can resolve are conundrums in life in a real way.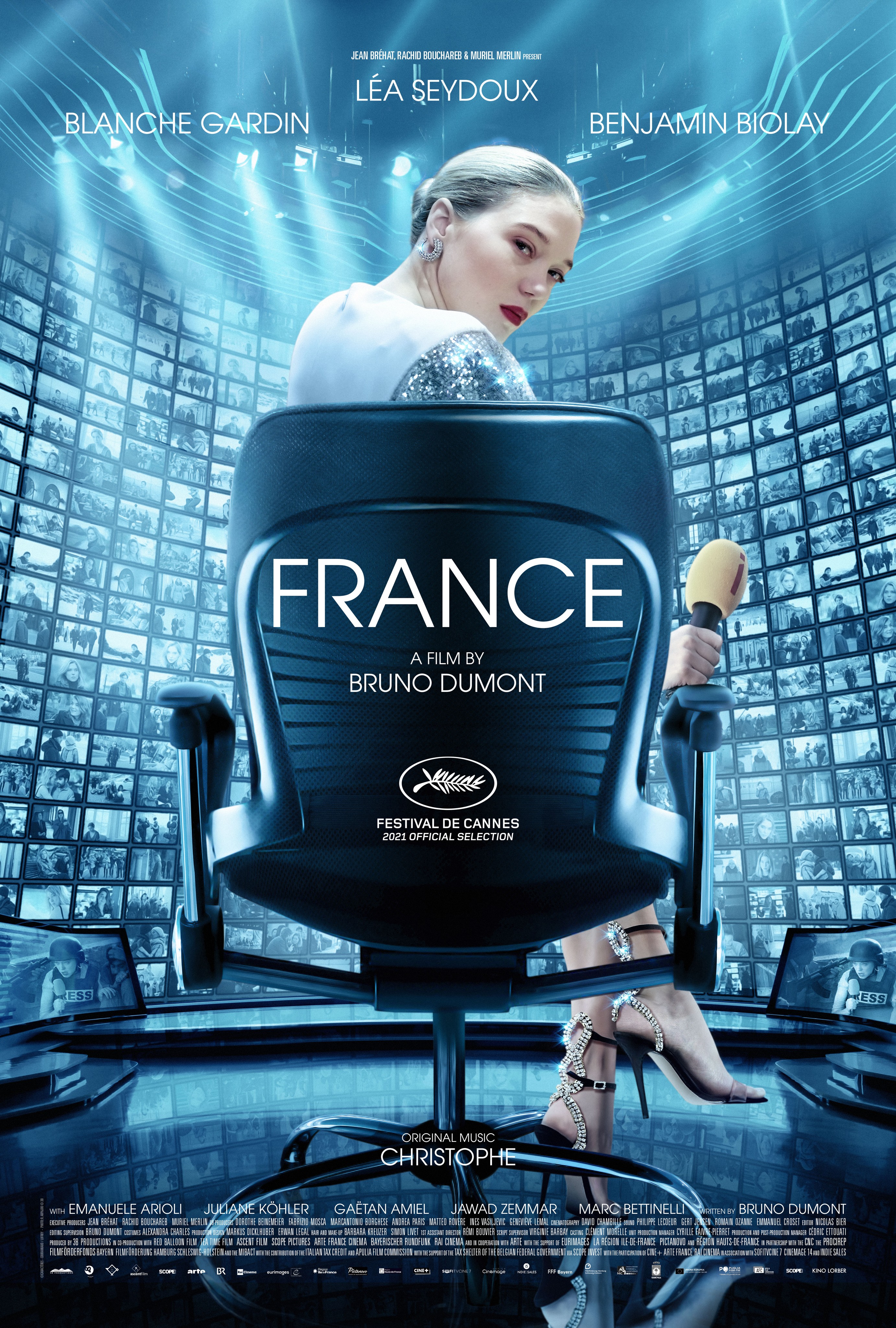 REVIEWED ON 12/14/2021  GRADE: B-