BANK OF DAVE
(director: Chris Foggin; screenwriter: Piers Ashworth; cinematographer: Miles Stern Sterzynski; editor: Martina Zamolo; music: Christian Henson; cast: Joel Fry (Hugh), Phoebe Dynevor (Alexandra), Rory Kinnear (Dave Fishwick), Jo Hartley (Nicola Fishwick), Cathy Tyson (Maureen), Paul Kaye (Rick Purdey), Angus Wright (law firm boss), Naomi Battrick (Henrietta), Hugh Bonneville (Sir Charles), Def Leppard; Runtime: 107; MPAA Rating: NR; producers: Karl Hall, Ridoyanul Hoq, Piers Tempest, Matt Williams; Netflix/Samuel Goldwyn Films; 2023-UK)
"Based on the real-life story of Dave Fishwick."
Reviewed by Dennis Schwartz

A low-budget feelgood mainstream biopic that's based on the real-life story of Dave Fishwick (Rory Kinnear). Dave's a working- class Burnley man who became a self-made millionaire and then struggled to set up a community bank against the wishes of the establishment bankers.

It's directed by Brit filmmaker Chris Foggin ("This is Christmas"/"Kids in Love") and written by Piers Ashworth, who have the big banks targeted as the evil empire.

The minibus salesman Dave is at the local pub singing karaoke. The principled good guy is determined to open a bank in the community of Burnley, Lancashire, that actually cares about its customers. But he learns Britain's Financial Regulations Board hasn't allowed a new bank in 150 years and will not be willing to okay a proposal from him.

So Dave hires a sharp London lawyer Hugh Stockwell (Joel Fry) to do his bidding.

In his fight to own a bank, he's willing to point out how greedy the banks are and how his bank would be a boon for the ordinary guy.

The established banks fight back. But in 2011 Dave opened the Burley Savings and Loan Bank and it became a success story.

Dave also has a romance with the local doctor (Phoebe Dynevor).

It's a conventional crowd-pleaser that has good performances and should delight many viewers, as it might be a little cheesy but it shows the underdog good guys beating the bad guy corporate bankers at their game.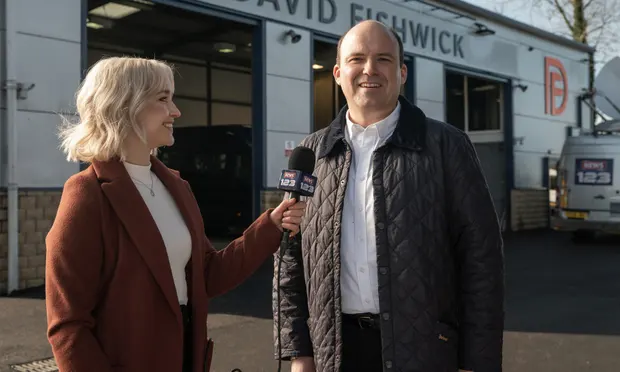 REVIEWED ON 8/16/2023  GRADE: B-