BALLAD OF BUSTER SCRUGGS, THE
(directors/writers: Joel Coen, Ethan Coen; cinematographer: Bruno Delbonnel; editor: Joel Coen; music: Carter Burwell;  Runtime: 133; MPAA Rating: R; producers: Joel Coen, Ethan Coen, Megan Ellison, Sue Naegle; Netflix; 2018)

cast:

Segment of Buster Scruggs: Tim Blake Nelson (Buster Scruggs), Willie Watson (The Kid), Clancy Brown (Curly Joe), Danny McCarthy (Curly Joe's Brother), (David Krumholtz (Frenchman), Thomas Wingate (Gun Check Man), Tim DeZam (Mean-eyed Card Player), E,E, Bell (Piano Player), Alejandro Patino (Cantina bartender), Tom Proctor (Cantina Bad Man), Clinton Robert (Cantina scum), Matthew Willig (Cantina Scum), Jesse Youngblood (Cantina Scum), JJ Dashnaw (Cantina Scum).

Segment of Near Algodones: James Franco (Cowboy), Stephen Root (Teller), Ralph Ineson (Posse Leader), Mike Watson (Posse#1), Brian Brown (Posse #2), Ryan Brown (Posse #3), Richard Bucher (Posse #4), Jesse Luken (Drover), Michael Cullen (Judge), Austin Rising (Bailiff), James Scotty Augare (Comanche Chief).

Segment of Meal Ticket: Liam Neeson (Impresario), Harry Melling (Artist), Jiji Hise (Bawd), Pul Rae (Chicken impresario).

Segment of All Gold Canyon: Tom Waits (Prospector), Sam Dillon (Young Man).

Segment of The Gal Who Got Rattled: Zoe Kazan (Alice Longabaugh), Bill Heck (Billy Knapp), Grainger Hines (Mr. Arthur), Jefferson Mays (Gilbert Longabaugh), Prudence Wright Holmes (Landlady), Eric Petersen (Boarder), Doris Hargrave (Boarder), Jackamoe Buzzell (Boarder), Ethan Dubin (Matt), Jordy Laucomer (Whipped Boy), Thea Lux (Mother), Bret Hughson (Father), Rod Rondeaux (Sioux Chief), Raymond Kurchals (Puppet Dancer).

Segment of Mortal Remains: Brendan Gleeson (Irishman), Jonjo O'Neill (Englishman), Tyne Daly (Lady), Saul Rubinek (Frenchman), Chelcie Ross (Trapper).
"It might be too bizarre a film for all tastes, nevertheless it's a brilliantly endearing, funny and haunting one."
Reviewed by Dennis Schwartz

The amazing film is a six-part Western anthology. It stylishly offers diverse tales in non-connecting parts about the American frontier told by the uniquely brilliant filmmakers Joel and Ethan Coen ("True Grit"/"A Serious Man"). The brothers, at the top of their game, are willing and able to take risks to go down new paths as they do here. The brothers begin each chapter by turning the pages of an illustrated book.

The first segment of Buster Scruggs, the most comical one in the film, has Tim Blake Nelson playing Buster, a pristine white suited, guitar-strumming, singing cowboy, who is always grinning and looking for action. He's also a gambler and a risk-taking gun fighter with a big rep, who goes into an outlaw bar and takes care of business when pushed into a gun duel.

The second segment of Near Algodones, with the tightest execution of all the segments, has James Franco as a bank robber foiled by an ornery bank teller (Stephen Root) and about to hang but for some startling circumstances his fate is changed for awhile.

The third segment of Meal Ticket, the strangest and most melancholy vignette, has Liam Neeson touring the frontier as a brooding, exploitative,  impresario running a freak show hustle of an armless and legless unfortunate, billed as The Artist (Harry Melling), telling stories while Liam passes the hat around the sympathetic but small crowds. The isolation of the frontier will play a heavy toll on their relationship.
The fourth segment of All Gold Canyon, seemingly from a Jack London tale, has Tom Waits as the always hopeful but broke elderly prospector working hard in solitude to find gold in the remote mountains while trying to prevail by his wiliness no matter the hardships faced.

The fifth segment of The Gal Who Got Rattled, my favorite, has an endearingly timid Zoe Kazan going to Oregon in a wagon train with her failed businessman brother (Jefferson Mays) to possibly be married to a stranger her brother has briefly met, when she must go it alone when her brother suddenly dies on the journey. How she is then tenderly protected by the wagonmaster (Bill Heck) is very moving.

The sixth segment of Mortal Remains, a fatalistic one and the most vexing, has the great Brendan Gleeson as a singing bounty hunter on a crowded frontier stage with his partner (Jonjo O'Neill) and three other diverse types heading for an eerie hotel, where they have a lengthy conversation with entirely different views of mankind. By the way, the bounty hunters have strapped to the stage roof their dead catch.

It might be too bizarre a film for all tastes, nevertheless it's a brilliantly endearing, funny and haunting one. I reckon I just plain loved it.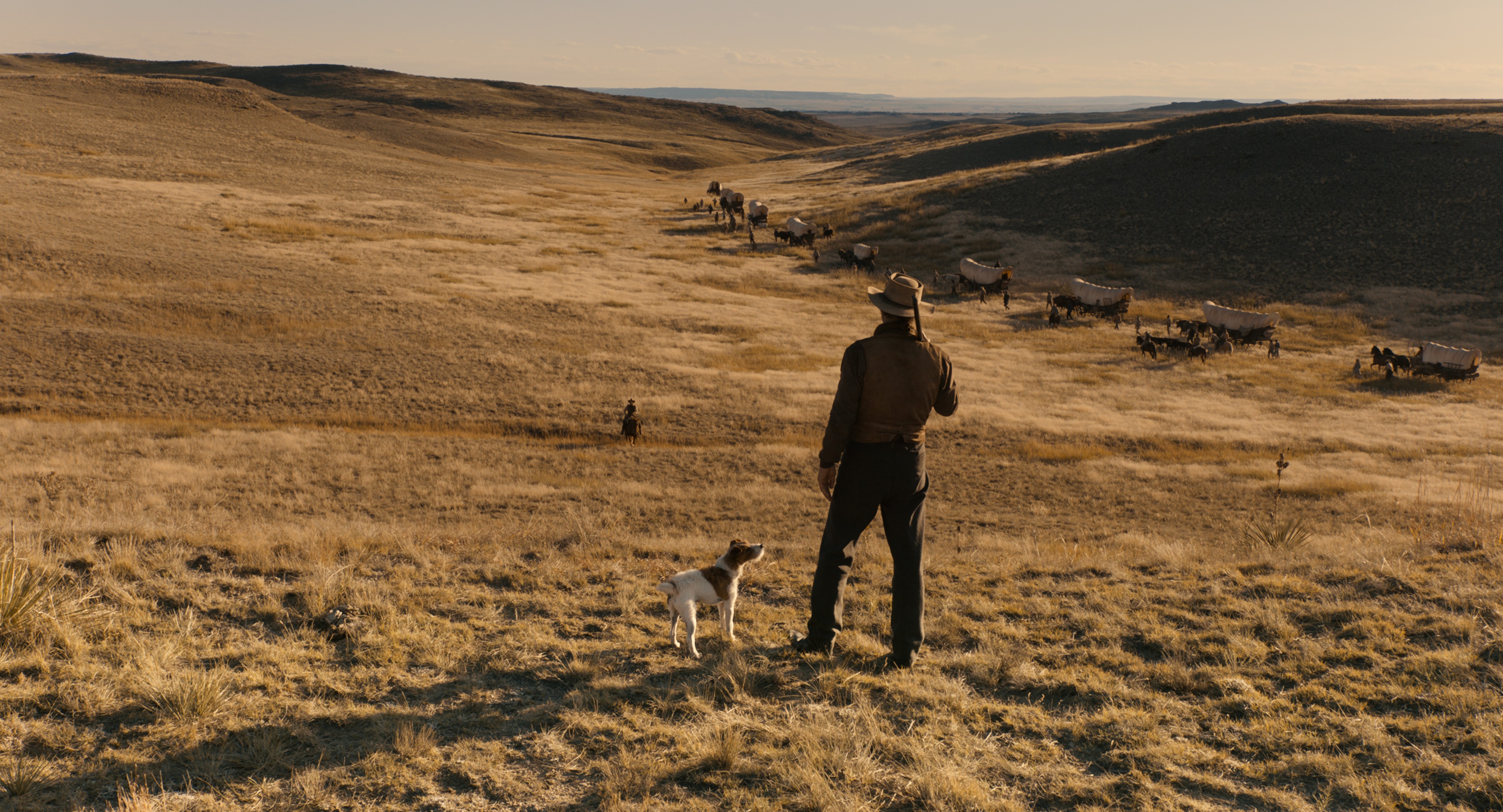 REVIEWED ON 12/1/2018 GRADE: A