A TIME FOR DYING
(director/writer: Budd Boetticher; cinematographer: Lucien Ballard; editor: Harry Knapp; music: Harry Betts; cast: Audie Murphy (Jesse James), Victory Jory (Judge Roy Bean), Richard Lapp (Cass Bunning), Ann Randall (Nellie Winters), Beatrice Kay (Mamie), Robert Randon (Billy Pimple), Ron Masak (Sam, the Bartender), Charles Wagenheim (Milton, the undertaker), Terry M. Murphy (Sonny), Ira Angustain (Pepe), Bob Ford (J.N. Roberts); Runtime: 73; MPAA Rating: NR; producer: Audie Murphy; Corinth Video; 1969)
"A superior Western made by a great filmmaker."
Reviewed by Dennis Schwartz
The last Western made by Budd Boetticher("Seven Men From Now"/"Arruza"/"Ride Lonesome") is playful, unique and highly entertaining. It's also the last film of Audie Murphy, in a cameo as the sage-like bearded Jesse James, who died in a plane crash in 1971. The story is about the innocent fast-draw aspiring callow youth, Cass Bunning (Richard Lapp), whose hubris and immaturity puts him in unnecessary danger as a gunslinger.
The youthful Cass Bunning, the son of a farmer, who learned about guns from dad and knows little else, while riding in the desert to Silver City, to become a bounty hunter, kills a rattlesnake before the snake can kill a rabbit and then encounters the threatening notorious young gunslinger Billy Pimple (Robert Randon), of whom it's said 'He ain't Billy the Kid, but he sure wants to be.' Billy also mentions that the town is expecting the arrival by stage of an innocent young girl, Nellie Winters (Ann Randall, Playboy pinup), who has no idea she's been recruited to work in a brothel.
The noble Cass rescues Nellie from a life of ruin and they ride by horse to the next town of Vinegaroon, where the ornery Judge Roy Bean (Victory Jory) rules with an iron fist. While the couple innocently spend the night in the local hotel together, the drunken judge has his lawmen arrest the unmarried couple for indecency and in a rigged trial fines them five dollars and forces them to marry. The couple accept their fate, and Cass takes her across the desert to stay with his farmer dad for safety while he works as a bounty hunter. On the way they meet Jesse James, who offers some timely advice about being a gunfighter and for him to ride around Silver City because they'll soon be some trouble he should avoid. Unfortunately the kid doesn't listen and the pic, like the title says, ends on a bleak note.
Jory's hysterical irrational madcap performance as the hanging judge is classic. No other performer and that includes Paul Newman, ever came close to doing a better Judge Bean, though many have tried. For a film that lacked the funding to build a more involved and longer story, it still turned out to be a superior Western made by a great filmmaker.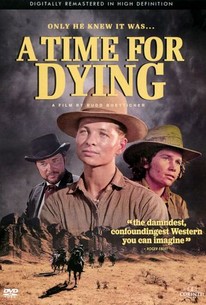 REVIEWED ON 7/23/2013 GRADE: A-