TWILIGHT FOR THE GODS
(director: Joseph Pevney; screenwriters: Ernest K. Gann/novel by Gann; cinematographer: Irving Glassberg; editor: Tony Martinelli; music: David Raksin; cast: Rock Hudson (Captain David Bell), Cyd Charisse (Mrs. King), Arthur Kennedy (Ramsay, first mate), Wallace Ford (Old Brown), Richard Haydn (Oliver Wiggins), Charles McGraw (Yancy), Ernest Truex (Rev. Butterfield), Leif Erickson (Harry Hutton), Judith Evelene (Ethel Peacock), Charles Horvath (Lott), Celia Lovsky (Ida Morris), Vladimir Sokoloff (Feodor Morris), Morris Ancrum (Sea Captain), Virginia Gregg (Myra Pringle); Runtime: 118; MPAA Rating: NR; producer; Gordon Kay: Universal; 1958)
"The average adventure film had a few moments where the story had an edge, but by the end it becomes predictable and tedious."
Reviewed by Dennis Schwartz

The story is based on the 1956 novel Twilight for the Gods by Ernest K. Gann (the author of  The High and The Mighty). Joseph Pevney ("Nocturne"/"Body and Soul") directs it as a soap opera adventure story at sea, about its main characters being fallen souls who fall in love and find redemption. The title refers to the old-fashioned sailing ships in their last days being replaced by modern steamers.

David Bell (Rock Hudson) is a U.S. Navy captain court-martialed and dismissed from the Navy for an incident at sea that resulted in the loss of lives because of his error in judgment. David, feeling sorry for himself, becomes a drunk. Hoping to regain his good name, he buys a run-down sailing ship, the Cannibal, and from a French island in the South Seas transports some cargo and passengers bound for Mexico. Despite the ship leaking, Captain Bell stubbornly insists to go straight on to Mexico and not stop in Honolulu for repairs since he doesn't have the money.

The passengers include an unrecognized American call girl from Hawaii, Charlotte King (Cyd Charisse ), who was convicted as an escort prostitute and contributing to the death of her client. But rather than serve her 2-year sentence, she runs away and her rotten husband has to forfeit the bond money he put up for her. The other passengers are an emigrant couple (Celia Lovsky & Vladimir Sokoloff ) escaping communism to go to America, a brash theatrical agent Harry Hutton (Leif Erickson) and his washed-up opera singer client and lover Ethel Peacock (Judith Evelene), a conflicted missionary reverend (Ernest Truex) and an English scoundrel who has for the last 3 years been bumming around in the islands and now wants to go home, Oliver Wiggins (Richard Haydn).

The first mate Ramsay (Arthur Kennedy) is a sneaky and untrustworthy second in command. The crew includes the reliable old-timer (Wallace Ford), Yancy (Charles McGraw) and Lott (Charles Horvath). The men want to stop in Hawaii for repairs when after pumping the leaky boat all night the water in the bilge doesn't go down.

Charlotte takes a fancy to the taciturn captain and visits his cabin after he bravely fixes a torn mast, and he becomes entranced by her.

Meanwhile Ramsay, behind the captain's back, stirs the crew to mutiny. After they file a protest saying it's dangerous not to stop for repairs, they are ordered to go back to pumping. When Ramsay learns through a newspaper article he finds in old edition Charlotte's true identity, he threatens to tell everyone about her unless she comes to his room for sex. When she shows up, she puts a damper on his manhood and leaves untouched (in a scene that was not only queasy but unbelievable).

When the pump breaks, the captain relents and in a storm takes the ship in for repairs. He earns the respect of the crew for his quick actions to keep the ship sailing.

The average adventure film had a few moments where the story had an edge, but by the end it becomes predictable and tedious, as the captain's irreparable Cannibal is put to rest by him and he tells his new love he'll come back for her in two years when she's free.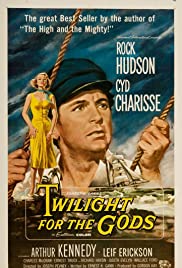 REVIEWED ON 6/27/2021 GRADE: B-