ANYTHING FOR JACKSON
(director: Justin G. Dyck; screenwriter: Keith Cooper; cinematographer: Sasha Moric; editor: Vincent Whiteman; music: John McCarthy; cast:  Sheila McCarthy (Audrey Walsh), Julian Richings (Henry Walsh), Konstantina Mantelos (Becker), Josh Cruddas (Ian), Yannick Bisson (Rory); Runtime: 97; MPAA Rating: NR; producer: Keith Cooper/Bill Marks/Justin G. Dyck/Christopher Giroux; Vortex Words Pictures; 2020)
" Wasn't entertained by its dark story."
" Wasn't entertained by its dark story."
Reviewed by Dennis Schwartz

Exorcism is the theme of this shoddy low-budget indie directed by Justin Dyck ("Best Friend From Heaven"). Keith Cooper is the writer, trying to make a dead plot come to life with his clever off-beat script. But it never recovers from a shaky plot.
"Jackson" played at the Fantasia Film Festival. It's currently screening online at the Nightstream Festival.

We're introduced to a seemingly charming elderly couple, Dr. Henry Walsh (Julian Richings, Canadian actor) and his wife Audrey (Sheila McCarthy, Canadian actress).  We soon learn the couple is overcome with grief that they go off the bend, as Henry drags a frightened young pregnant girl, Becker (Konstantina Mantelos), into their house while Audrey keeps her subdued. They kidnapped Becker to perform a reverse exorcism and implant the soul of their dead beloved grandson Jackson (killed in an auto accident) into her unborn child.

The weirdo couple prepared for this ritual by joining a satanic church and going to Israel to buy an old Black Magic text on summoning up evil spirits. But the amateur satanists screw up and their home becomes infested with ghosts and ghouls. The creepiest ones are a floss-obsessed phantom and a plastic bag-asphyxiated shapeshifter.

In the final act, another villain, a creepy satanist from their church named Ian ( Josh Cruddas),  comes into the incomprehensible story to help the confused couple with their ritual and leads them down an even darker path.
Some horror fans maybe can be entertained enough by its scares and originality to live with its flaws. I can appreciate some of its black humor but wasn't entertained by its dark story.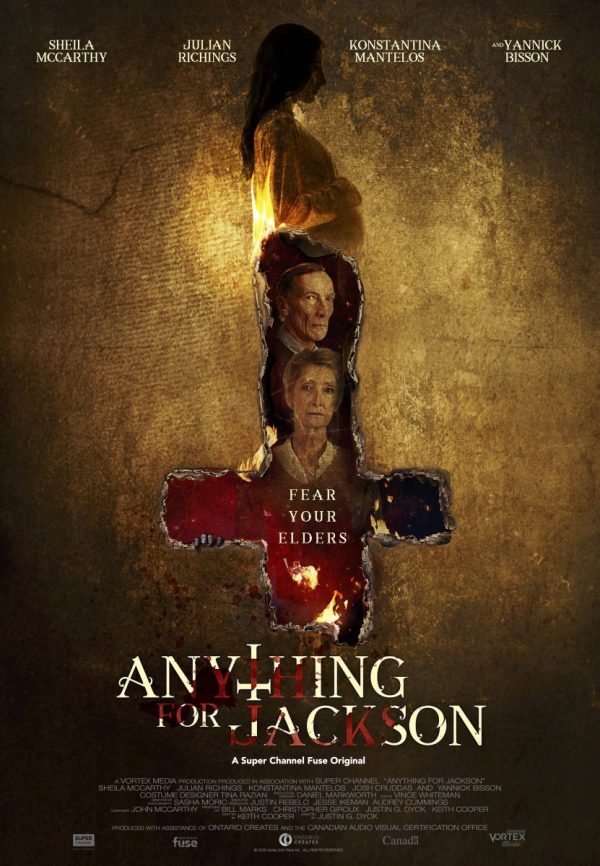 REVIEWED ON 10/30/2020 GRADE: C+