ANITA
(director/writer: Alexis BloomSvetlana Zill; cinematographer: Luca Ciuti; editors: Hannah Vanderlan, Adam Evans; cast:Scarlett Johansson (Anita Pallenberg voice), Marlon Richards, Kate Moss, Marianne Faithful, Keith Richards; Runtime: 110; MPAA Rating: NR; producers: Alexis Bloom/Svetlana Zill/Charlie Corwin; SK Global Entertainment; 2003)
"A decent film that tells you probably all you care to know about Anita'a tarnished life."
Reviewed by Dennis Schwartz

A dark documentary on the notorious actress, bohemian, party girl, stoner, rock muse and rock chick, Anita Pallenberg. She gained fame in the 1960s and 1970s as an actress in Warhol films, "Performance" and "Barbarella." The German/Italian sexpot, Anita Pallenberg, who who went to school in Europe and lived in the States and overseas, died at the age of 75 in 2017, from hepatitis C complications after a lifetime of heroin abuse.


It's executive produced by her son, Marlon Richards, who clearly loves mom, as does his sister Dandelion. Both kids were from Keith Richards of the Rolling Stones, who fathered another son with Anita dying after 10 weeks from "crib death".

The biopic is co-written and co-directed by the Swiss filmmakers Alexis Bloom ("Divide and Conquer"/"Bright Lights: Starring Carrie Fisher and Debbie Reynolds") and, in her directorial debut, Svetlana Zill. It tells little of Anita's private life, but shows how recklessly she lived in public.

It's a decent film that tells you probably all you care to know about Anita'a tarnished life.

It freely uses never-before-seen archival footage.

Scarlett Johansson is Anita's voice, using her never-published memoirs to push the film on.

It played at Cannes.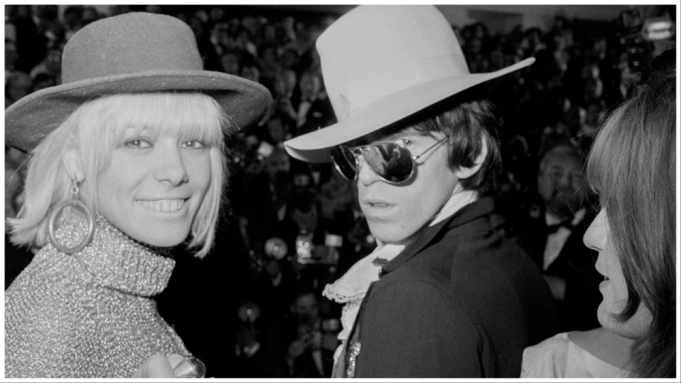 REVIEWED ON 6/1/2023  GRADE: B