ANGEL HEART
(director/writer: Alan Parker; screenwriter: from the novel "Fallen Angel" by William Hjortsberg; cinematographer: Michael Seresin; editor: Gerry Hambling; music: Trevor Jones; cast: Mickey Rourke (Harry Angel), Robert De Niro (Louis Cyphre), Lisa Bonet (Epiphany Proudfoot), Charlotte Rampling (Margaret Krusemark), Stocker Fontelieu (Ethan Krusemark), Brownie McGhee (Toots Sweet), Michael Higgins (Dr. Fowler), Elizabeth Whitcraft (Connie), Eliott Keener (Det. Sterne), Pruitt Taylor Vince (Det. Deimos),Charles Gordone (Spider Simpson), Dann Florek (Winesap); Runtime: 113; MPAA Rating: R; producers: Alan Marshall/Elliott Kastner; Lions Gate Films Home Entertainment; 1987)
---
"Offbeat Faustian voodoo tale about the descent of a sleazy private detective into hell."
Reviewed by Dennis Schwartz
Alan Parker ("Bugsy Malone"/"Midnight Express"/"Fame")directs and writes this offbeat Faustian voodoo tale about the descent of a sleazy private detective into hell. It's based onthe novel "Fallen Angel" by William Hjortsberg.
Set in 1955, in NYC, where the mysterious Louis Cyphre (Robert De Niro) hires a second-rate Brooklyn divorce specialist investigator, the private detective Harry Angel (Mickey Rourke), to find a missing crooner named Johnny Favorite, who reneged on fulfilling his contract. The disheveled private dick gets paid handsomely for his efforts that take him on a strange and dangerous soul-searching journey to a Poughkeepsie mental hospital, Harlem, Coney Island in the winter, New Orleans and the Louisiana bayou. The tale comes with a Satanic cult twist, as Angel traces the pop singer's disappearance when he was a soldier in 1943 and hospitalized Poughkeepsie because of traumatic amnesia. After interviewing those who could lead him to Johnny, Angel discovers that they are ritually murdered in a cultish gruesome fashion and the detective becomes the patsy who is setup as the killer.
The thriller remains interesting in a creepy way, as the bloody carnage mounts and the dick keeps getting more entangled in a black magic scene out of his grasp. But the film dies in the third act when Angel finds what he's looking for and the Faustian contract with the devil story takes over the plot line, which flattens things out into too ordinary a telling of a supernatural tale.
Michael Higgins plays the corrupt drug addicted Dr. Fowler, who covers up the disappearance of the singer for a fat payoff. Dann Florek plays the respectable lawyer engaged by the devilish Cyphre to hire Angel, and is clueless about his clients. Brownie McGhee plays Toots Sweet, the black jazzman guitarist who belongs to a Satanic cult and is butchered in the vilest of ways. Charlotte Rampling plays the white New Orleans society woman, Margaret Krusemark, a fortune teller who was the singer's lover. Stocker Fontelieu plays Margaret's father, who pays dearly for helping in the disappearance of the singer by paying off a corrupt doctor to falsify records of the singer's stay in a hospital. Lisa Bonet plays the 17-year-old New Orleans residing Epiphany Proudfoot, the occult priestess single parent daughter of the white singer and the deceased black occultist–the singer's secret lover.
The pic had its initial X-rating changed to an R-rating after cutting 10 seconds of footage of a sex scene between Rourke and Bonet for its theatrical release, but the cut scene was slipped back in upon its video release.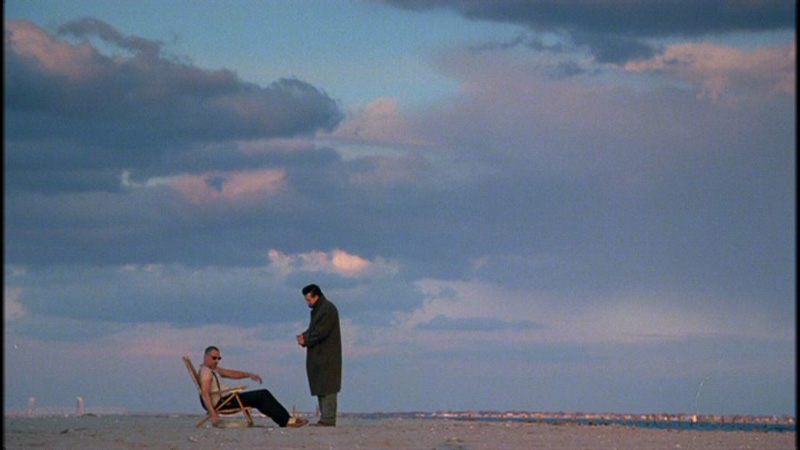 REVIEWED ON 10/5/2011 GRADE: B