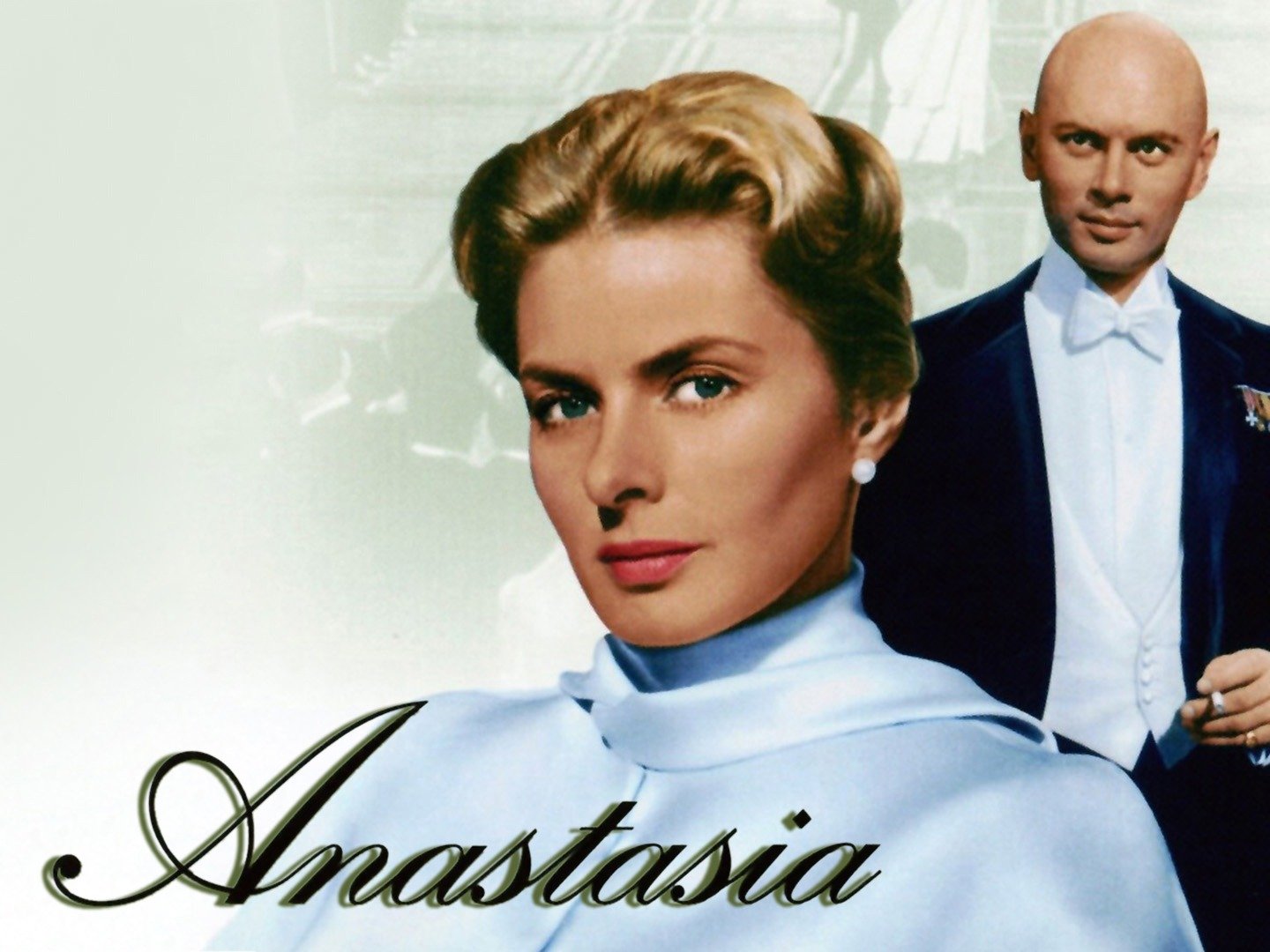 ANASTASIA
(director: Anatole Litvak; screenwriters: from the play by Marcelle Maurette/Arthur Laurents/Guy Bolton; cinematographer: Jack Hildyard; editor: Bert Bates; music: Alfred Newman ; cast: Ingrid Bergman (Anastasia, also known as Anna Korov and Anna Anderson), Yul Brynner (Gen. Bounine), Helen Hayes (Dowager empress), Felix Aylmer (Russian Chamberlain), Akim Tamiroff (Chernov), Natalie Schafer (Lissenskaia), Ivan Desny (Prince Paul), Martita Hunt (Baroness von Livenbaum); Runtime: 105; MPAA Rating: NR; producer: Buddy Adler; 20th Century Fox; 1956)

"Ingrid Bergman, returning from her Hollywood banishment after the Rosellini scandal, is at her best … ."
Reviewed by Dennis Schwartz
Ingrid Bergman, returning from her Hollywood banishment after the Rosellini scandal, is at her best in this entertaining fictionalized version of the story of Anna Anderson. She claimed that she was the daughter of the last Russian czar.The pic tells the mystery story of Anastasia (Ingrid Bergman), one of Czar Nicholas' children. It suggests she could have been spared execution in 1918 even if her family was not. That she mysteriously ends up a lost amnesiac refugee on the streets of Paris and is discovered by con artists, becomes the focus of the film. It's based on the French play by Marcelle Maurette that Guy Bolton adapted. It's written by the playwright Arthur Laurents. The exile Anatole Litvak("The Decision Before Dawn"/"The Snake Pit"/"Sorry, Wrong Number") helms this gripping film telling about another exile.
It's set in 1928. The cunning businessman, the ex- Gen. Bounine (Yul Brynner), the leader of an unholy group of exiled White Russians in Paris, is trying to present a vulnerable amnesiac Anastasia as the Romanov offspring who might help them collect the 10 million deposited in England by the Czar's family and is now frozen. They must argue that Anastasia was not executed in 1918 by the Bolsheviks and that the girl they produce is the real McCoy.
Their theatrical con game over finding the real Grand Duchess Anastasia alive makes for a compelling story.
Helen Hayes is very good playing Anastasia's grandmother, who must confirm if Ingrid is her esteemed relative. In fact, all the performances are excellent. Bergman won the Oscar for Best Actress.
REVIEWED ON 10/5/2015 GRADE: B