AMERICAN CARNAGE
(director/writer:Diego Hallivis; screenwriter: Julio Hallivis; cinematographer: Unax Mendia; editor: Alex Márquez; music: Nima Fakhara; cast: Jorge Lendeborg Jr. (JP), Jorge Diaz (Chris), Jenna Ortega (Camila), Eric Dane (Eddie), Allen Maldenado (Big Mac), Yumarie Morales (Lily), Catherine McCafferty (Cynthia), Brett Cullen (Harper Finn), Tiffany Brown (Cindy), Paloma Bloyd (Lisa del Monaco), Michael Batista (Brian), Brett Cullen (Harper Finn), Bella Ortiz (Micah); Runtime: 101; MPAA Rating: R; producers: Rocco Giamatteo/Andres Rosende/Diego Hallivis/Julio Hallivis; Saban Films; 2022)
"Though the film targets the right bad guys, it poorly tells its story."
Reviewed by Dennis Schwartz

It was shot in Madrid, Spain, and named for a Trump speech. The writer director Diego Hallivis ("Curvature"/"The Duel") and co-writer brother Julio talk about issues facing Hispanic Americans, in this structurally derivative Jordan Peele's "Get Out" type of film (but is not done as well or is as entertaining). But it is thought-provoking even ifTeenager unpolished, as it plays out as a disappointing thriller/comedy. The Republicans are viewed as the bad guys, who are looking to take away civil rights. While those in opposition are dreamers, trying to preserve democracy in these oppressive times.


Teenager JP (Jorge Lendeborg Jr.) works double shifts at a fast-food burger place. His kid sister, Lily (Yumarie Morales), has enrolled at Columbia University and plans to move to NYC.

The bigot right-wing Gov. Harper Finn (Brett Cullen) of the red state where the siblings reside, is running for re-election and issues an executive order giving him the authority to arrest undocumented immigrants and imprison their naturalized children. When the family is arrested by an ICE Swat team at a party celebrating Lily's college acceptance, JP and Lily fall under that category (But they don't, ICE is fed program). In any case, to reunite with Lily the brother must enlist in a program sponsored by the D.A. that will commute his sentence and save him from deportation if he volunteers to work as an untrained caretaker for the elderly in a nursing home.


JP works at the site owned by the phony Eddie (Eric Dane), a bad dude pretending to be a good dude. It's a ward with prisoners electrocuted if they are disobedient and the elderly are mistreated. To pacify these wild zombies, they are given injections in their neck.

Besides JP, the other detainee's include the political activist Camilla (Jenna Ortega), the paranoid Chris (Jorge Diaz), the wise-cracking Big Mac (Allen Maldonado), and Micah (Bella Ortiz), JP's love interest.

Horror is poured into the film, as weird lab experiments on the inmates makes them look and act like monsters. It thereby becomes a horror pic, a political satire and a coming-of-age story. It's poorly executed, not too subtle, not scary or funny, as it wrestles with trying to make heads or tails about the current immigration crises.

Though the film targets the right bad guys, it poorly tells its story, is abrasive and sounds artificial even when attacking the real racists. The fair-minded viewers probably side with the filmmaker's take that the Republicans are on the wrong side of the immigration issue, but its message is delivered in a tasteless, didactic and awkward tone.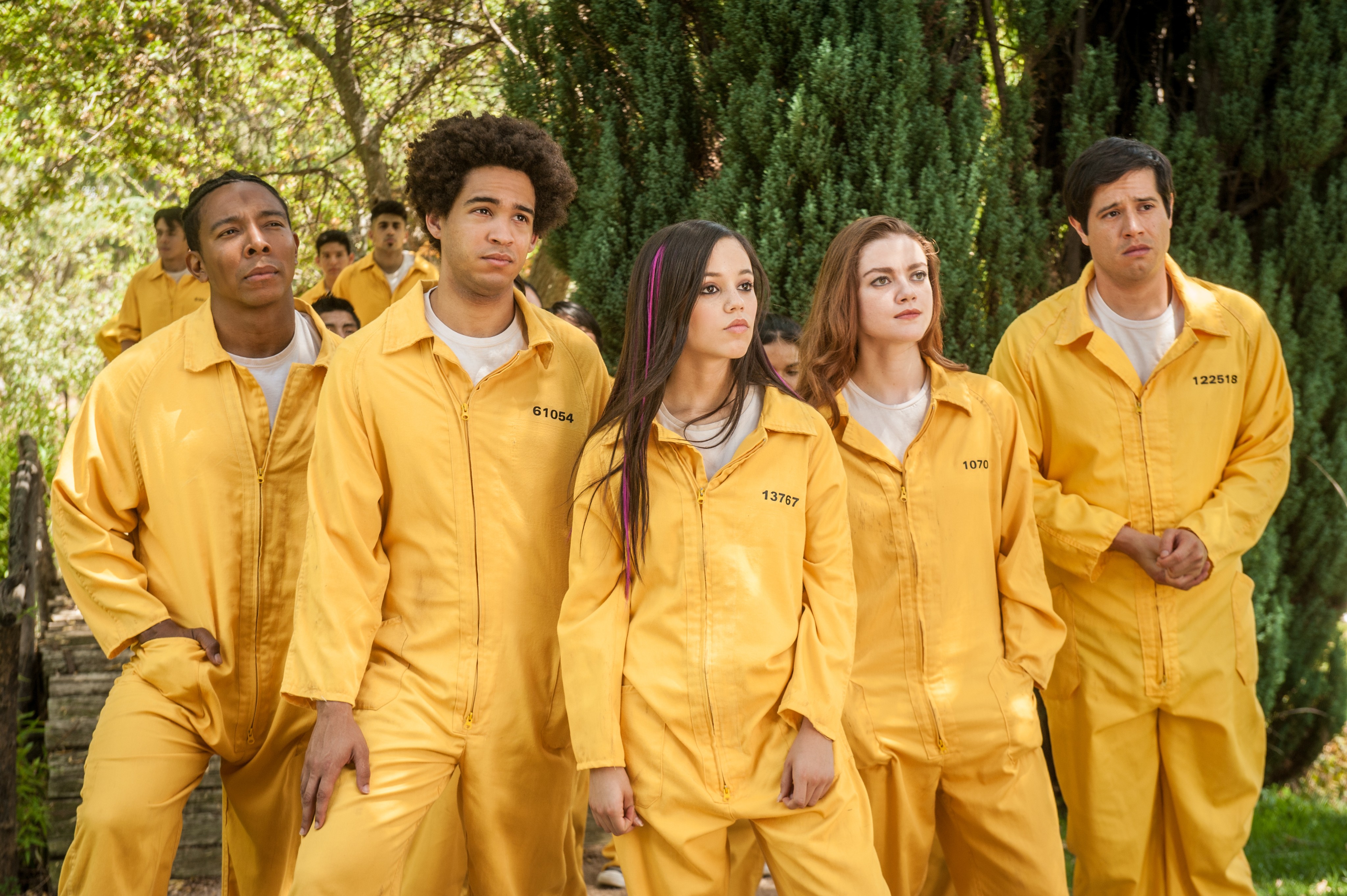 REVIEWED ON 8/7/2022 GRADE: C+