RICHARD JEWELL
(director: Clint Eastwood; screenwriters: Billy Ray/based on the 1997 Vanity Fair article "American Nightmare: The Ballad of Richard Jewell" by Marie Brenner; cinematographer: Yves Belanger; editor: Joel Cox; music: Arturo Sandoval; cast: Kathy Bates (Bobi Jewell), Sam Rockwell (Watson Bryant), Paul Walter Hauser (Richard Jewell), John Hamm (Tom Shaw), Olivia Wilde (Kathy Scruggs), Nina Ariande (Nadya Light), Ian Gomez (Dan Bennett), Charles Greene (Dr. W. Ray Cleere), David Shae (Ron Martz), Niko Nicotera (Dave Dutchess); Runtime: 129; MPAA Rating: R; producers: Clint Eastwood, Tim Moore, Jessica Meier, Kevin Misher, Leonardo DiCaprio, Jennifer Davisson, Jonah Hill; Warner Bros. Pictures; 2019)
"At least this time Clint picked the right Forrest Gump type of a hero to give a shout out to."
Reviewed by Dennis Schwartz
The 89-year-old Clint Eastwood ("Sully"/"American Sniper") directs with his heart on his sleeve a true story about the FBI going after the wrong man, a falsely accused hero, that took place in Atlanta's Centennial Park on July 27, 1996. Writer Billy Ray bases it on the 1997 Vanity Fair article "American Nightmare: The Ballad of Richard Jewell" by Marie Brenner, with the director painting an overly sympathetic portrait of the falsely accused park bomber.

Richard Jewell (Paul Walter Hauser) is the owner of a large gun collection, who lives in a cramped Atlanta apartment with his patriotic, doting bookkeeper mom Bobi (Kathy Bates). He's a 33-year-old obese, respectful and overzealous wannabe law officer type, dreaming of being a cop, with a checkered past over carrying out his police duties too much to the letter of the law to be acceptable. That's the reason he was fired as a security officer at Piedmont College in Georgia, as he went too far trying to enforce the law. Richard was afterwards hired for a security job during the 1996 Olympics at Centennial Olympic Park in Atlanta. Due to his diligence as a security guard, on July 27, he spotted under a bench a lost backpack and reported it as a suspicious package, but before it could be detonated by the bomb squad it went off leaving two fatalities and over a hundred wounded. Initially treated as a hero for saving what could have been a far more deadly pipe bombing causality report and celebrated in the media, he soon becomes a suspect of the FBI who react to a tip received by them from the college president who fired Jewell believing he might have mental problems and because of an FBI profile that says Jewell checks all the boxes to be the bomber. The lead agent is the inept, unlawful and arrogant Tom Shaw (John Hamm) and his compliant partner is Dan Bennett (Ian Gomez), who bring Jewell into their office on the sly and try to railroad him to confessing that he's the bomber until Jewell's small-time attorney Watson Bryant (Sam Rockwell), hired for the book deal, takes the case and gets his fawning cop lover client to fight back to prove his innocence.

When the opportunistic reporter Kathy Scruggs (Olivia Wilde) breaks the story for the Atlanta Journal-Constitution that Jewell's no longer a hero but a suspect, after getting the tip by sleeping with Agent Shaw (which was never verified in the true story and vehemently denied by the paper's editor) Jewell is now viewed as a suspect by the country and his simple life now becomes unbearable. How he's treated by the Feds as a criminal, even though they have no proof against him, becomes the gist of the film (showing how the powerful government and media can pile on the underdog if it wants to).

Thanks to Clint's competent storytelling, this old-fashioned film is one that could have fitted easily into the underdog justice films Warner Bros. built its rep on in the 1930s. It gets over because it's fast-paced (though it loses some steam in the final act). Also, there are absorbing performances by Paul Walter Hauser, who convincingly becomes Richard Jewell, the emotionally moving maternal Bates performance and Rockwell's spirited libertarian lawyer one taking on the system when it fails to do its job right. It's a preachy and polemical film that tells a riveting only in America story, and is unafraid of critiquing the FBI (for their rush to judgment without the facts) and the media (for its fake news). It's better than Clint's more recent films (like his last one, the morally bankrupt The Mule, that in its unwholesome way pays homage to a driver for the drug cartels) because at least this time Clint picked the right Forrest Gump type of a hero to give a shout out to. It serves best as a film made by a craftsman rather than an artist, where manipulation of the director's political point of view is apparent throughout. And it indicates Clint's viewpoint just might be: "I fear government more than I fear terrorism."

The real reporter Kathy Scruggs, who was given a sexist portrayal, died in 2001, thereby is unable to give her side of the story. While Richard Jewell after not being charged by the FBI, became a cop and died from a heart attack at age 44 in 2007.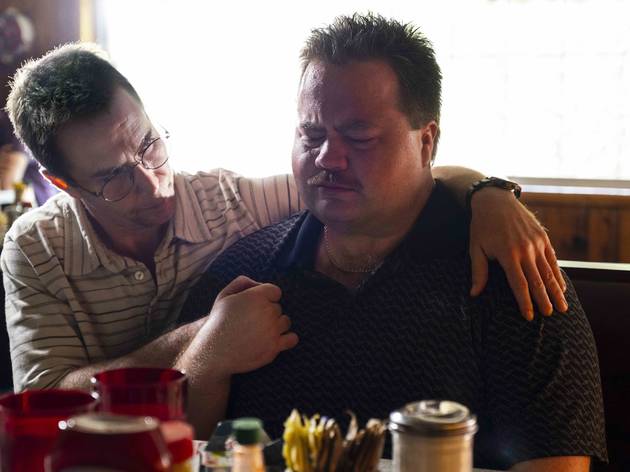 REVIEWED ON 12/15/2019  GRADE: B  https://dennisschwartzreviews.com/