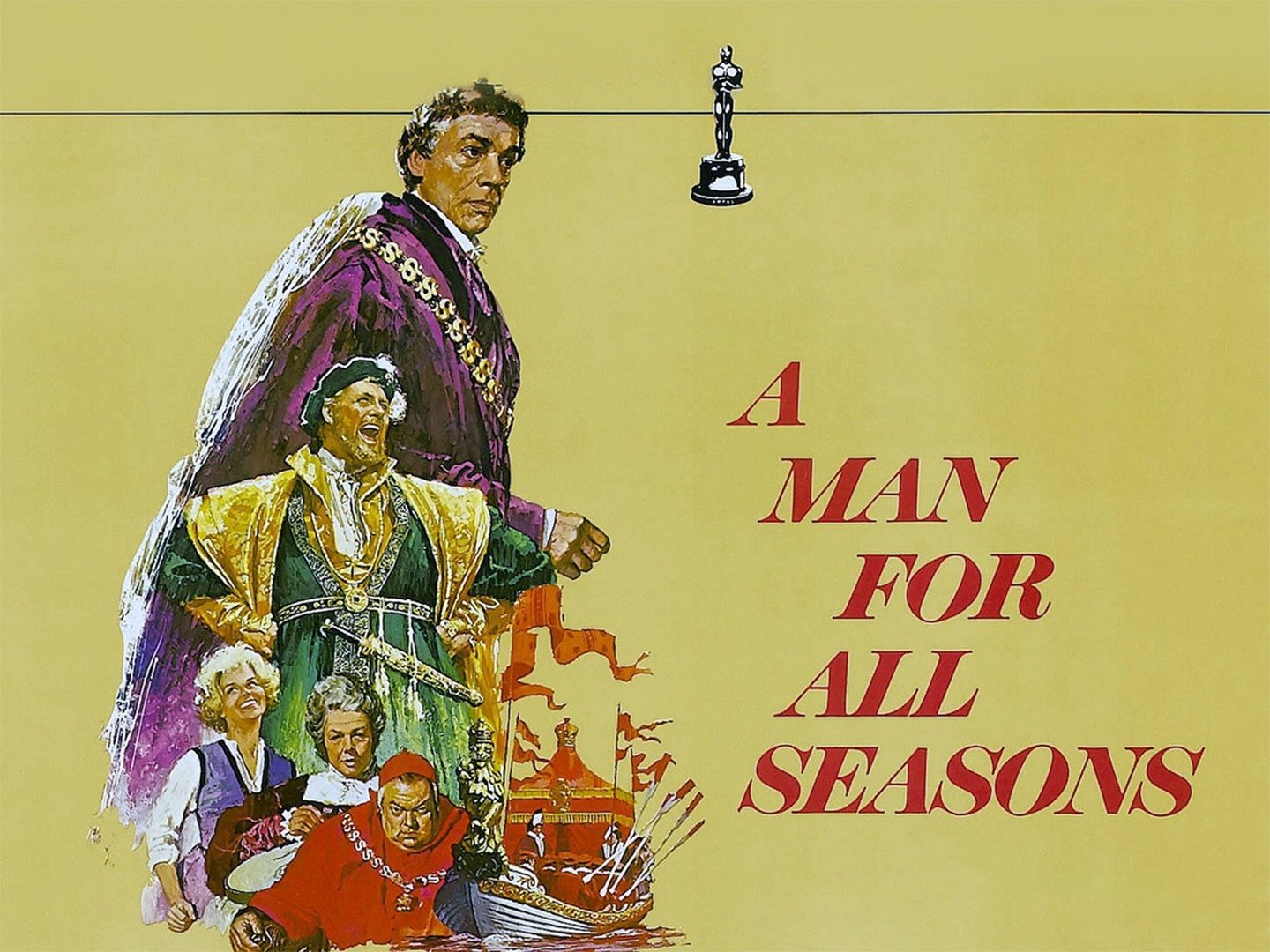 A MAN FOR ALL SEASONS
(director: Fred Zinnemann; screenwriter: Robert Bolt; cinematographer: Ted Moore; editor: Ralph Kemplen; music: Georges Delerue; cast: Paul Scofield (Sir Thomas More), Wendy Hiller (Alice More), Leo McKern (Thomas Cromwell), Robert Shaw (King Henry VIII), Orson Welles (Cardinal Wolsey), Susannah York (Margaret More), Vanessa Redgrave (Anne Boleyn), John Hurt (Richard Rich), Nigel Davenport ((Duke of Norfolk), Corin Redgrave (William Roper); Runtime: 120; MPAA Rating: NR; producers: William N. Graf/Fred Zinnemann; Columbia Pictures; 1966)
"The dry film, more boring than it had a right to be, nevertheless was sincere and won an Oscar for Best Picture."
Reviewed by Dennis Schwartz
Robert Bolt adapted his 1960 hit play for the modest budgeted film, that is faithfully directed by Fred Zinnemann ("Julia"/"A Hatful of Rain"/"High Noon"). Paul Scofield superbly reprises his stage role as Sir Thomas More, endorsing the divine right of the Pope to supersede the powers of his King. When Sir Thomas More is named to replace the deceased Cardinal Wolsey (Orson Welles) as Lord Chancellor of England, he's more interested in being loyal to his Church than he is of being loyal to his king, whom he faithfully served. King Henry VIII (Robert Shaw), pining for a heir to the throne, wishes to ditch his barren wife Catherine of Aragon for the younger Anne Boleyn (Vanessa Redgrave). But the obstinate More refuses to grant the king a divorce.
Henry, thereby, makes himself the spiritual as well as political sovereign of England, and the bishops of England fall into line with the act of Parliament making Henry head of the Church in England. More resigns from his post and remains mum, but his silence offends the king's supporters, especially the ambitious Thomas Cromwell (Leo McKern). They demand More take an oath recognizing the king as head of both church and state. When More stands by his religious convictions and refuses, Cromwell and his zealous deceitful aide Richard Rich (John Hurt) bring false accusations and More is charged with high treason. He's found guilty and sent to the chopping block.
The dry film, more boring than it had a right to be, nevertheless was sincere and won an Oscar for Best Picture, Best Actor (Scofield), Best Director ( Zinnemann), Best Writing Screenplay Based on Material from Another Medium (Bolt), Best Color Cinematography (Ted Moore), and Best Color Costume Design (Elizabeth Haffenden and Joan Bridge).
REVIEWED ON 3/1/2008 GRADE: B   https://dennisschwartzreviews.com/