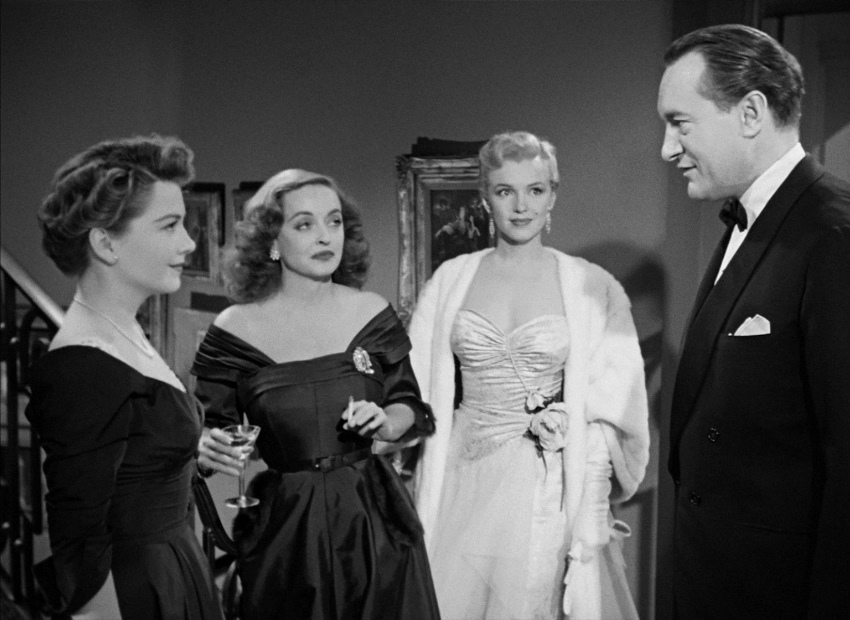 ALL ABOUT EVE
(director/writer: Joseph L. Mankiewicz; screenwriter: from the story "The Wisdom of Eve" by Mary Orr; cinematographer: Milton R. Krasner; editor: Barbara McLean; music: Alfred Newman; cast: Bette Davis (Margo Channing), Anne Baxter (Eve Harrington), Celeste Holm (Karen Richards), George Sanders (Addison DeWitt), Gary Merrill (Bill Sampson), Hugh Marlowe (Lloyd Richards), Gregory Ratoff (Max Fabian), Barbara Bates (Phoebe), Marilyn Monroe (Miss Caswell), Thelma Ritter (Birdie Coonan); Runtime: 138; MPAA Rating: NR; producer: Darryl F. Zanuck; Fox Video; 1950)
"Still retains its stagy power to provoke theater lovers by its elaborate wit and campy bad taste."
Reviewed by Dennis Schwartz
Joseph L. Mankiewicz ("No Way Out"/"People Will Talk"/"The Barefoot Contessa") helms and writes one of the few Academy-Award Best Pictures that might be deserving of such an honor (not according to me), and one that over the years still retains its stagy power to provoke theater lovers by its elaborate wit and campy bad taste. It's a chatty theater classic all about acting, showbiz backstage and cynicism. It's based on Mary Orr's short story "The Wisdom of Eve." It's also, arguably, the best role the scene-stealing Bette Davis ever had. Very few film buffs have not seen the melodrama that some have dubbed as "the bitchiest film ever made," and their enthusiasm has made the talk-fest seem like more of a high culture venture than it deserves. It's much closer to trashy soap opera.
Margo Channing (Bette Davis) is the aging queen of Broadway, the star in Aged in Wood, a play directed by her fiancée Bill Sampson (Gary Merrill) and written by Lloyd Richards (Hugh Marlowe). Lloyd's wife Karen (Celeste Holm) is Margo's best friend. Birdie (Thelma Ritter) is her loyal wisecracking dresser. Crashing this inner circle is the stagestruck Eve Harrington (Anne Baxter), a fan who idolizes Margo. Before long Eve reveals her snake-like qualities after worming her way into Margo's Broadway clique. She attaches herself like a leech to Margo so she could siphon off for herself the diva's star power to advance her own career and she will also sneakily pursue the men of her new friends. It's only Addison DeWitt (George Sanders), the Machiavellian critic, who seems to know what the so-called 'innocent' Eve is up to. The lesson being that it takes a schemer to know one.
Davis overplays her diva role by throwing too many tantrums and fits. Baxter overplays her self-effacing role with too much grating politeness after every deceit and secretly ruthless act. But Mankiewicz keeps the bumpy ride going with a relentless display of backstage bitchery. Both the all-too-familiar showbiz story and the main characters seemed too thin, nevertheless there remains something funny about this entertaining bitter-sweet film. Also, I can't resist rolling my eyes in almost frenzied evangelical appreciation when Davis goes histrionic.
REVIEWED ON 7/12/2007 GRADE: B  https://dennisschwartzreviews.com/