ACCUSED
(director: Philip Barantini; screenwriters: Barnaby Boulton, James Cummings; cinematographer: Matthew Lewis; editor: Alex Fountain; music: Aaron May, David Ridley; cast: Frances Tomelty (Mrs. Daly), Nila Aalia (Isha), Chaneil Kular (Harri), Nitin Ganatra (Ramesh), Ollie Teague (Paul Locke), Lauryn Ajufo (Chloe); Runtime: 88; MPAA Rating: NR; producers: Rupert Preston, Samantha Beddoe, Edward Caffrey, Sara Sehdev; Sunrise Films/A Tubi release; 2023)
"It's a poignant story about a modern-day lynching party."
Reviewed by Dennis Schwartz

English actor turned director Philip Barantini ("Boiling Point"/"Villain") and writers Barnaby Boulton and James Cummings adapt this frenetic British thriller to the screen. Too many shallow characters and twists that are too predictable bring the poignant film down a notch.

In modern-day London, Harri Bhavsar (Chaneil Kular), a graphic designer of Middle Eastern heritage, is a nice young man.  His relationship with his girlfriend Chloe (Lauryn Ajufo) is getting more serious. But it has not reached the point where he has introduced her to his Yorkshire residing parents (Nitin Ganatra and Nila Aalia).

Harri stays at the home of his parents when they go on an overseas holiday, and he watches their house and dog.

A breaking news story comes over the wire of an explosion killing several people at the central London station.

An unclear look of the suspect in a baseball hat is shown on CCTV footage that looks a lot like Harry without being definitive. A former classmate posts that picture on Twitter. Thereby Harri is falsely accused on social media of being a wanted terrorist. It results in an angry mob, filled with racial hate, showing up at the house where Harri is staying. They are armed with a hammer, a baseball bat and an axe.

The middle-class Harri is attacked by the home invaders, who are too blind to see their criminality.

When the mob is proven mistaken, all they do is delete their ugly e-mails and go back to their usual business without learning a thing about the dangers of falsely accusing an innocent party without real proof.

It's a poignant story about a modern-day lynching party.

The tense film is enhanced by the atmospheric music of Aaron May and David Ridley.

It played at the Overlook Film Festival.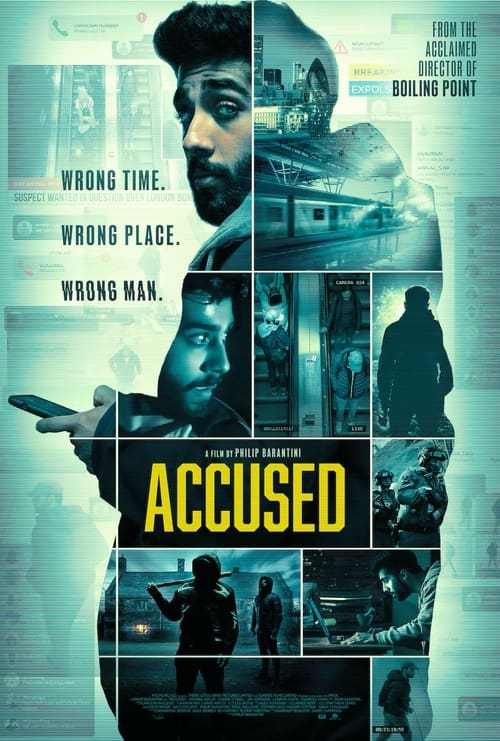 REVIEWED ON 10/9/2023  GRADE: B