GOOD LIAR, THE
(director/writer: Bill Condon; screenwriters: Jeffrey Hatcher/from the novel by Nicholas Searle; cinematographer: Tobias A. Schliessler; editor: Virginia Katz; music: Carter Burwell; cast: Ian McKellen (Roy Courtnay), Helen Mirren (Betty), Russell Tovey (Steven), Jim Carter (Vincent), Mark Lewis Jones (Bryn), Céline Buckens (Annalise), Nell Williams (Young Lili), Phil Dunster (Young Roy), Laurie Davidson (Hans Taub), Jóhannes Kaukur Jóhannesson (Vlad); Runtime: 109; MPAA Rating: R; producers: Bill Condon, Greg Yolen; New Line Cinema; 2019)
"Watching the two old pros work together for the first time was a treat."
Reviewed by Dennis Schwartz
Director Bill Condon ("Kinsey"/"Mr. Holmes") and writer Jeffrey Hatcher adapt the thriller from the 2016 novel by first-time author, a former civil servant, Nicholas Searle, who mysteriously tells us he's not allowed to talk about his career. The old-fashioned crime caper is set in London.

The elegant, well-to-do, widowed, gullible, retired Oxford professor, Betty McLeish (Helen Mirren, she's 74) uses an on-line service called Distinctive Dating. There she meets a rather chivalrous gentleman named Roy (Ian McKellen, he's 80), who unknown to her is a professional con man who walks with a fake limp. Both are lonely and seeking a companion. Both use false names since they are initially suspicious of their internet contact, but when they meet use their real names after getting comfortable talking about their grown children and going on a movie date to see 'Inglourious Basterds.'

When not dating Betty, Roy and his crime partner Vincent (Jim Carter) cheat a pair of businessmen (Mark Lewis, Stefan Kalipha) in some kind of crooked offshore investment scheme.

On one date, Betty takes Roy to her modest suburban home and he meets there her grandson Steven (Russell Tovey). He's a historian writing a piece on Nazi architect Albert Speer.

Some time later, Roy introduces her to Vincent. He poses as his accountant and financial planner. The accountant suggests the lovebirds combine their assets in an account, and she seems pleased with that suggestion. But first Betty wants Roy to accompany her on a European vacation, stopping in Berlin, where Steven has been studying about Nazi Germany during the war years in the 1940s. In Berlin, the film changes its genial mood, as secrets are disclosed and things take a macabre turn.

Though the film fails in the end to be convincing in its absurd twisted cat-and-mouse game, with a final twist that's too silly to take for real. Nevertheless watching the two old pros work together for the first time was a treat and would have been a better treat if they worked with better material.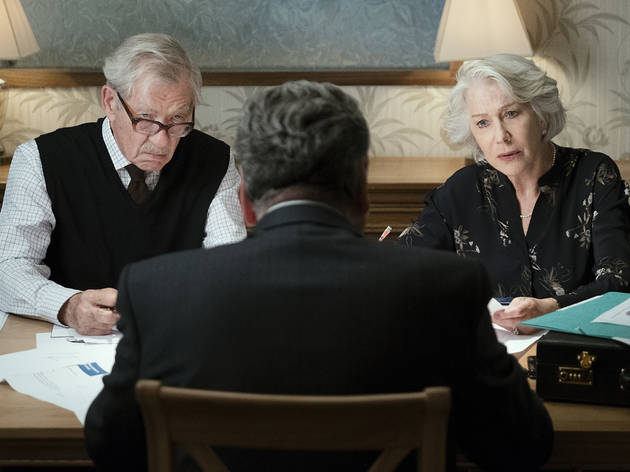 REVIEWED ON 11/25/2019   GRADE: B-   https://dennisschwartzreviews.com/