ABOUT MY FATHER
(director/writer: Laura Terruso; screenwriters: Austen Earl, Sebastian Maniscalco; cinematographer: Rogier Stoffers; editor: Scott D. Hanson; music: Stephanie Economou; cast: Robert De Niro (Salvo), Sebastian Maniscalco (Sebastian), Leslie Bibb (Ellie), Kim Cattrall (Tigger), Anders Holm (Lucky), Brett Drier (Doug), David Rasche (Bill), Arielle Prepetit (Michelle), Adan James Carillo (Young Sebastian); Runtime: 89; MPAA Rating: PG-13; producers: Judi Marmel, Chris Weitz, Paul Weitz, Andrew Miano; Lionsgate; 2023)
"Unfunny comedy."
Reviewed by Dennis Schwartz

Laura Terruso ("Work It"/"Good Girls Get High") directs and co-writes the bland screenplay with Austen Earl and Sebastian Maniscalco, also the film's co-star. The result is an unfunny comedy about the close relationship between a Sicilian father and son, and of maintaining the culture and dignity of an Italian-American family. Here the Italian son wants to marry into a rich WASP family, desiring the approval from his old-fashioned father, the cranky widowed Chicago hairdresser Salvo (Robert De Niro). It's a spin on De Niro's "Meet The Parents" box-office hit.

The middle-aged manager of a Chicago boutique hotel, Sebastian (Sebastian Maniscalco, a stand-up comedian), has fallen in love with the upbeat Ellie (Leslie Bibb), an artist who is also in the hotel business. Her white privileged family came here on the Mayflower. Sebastian plans to propose to her at the family's annual July 4th gathering held in their posh summer home at their country club in Virginia.

The grumpy Salvo refuses to give the kid the cherished ring of his late wife to propose to Ellie with unless he tags along with him to check out the family. They include her U.S. senator mom Tigger (Kim Catrell), her filthy rich country club owner dad Bill (David Rasche), and her brothers, the entitled idler Lucky (Anders Holm) and the hippie Doug (Brett Drier).

The middle part is filled with annoying cringe-worthy visual gags, while the third act delivers a contrived unmerited happy ending.

It's a tepid film stressing the importance of family values. It seems some of the material was derived from events in Sebastian's life, which might work better in his comedy act.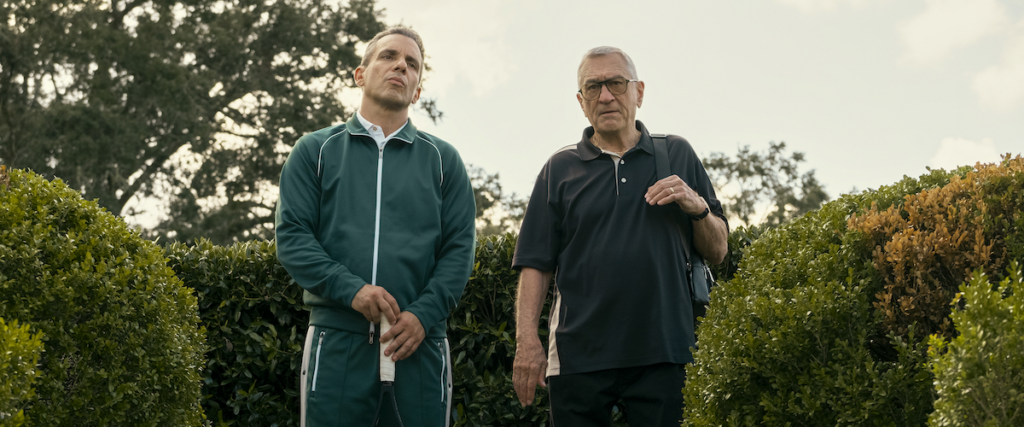 REVIEWED ON 8/6/2023  GRADE: C