A STAR IS BORN
(director: William A. Wellman; screenwriters: Dorothy Parker/Alan Campbell/Robert Carson/from a story by Wellman and Carson; cinematographers: W. Howard Greene; editors: Anson Stevenson/James E. Newcom; music: Max Steiner; cast: Janet Gaynor (Esther Victoria Blodgett/stage name Vicki Lester), Fredric March (Norman Maine), Adolphe Menjou (Oliver Niles), Lionel Stander (Matt Libby), Andy Devine (Danny McGuire), Peggy Wood (Miss Phillips – Central Casting Clerk), May Robson (Grandmother Lettie Blodgett), Elizabeth Jenns (Anita Regis), J.C. Nugent (Mr. Blodgett), Guinn Williams (Posture Coach), Clara Blandick (Aunt Mattie), Clarence Wilson (Justice of the Peace); Runtime: 111; MPAA Rating: NR; producer; David O. Selznick: United Artists/Kino Lorber classics; 1937)
"Gives Hollywood a brush of dazzle by filming it with its new 3 strip Technicolor process."
Reviewed by Dennis Schwartz

William A. Wellman  ("Blood Alley"/"Track of the Cat") directs with skill but without conviction this rags to riches story that's a partial remake of Cukor's 1932 What Price Hollywood? There were three other versions–the really fine Judy Garland one in 1954, the awful Barbra Streisand one in 1976 and the rewarding Bradley Cooper one in 2018. This one was fresh when released but the dialog fails to hold up to modern times even if its Hollywood story is still relevant.

It's based on the story by William Wellman and Robert Carson and is written by Dorothy Parker, Alan Campbell and Robert Carson. Also added on were the writers Adela Rogers St. John, Ring Lardner Jr. and Ben Hecht. The indie 'boy wonder' producer David O. Selznick also had a hand in the rewrites.

The nostalgic Hollywood story was inspired by the true story of Colleen Moore and her husband/producer John McCormick, with March's boozer character Norman Maine rekindling memories of silent stars John Bowers, John Gilbert and John Barrymore. The lush film gives Hollywood a brush of dazzle by filming it with its new 3 strip Technicolor process.

In North Dakota, the young Esther Blodgett (Janet Gaynor) lives on a farm and wants to be a movie actress, but her sourpuss Aunt Mattie (Clara Blandick) ridicules her dreams. Nevertheless her kindred in spirit pioneer grandma (May Robson) gives her money to get to Hollywood. In Hollywood, Esther befriends an unemployed assistant director, who lives in her boarding house, Danny McGuire (Andy Devine), and he gets her a job as a waitress so she can survive.

Meanwhile the once famous actor Norman Maine (Fredric March) has become an alcoholic and his popularity is dwindling. Esther is the waitress at a private Hollywood party, where Norman Maine acts poorly and disturbs his date, Anita Regis (Elizabeth Jenns). After she dumps him, Norman picks up Esther and leaves with her. But she rejects his sexual advances.

In a drunken moment of inspiration, Norman arranges for the innocent Vicki to have a screen test with the studio head (Adolphe Menjou). She gets the stage name Vicki Lester and a plum part in a film. The film is a hit and Vicki's performance gets raves. As she climbs to the top, he falls from it. But she loves him and they marry. Unfortunately he can't accept that she now supports him.

The great Lionel Stander plays the untrustworthy press agent, who loves to kick the fading star when he's down.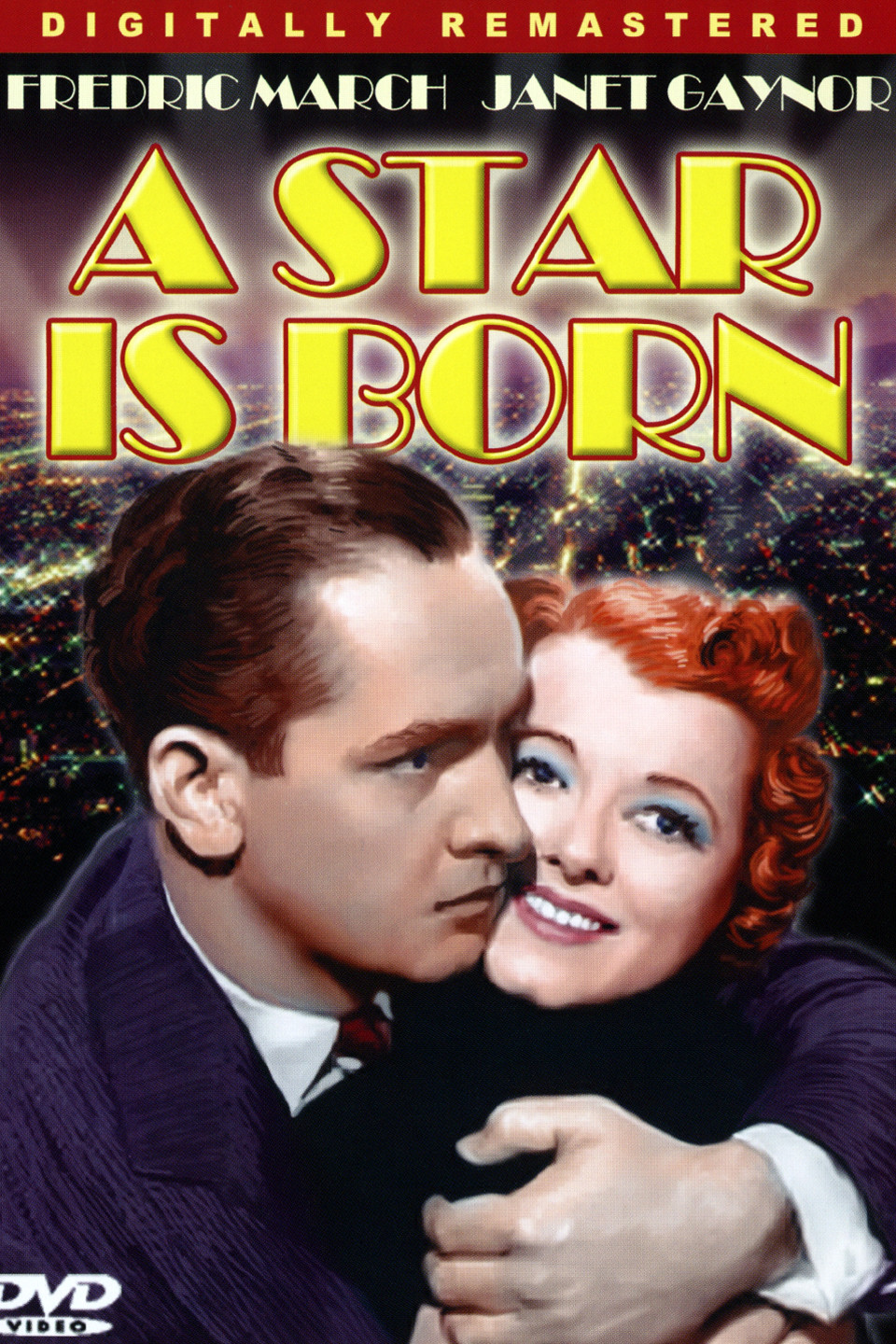 REVIEWED ON 4/17/2022  GRADE: B