A PERFECT ENEMY
(director/writer: Kike Maillo; screenwriters:Cristina Clemente/Fernando Navarro/from the novel by Amélie Nothomb; cinematographer: Rita Noriega; editor: Marti Roca; music: Alex Baranowski; cast: Tomasz Kot (Jeremiasz Angust), Athena Strates (Texel Textor), Marta Nieto (Isabella), Götz Vogel von Vogelstein  (Texel Stepfather), Dominique Pinon; Runtime: 89; MPAA Rating: NR; producer: Eric Tosstorff/Justin Nappi/Benito Mueller/Wolfgang Mueller; Brainstorm Media; 2020-Spain-in English)
"Some strange reveals in store for the viewer."
Reviewed by Dennis Schwartz

Catalonian filmmaker Kike Maillo ("Eva"/"Toro ") is co-writer-director of this surreal thriller, which has some strange reveals in store for the viewer. It's based on the 2001 novel Cosmétique de l'ennemi by Amélie Nothomb. Cristina Clemente and Fernando Navarro co-write with Maillo.

The middle-aged successful Polish-born architect Jeremy Angust (Tomasz Kot), a perfectionist and internationally acclaimed, is back in Paris to be honored and give a talk. He worked in Paris for a few years and helped design its airport, but left twenty years ago when his pregnant wife vanished and he's never seen her since. After the tragedy, he dedicated his life in helping others in need of his services and has worked all over the world including in African and Third World countries.

On the way to the airport on a rainy day he gives a lift to a chatty young Dutch lady, Texel Textor (Athena Strates), also heading for the airport. The strange lady talks so much that he misses his flight, and ends up sitting with her in the lounge area, as she's unwilling to leave until she tells her life story.

The impulsive Texel confesses to killing someone. and talks to the atheist Jeremy of having "an inner enemy, a thousand times more powerful than God", that makes her behave in certain ways and do bad things. The narrative begins to build up tension until the dramatic finale.

The odd film is intriguing but uneven, as it keeps us tuned in to the outcome, making us wonder what this crazy lady has to do with him and why she's telling him her life story.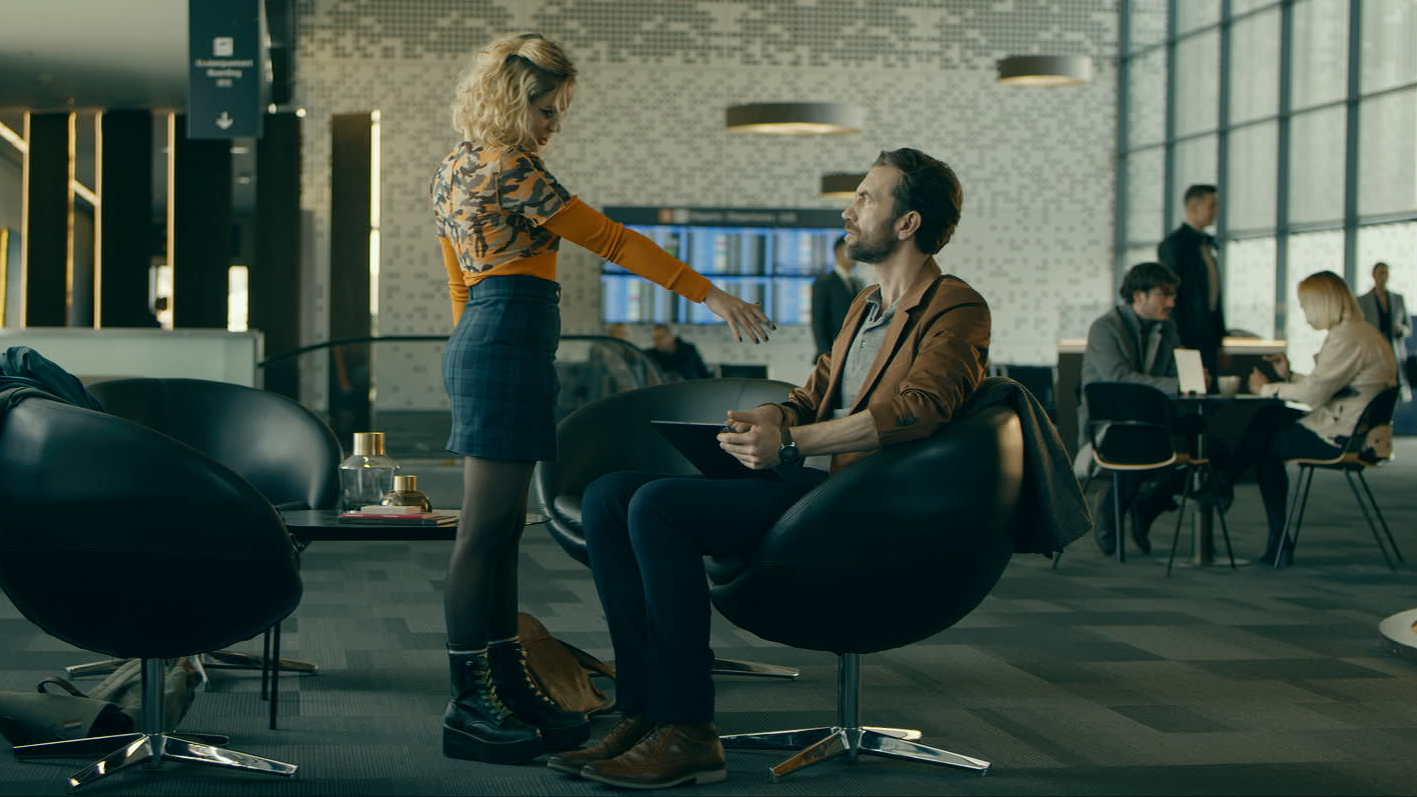 REVIEWED ON 6/11/2021 GRADE: B-