A GOOD PERSON
(director/writer: Zach Braff; cinematographer: Mauro Fiore; editor: Dan Schalk; music: Bryce Dessner; cast: Florence Pugh (Allison), Morgan Freeman (Daniel), Celeste O'Connor (Ryan), Molly Shannon (Diane), Chinaza Uche (Nathan),  Zoe Lister-Jones (Simone); Runtime: 129; MPAA Rating: R; producers: Zach Braff/Pamela Koffler/Christina Piovesan/Florence Pugh/Noah Segal/Christine Vachon; United Artists Releasing; 2023)
"The contrived screenplay is the film's downfall."
Reviewed by Dennis Schwartz

The former actor Zach Braff ("Wish I Was Here"/"Going in Style") is the writer/director of this mawkish melodrama. It deals in a heavy-handed way with issues of trauma, opioid addiction and loss of life. The good person of the title is what the characters in the film aspire to be.

Allison (Florence Pugh, Zach's former gf) has a well-paying job as a pharma-rep, and is on an ascending path in life. She is in love with her fiancee (Chinaza Uche), and life is sweet. But an unfortunate car accident takes place on the New Jersey Turnpike, as for a second she takes her eyes off the road to look at her navigation app and causes the deaths of her two passengers–her future sister and brother-in-law. Her fiancee as a result becomes her ex-fiancee, and in her grief-stricken state she becomes an opioid addict.
A year later Allison is at home with her caring mother, Diane (Molly Shannon), who is trying to wean her off her addiction. Not even Allison is aware of how serious her reliance on pills has grown, until she finds herself trying to score from a couple of lowlifes she went to high school with at a local dive bar.
When Sllison finally drags herself to an AA meeting, she runs into Daniel (Morgan Freeman), Nathan's estranged father. Daniel's life was also turned upside down by Allison's accident — he's now taking care of 16-year-old Ryan (Celeste O'Connor), after her mother was killed in the crash. Daniel encourages Allison to stay at the meeting and get help. The pair form an unlikely bond, as they both work through the pain of their pasts and try to move on.

The contrived screenplay is the film's downfall, but the emotionally moving performance by Pugh gives it some punch and a reason to watch.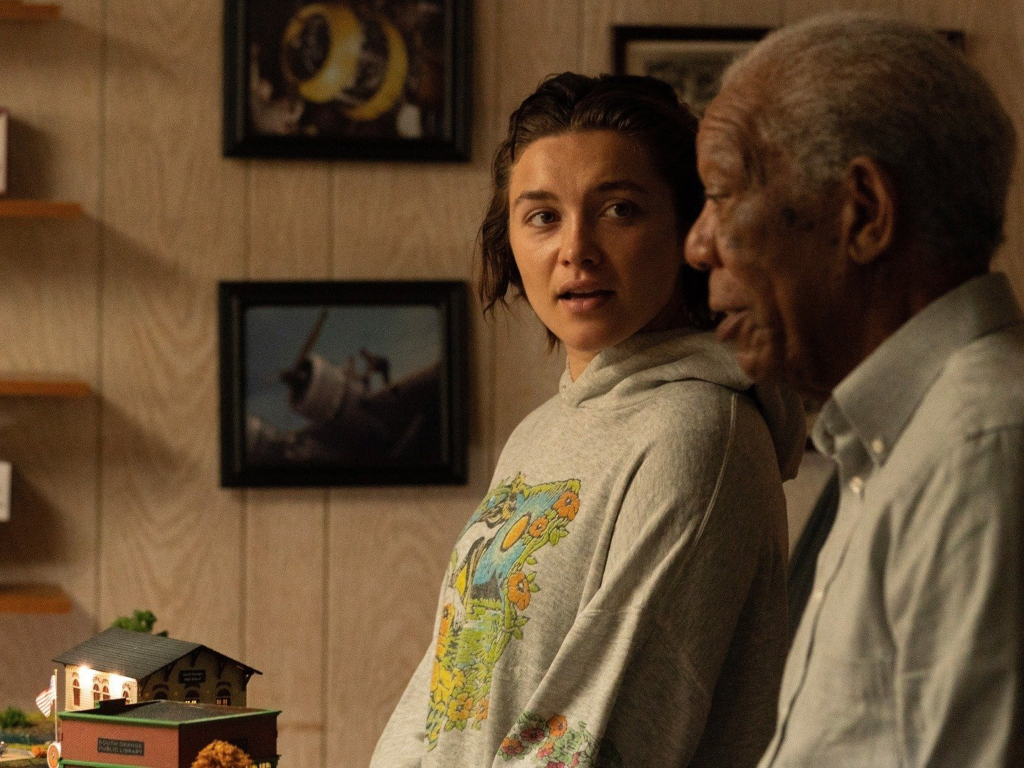 REVIEWED ON 3/30/2023  GRADE: C+