THE 7TH DAWN
(director: Lewis Gilbert; screenwriters: from the novel by Michael Keon/Karl Tunberg; cinematographer: F. A. Young; editor: John Shirley; music: Riz Ortolani; cast: William Holden (Ferris), Susannah York (Candace Trumpey), Capucine (Dhana), Tetsuro Tamba (Ng), Michael Goodliffe (Trumphey), Allan Cuthbertson (Cavendish), Maurice Denham (Tarlton), Sydney Tafler (C.P.O.), Beulah Quo (Ah Ming); Runtime: 123; MPAA Rating:NR; producer: Charles K. Feldman; United Aristsx; 1964)

"An exotic political thriller that is cliched, filled with wooden characters, lacks entertainment value and would need several more dawns to awaken me."
Reviewed by Dennis Schwartz
An exotic political thriller that is cliched, filled with wooden characters, lacks entertainment value and would need several more dawns to awaken me. Director Lewis Gilbert ("Educating Rita"/"Moonraker") ineffectively does drama. Writer Karl Tunberg gets Michael Keon's novel all twisted up in jungle vine.
The story centers on how the wealthy American rubber king, living in Malaysia, Ferris (William Holden, a recovering alcoholic not fully off the wagon), perceives war friends differently eight years after the war ended in 1945. His two other war buds who fought with the mercenary in the jungle against the Japanese are the local communist indoctrinated Ng (Tetsuro Tamba) and the school teacher Dhana (Capucine, Holden's real-life lover during the film and former gf of producer Feldman). In 1953, plantation owner Ferris also battles against the haughty Brits screwing up Malaya by not knowing how to let go of the country, as it seeks independence just as the commie terrorist natives are resorting to violence against the Brit occupiers. It was filmed in lush Kuala Lumpur in Malaysia. With the arrival of Brit governor Trumphey (Michael Goodliffe) and his gorgeous twenty-something daughter Candy (Susannah York), who has the hots for the middle-aged Ferris, the drama sinks to a sweaty romp in the jungle. When both Ferris snd Dhana refuse to help the Brits snag Ng, they frame Dahana as a terrorist and threaten to execute her. Ng in retaliation captures Candy and threaten her if Dhana is not released.
It's up to Holden to rescue somebody, and that turns out to be Candy. In the meantime the idealist Capucine is executed. Which leads to some silly ending of Holden telling York she's too young for him and thereby ending their relationship.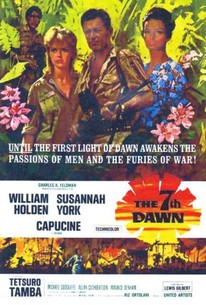 REVIEWED ON 5/24/2018 GRADE: C+    https://dennisschwartzreviews.com/