7 FACES OF DR. LAO

(director:  George Pal; screenwriters: Charles Beaumont/from the novel "The Circus of Dr. Lao" by Charles Finney; cinematographer: Robert Bronner; editor: George Tomasini; music: Leigh Harline ; cast: Tony Randall (Dr. Lao), Barbara Eden (Angela Benedict), Arthur O'Connell (Clint Stark), Noah Beery, Jr. (Tim Mitchell), John Qualen (Luther Lindquist), Minerva Urecal (Kate Lindquist), John Ericson (Ed Cunningham/transformed Pan), Lee Patrick (Mrs. Howard Cassin), Frank Cady (Mayor Sargent), Royal Dano (Carey); Runtime: 99; MPAA Rating: NR; producer; George Pal: MGM; 1964)
"Joyfully directed by the Hungarian-born animation maven George Pal."
Reviewed by Dennis Schwartz

The fantasy curio bombed at the box-office but has since become a cult hit, joyfully directed by the Hungarian-born animation maven George Pal ("Tom Thumb"/"The Time Machine"), in his last film. The special effects were handled marvelously by Jim Danforth. Sci-fi writer of the Twilight Zone scripts Charles Beaumont adapts it from Charles Finney's first novel, in 1935, "The Circus of Dr. Lao." Bill Tuttle masterfully applied the make-up and was awarded an honorary Oscar for make-up (before make-up became an Oscar category), and as a result was rewarded by MGM with a promotion to film director. Credit for the film's success largely goes to the energized performance by the noted supporting actor Tony Randall,  in one of his few leading roles.

During the Depression a circus arrives in the isolated desert town of Abalone, Arizona. The elderly Chinese ringmaster, Dr. Lao (Tony Randall), on a mule and dressed like Confucius, takes an ad in the local newspaper to announce the arrival of the circus and invites the whole town to attend. He befriends the honest and outspoken crusading editor Ed Cunningham (John Ericson), and notes his romance with the sexually repressed young widow librarian Angela (Barbara Eden) is going nowhere because she can't see what a good guy Ed is. Dr. Lao can and observes from the editorials that the greedy tycoon land baron Clint Stark (Arthur O'Connell) and his henchmen are bad guys, buying up the town on the cheap in the expectation the railroad is coming through.

The entire town attends the circus, as Dr. Lao plays six characters in disguise. Each character gives the locals something to think about as a lesson in morals. As he plays the following: the blind truth telling seer Apollonius, who holds up a mirror to see the truth; as Medusa he turns a quarrelsome woman into stone; as the Roman love god Pan he makes it possible for Ed and Angela to be romantic; as a giant sea serpent he shows Clint the error of his ways by scaring him-the serpent has his face. He also plays to great effect Merlin the Magician (whose magic is only thought of as merely "parlor tricks" by the audience) and the Abominable Snowman (in a small part as a hairy man) .

When the circus leaves the next day, the town is all the better for it.

Though the fun production is superb, the script is too verbose, its moralizing is grating and its sentimentality is too sappy. It's a joke that its message seems to be that we should be true to ourselves, yet it's a white guy who is disguised as a stereotyped Chinaman–a seemingly racist depiction.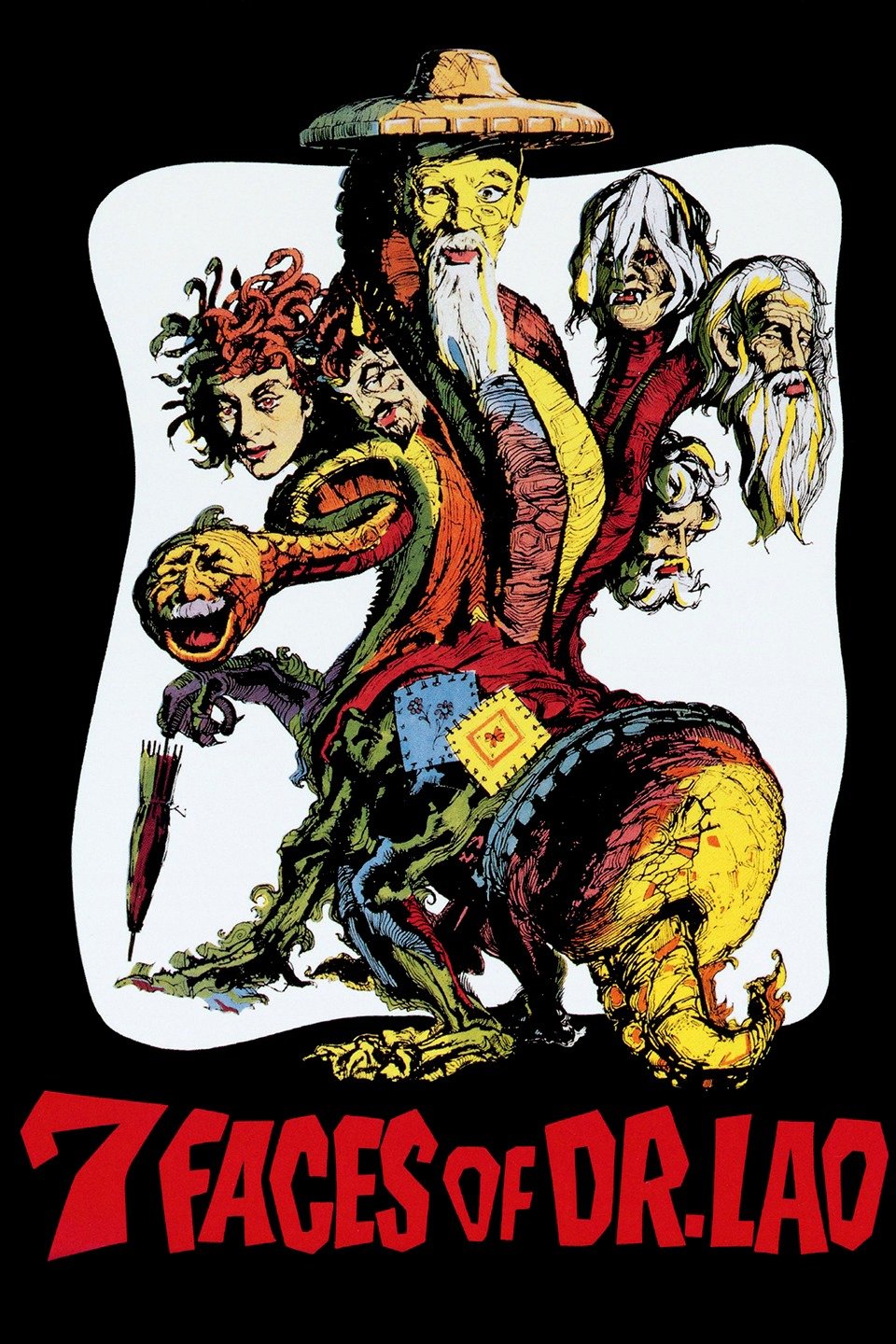 REVIEWED ON 8/30/2021  GRADE:  B-