NOCEBO
(director: Lorcan Finnegan; screenwriter: Garret Shanley; cinematographers: Jakub Kijowski/Radek Ladczuk; editor: Tony Cranstoun; music: Jose Buencamino; cast: Mark Strong (Felix), Eva Green (Christine), Chai Fonacier (Diana), Billie Gadsdon (Bobs), Cathy Belton (Liz); Runtime: 97; MPAA Rating: NR; producers: Brunella Cocchiglia/Emily Leo; RLJE; 2022-Ireland/UK/USA)
"Intriguing, tense and unsettling psychological thriller."
Reviewed by Dennis Schwartz
Irish filmmaker Lorcan Finnegan ("Vivarium"/"Without Name") directs this intriguing, tense and unsettling psychological thriller raising much angst over capitalist ventures that are shady and are destroying personal lives and the environment. It's not made with scares in mind but to unearth some discoveries about the villain's destructive character that will horrify you. It's filled with haunting visuals, has an eerie score by Jose Buencamino and is effectively written as a prestige horror pic by Garret Shanley that takes a hard look at the dark side of capitalism.

The successful but exploitative children's ware fashion designer, Christine (Eva Green, French actress) is bothered by a mysterious illness that came about from a destructive fire in a Filipino sweatshop that makes her clothes with cheap labor. That incident somehow causes her to experience memory loss and to hallucinate. Whatever mysterious ailment she has eludes her doctors and irks her skeptical but supportive husband Felix (Mark Strong), a financial market strategist. They have a beautiful but spoiled private school attending teenage daughter Bobs (Billie Gadsdon), and live in luxury in a big house in the middle of Dublin.

At home, Christine is cared for by the Filipino named Diana (Chai Fonacier), who just arrives from the Philippines and turns up uninvited on the rich family's doorsteps claiming they hired her even if they don't recall doing so. Diana settles in as the live-in housekeeper and nurse, and does both the cooking and acts as a traditional folk healer (probably is a witch). The chances of her being hired in real-life seem nil.
Things change when Diana's treatment gets Christine to reveal a critical dark secret.

What's left to figure out is if the weird looking Diana has ulterior motives outside of healing Christine, as she has a conflict in the way she treats her superstitious and troubled patient.

Mysticism and the supernatural arise through the caretaker's questionable actions, as she believes out of control consumerism has caused the collapse of Western society.

As the unlikable Christine's mental condition deteriorates, the mounting dread from her past gets in her head and she begins to cynically attack her exploitative and misanthrope husband for being a control freak, only interested in money.

Green is perfectly cast to play the villain, whose caustic performance fuels the thought-provoking film and makes it eerily watchable.

In case you're wondering, Nocebro refers to the negative version of the placebo effect (don't ask what that means!).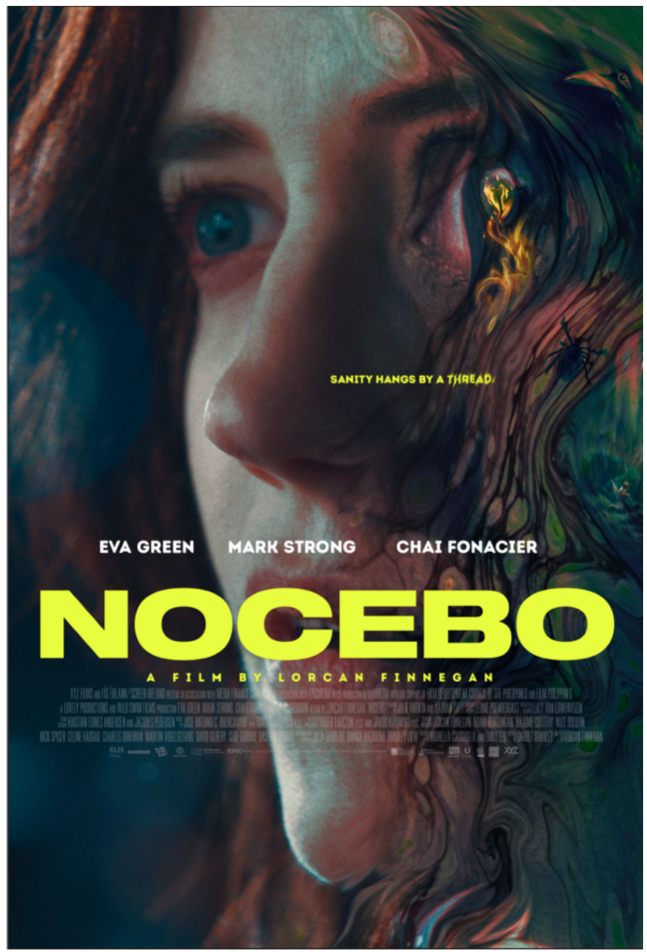 REVIEWED ON 12/6/2022 GRADE: B