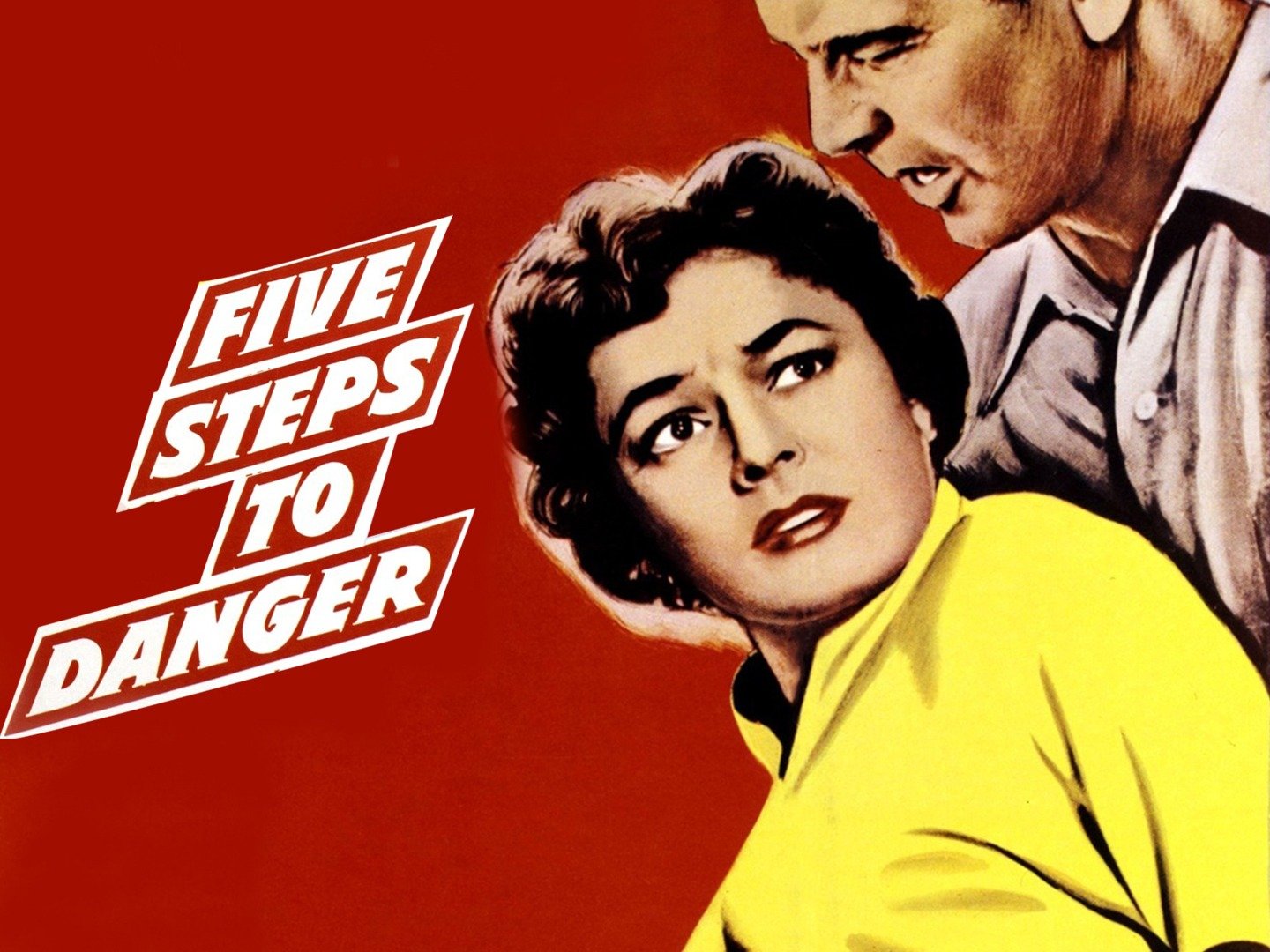 5 STEPS TO DANGER
(director/writer: Henry Kesler; screenwriters: from a Saturday Evening Post story by Donald Hamilton & Turnley Walker/based on the novel "The Steel Mirror" by Donald Hamilton; cinematographer: Kenneth Peach; editor: Aaron Stell; music: Paul Sawtel/Burt Shefter; cast: Ruth Roman (Ann Nicholson), Sterling Hayden (John Emmett), Werner Klemperer (Dr. Frederick Simmons), Richard Gaines (Dean Brant), Charles Davis (Kirkpatrick), Jeanne Cooper (Helen Bethke), Peter Hansen (Karl), Karl Lindt (Dr. Reinhardt Kissel), John Merrick (Sheriff), John Mitchum (Deputy), Ken Curtis (FBI Agent Jim Anderson); Runtime: 80; MPAA Rating: NR; producer: Henry Kesler; United Artists; 1957)
"An engaging Cold War spy story that's still chilling despite being ridiculous and unevenly directed."
Reviewed by Dennis Schwartz
An engaging Cold War spy story that's still chilling despite being ridiculous and unevenly directed by Henry Kesler ("Three Russian Girls"). It's based on the novel "The Steel Mirror" by Donald Hamilton, and on the story that appeared in the Saturday Evening Post by Hamilton & Turnley Walker. Kesler wrote the twisty screenplay.
While nice guy businessman John Emmett (Sterling Hayden) ventures from California to Texas on a fishing holiday, his car breaks down in rural California and is towed. John sells his car for $400 rather than wait a week for repairs. At the auto repair shop, he meets the anxious motorist Ann Nicholson (Ruth Roman) and accepts her invitation to share the driving to Santa Fe, New Mexico. At a rest stop John, when alone, is approached by Helen Bethke (Jeanne Cooper), a nurse who has been following Ann. She tells John that Ann is under the care of her psychiatrist boss, Dr. Frederick Simmons (Werner Klemperer, son of musical conductor Otto), also following in the car, after her nervous breakdown in LA. John agrees that they meet in Santa Fe so Ann can receive the treatment she might need. Things drastically change when the duo is back on the road again, and Ann is arrested by local lawmen for murdering a CIA agent in LA. While both are handcuffed, they escape. Ann then tells her story of being a former German citizen and that she recently learned her brother, the only surviving member of her family, was imprisoned by the Communists in East Berlin. Returning to Germany, she meets her brother's prison mate, Karl (Peter Hansen), who escaped with her brother. Unfortunately her brother was killed escaping but told Karl to have sis deliver in person to the physicist Dr. Kissel, a family friend, a steel mirror that has etched in it the secret code transcripts to the latest Soviet missile system.
The story of the innocents trying to reach the genius scientist, working for the Americans at the secret Numa Test Center, is wracked with danger and absurdity. They are pursued by the evil Communist shrink and his henchmen. But their adventure hardly seemed credible. Sterling Hayden is such a good actor that he can almost even pull off making such an absurd script seem semi-plausible.
REVIEWED ON 5/7/2015 GRADE: B- 
https://dennisschwartzreviews.com/