355, THE
(director/writer:Simon Kinberg; screenwriters: Theresa Rebeck/story by Rebeck/Bek Smith; cinematographer: Tim Maurice-Jones; editors: John Gilbert/Lee Smith; music: Junkie XL; cast: Jessica Chastain (Mason "Mace" Brown), Diane Kruger (Marie Schmidt), Penélope Cruz (Graciela), Fan Bingbing (Lin Mi Sheng), Lupita Nyong'o (Khadijah), Sebastian Stan (Nick), Leo Staar (Grady), Édgar Ramirez (Luis, Colombian mercenary); Runtime: 122; MPAA Rating: PG-13; producers; Jessica Chastain, Kelly Carmichael, Simon Kinberg: Universal; 2022)
"Slick but empty spy B-film."

Reviewed by Dennis Schwartz

Simon Kinberg ("X-Men: Dark Phoenix") directs this slick but empty spy B-film he writes with playwright Theresa Rebeck and Bek Smith. The film reunites him with Jessica Chastain from his Dark Phoenix film. It features an ensemble cast of international women stars (Jessica Chastain, Penélope Cruz, Lupita Nyong'o, Diane Kruger and Fan Bingbing).

Its heroine CIA agent takes the code number of the American spy during the American Revolutionary War, who was kept a secret by history.

Independent-minded Mace Browne (Jessica Chastain) is a C.I.A. workaholic. After begrudgingly teaming up with rival German BND agent Marie Schmidt (Diane Kruger), she goes rogue when her covert operation to recover a top-secret weapon goes awry after the Germans stop a sale of it to a drug lord. But the morally-compromised Colombian agent Luis (Edgar Ramírez) interferes, and the initial global threat remains in place.
Mace thereby enlists an old friend and ex-MI6 computer techie expert Khadijah (Lupita Nyong'o) and the cool Colombian secret police psychologist Graciela (Penélope Cruz), a civilian, who is trying to get her countryman Luis to surrender. The good agents are trying to retrieve the hacked 'hard-drive' chip (which can hack into any system, and is shown bringing down a cargo plane) from the mercenaries before it can do some serious damage. When the chase for the devise gets to Shanghai, Mace adds to the team the kickass warrior secret Chinese spy Lin Mi Sheng (Bingbing Fan)–as the film climaxes to its big battle scene to accomplish its mission and for Mace to avenge the death of her would-be boyfriend fellow agent.

The film goes globetrotting around the world to places such as Paris, Marrakesh, and Shanghai. Also a jungle in Colombia. Even London, and Berlin are briefly visited.

The only thing new from this mainstream action-spy films, is that the action stars are all females. Other wise it's spy business as usual in Hollywood.

The formidable women representing government agents from the United States, England, Germany, Colombia and China, show that diverse countries can work together. The main male lead, Nick (Sebastian Stan), is the lovesick boyfriend of Mace, killed off early-on in a chase scene in Paris.

The 355 will in the end shun its many humorous opportunities to instead soberly lecture us to be always on guard, as we are dutifully reminded in modern warfare cyber war is very much a part of the game.

Chastain does well revising by now her familiar stock character role as the 'strong female,' but the familiar espionage tale — even with a few entertaining moments — was still too familiar for me to stick up my thumb for it. Though I'm almost sure if it does a good box office we'll see a sequel.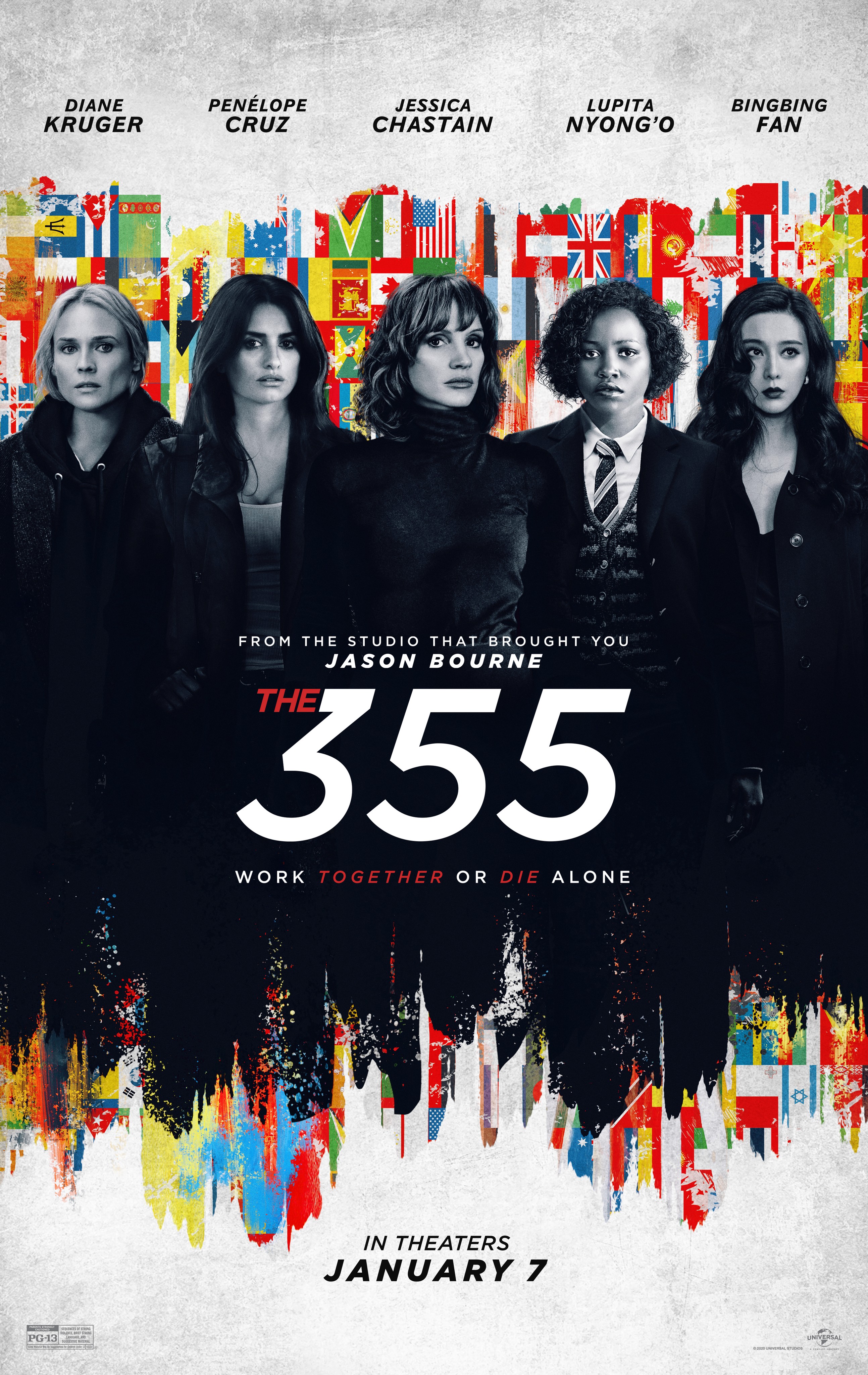 REVIEWED ON 1/7/2022 GRADE: C+