1917
(director/writer: Sam Mendes; screenwriter: Krysty Wilson-Cairns; cinematographer: Roger Deakins; editor: Lee Smith; music: Thomas Newman; cast: George Mackay (Lance Corporal Schofield), Dean-Charles Chapman (Lance Corporal Blake), Colin Firth (General Erinmore), Benedict Cumberbatch (Colonel MacKenzie), Mark Strong (Captain), Claire Duburcq (frightened woman), Daniel Mays (Sergeant Sanders), Adrian Scarborough (Major Hepburn), Jamie Parker (Lieutenant Richards), Nabhan Rizwan (Sepoy), Richard Madden (Lt. Blake), Andrew Scott (Lt. Leslie); Runtime: 118; MPAA Rating: R; producers: Pippa Harris/Brian Oliver/Sam Mendes/Callum McDougall/Jayne-Ann Tenggren; Universal Pictures; 2019)
"A first-class war drama."
Reviewed by Dennis Schwartz
British writer-director Sam Mendes ("American Beauty"/"Spectre") was inspired by stories told to him by his grandfather, who was a runner in The Great War. Along with co-writer Krysty Wilson-Cairns, Mendes delivers a first-class war drama that's set over the course of one fateful day. The story is not based on anything factual. What gives it merit is the craftsmanship, the highly emotional and suspenseful story, its high energy level and the superb cinematography by Roger Deakins, which is as good as it gets in this genre.

The epic W.W.I film uncannily uses one continuous shot to follow the mission of two British infantryman friends, the stoic Lance Corporal Schofield (George Mackay) and the chipper Lance Corporal Blake (Dean-Charles Chapman). They are charged with delivering a message to a far-off division, by crossing over "no man's land," to halt an attack against the Germans, as they go on their own over rough terrain that has barbed wire and is booby trapped. They are resolute to deliver the message to warn their British comrades that they are walking into a trap and many lives may be lost if they don't get the message.
Since all phone lines have been cut on the Hindenberg Line in northern France, on April 6, 1917, General Erinmore (Colin Firth) has called upon Blake and his best friend Schofield to deliver the urgent message in a race-against-time to Col. Mackenzie (Benedict Cumberbatch), whose outfit is unaware of the trap and is advancing to the front. Blake was chosen as messenger because his older brother, Lt. Blake (Richard Madden), is part of Mackenzie's 2nd battalion, consisting of 1,600 British soldiers at Croisilles Wood.
The score by Thomas Newman is grandiose and Oscar worthy. If there's any problem with the film it's that some of the action, even if entertaining, is nevertheless hard to realistically believe.Though not a perfect film, it scores well as an impactful modern-day war drama.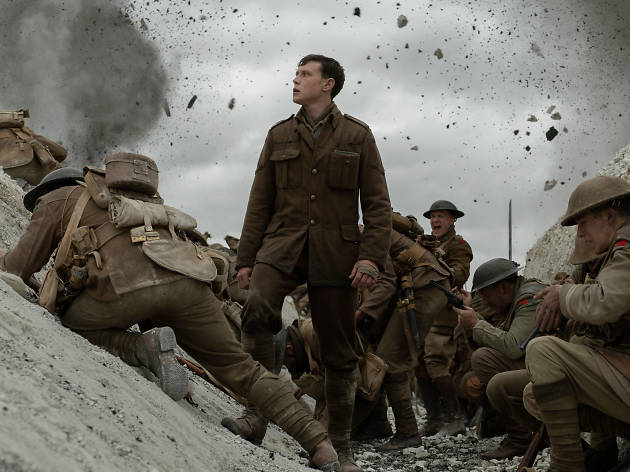 REVIEWED ON 12/24/2019 GRADE: A- https://dennisschwartzreviews.com/