10 RILLINGTON PLACE
(director: Richard Fleischer; screenwriter: Clive Exton/based on the book by Ludovic Kennedy; cinematographer: Denys N. Coop; editor: Ernest Walter; music: John Dankworth; cast: Richard Attenborough(John Christie), John Hurt (Timothy John Evans), Judy Geeson (Beryl Evans), Pat Heywood (Mrs. Ethel Christie),  Andre Morreln (Judge Lewis), Gabrielle Daye (Mrs. Lynch), Phyllis MacMahon (Muriel), Isobel Black (Alice) Robert Hardy (Malcolm Morris), Miss Riley (Baby Geraldine), Basil Dignam (Medical Board), Geoffrey Chater (Christmas Humphreys), Edward Evans (Detective Inspector); Runtime: 111; MPAA Rating: NR; producers; Martin Ransohoff, Leslie Linder: Columbia/Sony Screen Classics; 1971-UK)
"Unsettling true murder story."
Reviewed by Dennis Schwartz

The American filmmaker Richard Fleischer ("The Boston Strangler"/"Compulsion") brilliantly directs this unsettling true murder story of the pervert monster John Christie (Richard Attenborough), a glasses wearing, mild-mannered, pudgy, bald, middle-aged smallish man, who became one of Britain's most notorious serial killers. He killed at least seven women and a baby in the shabby building he owned at 10 Rillington Place, in London's squalid Nottingham district, where he was the landlord and lived with his unsuspecting wife Ethel (Pat Heywood).

The first murder is seen by us in 1944. We learn that Christie was wounded during the First World War, and because of the manpower shortage served as an auxilliary policeman while London was in its blackout period during World War II. While in a cop's uniform and pretending to have medical knowledge, he treats the middle-aged Muriel (Phyllis MacMahon) for her bronchitis, who he puts under with gas and then rapes and strangles her, and then buries her in his backyard. 

He stopped killing for five years, until 1949, where he murdered his new tenant's pregnant teenager wife Beryl (Judy Geeson) and the family daughter Geraldine (Miss Riley). Christie framed her illiterate Welsh hubby Timothy John Evans (John Hurt) for the murder. When the tenant finds his wife is pregnant, he complains he can't afford another child and the landlord talks the couple into performing an illegal abortion. When dead she's raped by Christie, who talks hubby into covering up the crime of an illegal abortion by getting him to bury her. Later the guilt-ridden hubby flees to Wales and when pressed by family members about his missing wife, confesses his crime to the police. At the trial he pleads innocent, but is found guilty and hangs for the murder. Meanwhile Christie continues for several years to lure women into getting his medical treatments and then killing and raping them. He even kills his wife.

The lurid murder story is based on the book by Ludovic Kennedy (in which he used to make a case for both a women's right to abortion and against the death penalty), and on the screenplay by Clive Exton.

When later it was determined an innocent man was hanged (tenants at the notorious address found corpses buried behind the walls of the cupboards), this strange case became grounds for an anti-capital punishment movement, which soon became a reality. Twelve years after he was hanged, Timothy was pardoned.

The film was a tough watch because it was so downbeat. But the performances by Richard Attenborough and John Hurt were riveting. It's a no-nonsense film, more or less a criminal procedural one, whose status has grown greater with the passing years.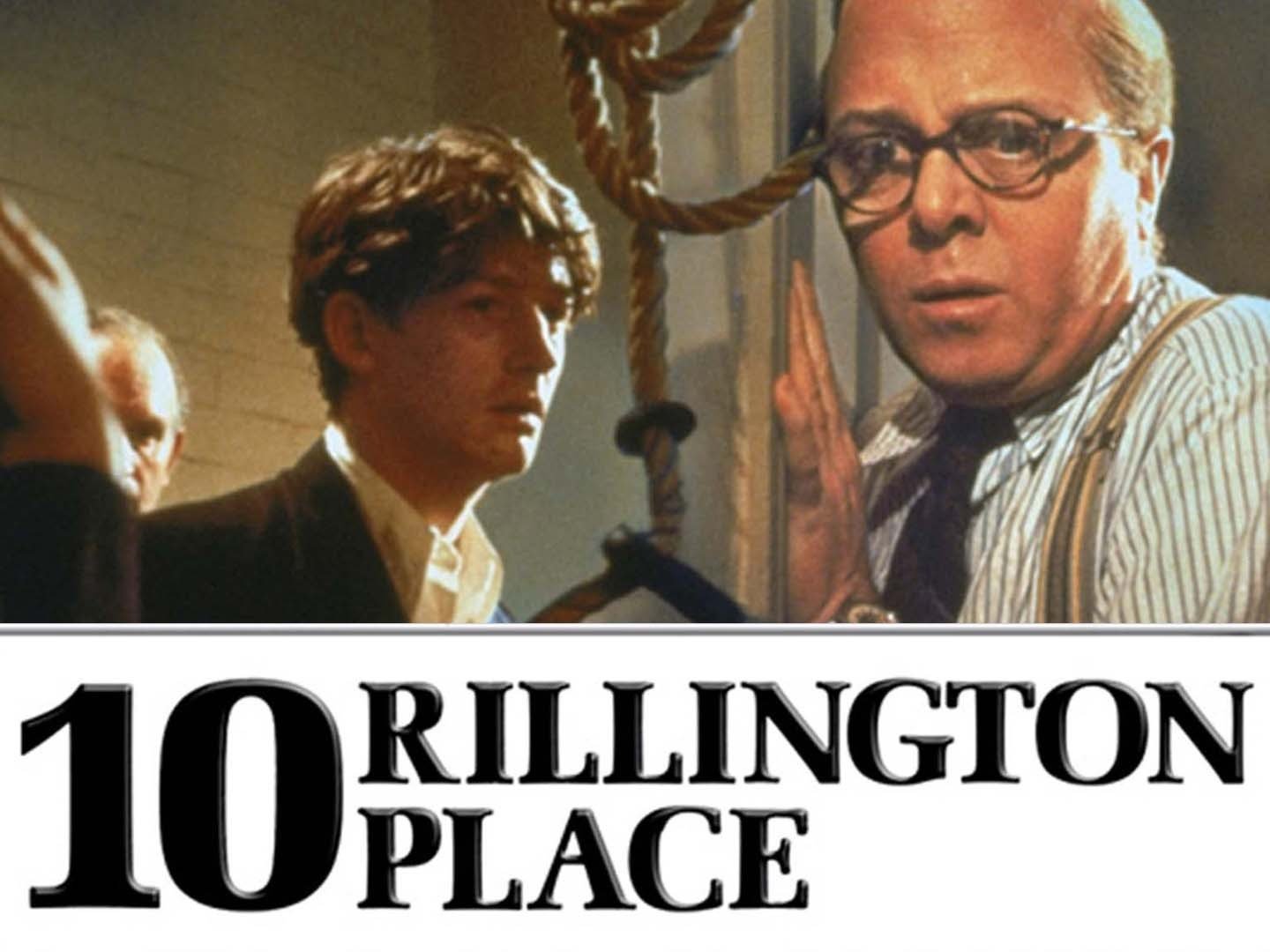 REVIEWED ON 1/16/2022  GRADE:  B+