WOMAN IN THE WINDOW, THE
(director: Joe Wright; screenwriters: novel by A.J. Flynn/Tracy Letts; cinematographer: Bruno Delbonnel; editor: Valerio Bonelli; music: Danny Elfman; cast: Amy Adams (Anna Fox), Gary Oldman (Alistair Russell), Anthony Mackie (Ed), Fred Hechinger (Ethan Russell), Julianne Moore (Jane Russell-Kate), Brian Tyree Henry (Det. Little), Wyatt Russell (David), Jennifer Jason Leigh (Jane Russell 2), Jeanine Serralles (Det. Norelli), Mariah Bozeman (Olivia, Anna's daughter), Daymien Valentino (Mover). Tracy Letts (Dr. Karl Landry); Runtime: 100; MPAA Rating: R; producers: Eli Bush/Scott Rudin/Anthony Katagas; Netflix/20th Century release; 2021)
"Wright will never be mistaken for the Master of Suspense."
Reviewed by Dennis Schwartz

A contrived B-film thriller that's derivative of Hitchcock's Rear Window and many other past noir films (the 1944 Fritz Lang noir film has the same title). Joe Wright ("Darkest Hour"/"Atonement") directs the convoluted whodunnit with flourishes of atmosphere and prickly characterizations, and its quirkiness differs in tone from the playful nature of the book.
Wright finished filming in 2018 but due to poor trial runs with the public the studio re-worked the film by hiring a fixer, Tony Gilroy, who did the rewrites to help Wright get it right.

Wright will never be mistaken for the Master of Suspense, but tries hard to get at the craziness of the psychological drama until it turns halfway through filming with a big unnecessary reveal and thereby it fails to reach any sensible conclusion. Its flimsy script by playwright and actor Tracy Letts is the ruin of the film. He adapts it from the best selling 2014 novel by A.J. Flynn (a disgraced author whose real name is Dan Mallory). Letts also plays the sick heroine's icy psychiatrist, Dr. Karl Landry, who builds a toxic relationship with her in his home visits to treat her.

Anna Fox (Amy Adams) is a Manhattan shut-in resident for the last year (with groceries & meds home delivered), who is dressed mostly in pajamas and a robe as she lounges around the apartment. She's a movie buff (seen watching on TV "Spellbound" and "Rope") who lives alone with her pet cat Punch on West 121st Street, a gentrified Harlem neighborhood, in a spacious and modern renovated brownstone. In the basement lives her singer/songwriter tenant, David (Wyatt Russell), a strange one who finds it difficult to converse with the screwed-up landlady when trying to help her.
The anxiety-driven former child psychologist, an always carping crone,  is separated from her therapist husband Ed (Anthony Mackie) for a reason never mentioned. Hubby, who regularly converses with her by phone, has custody of their 8-year-old daughter (Mariah Bozeman).


Anna's viewed as a heavy wine drinker and is obsessed with spying on her new neighbors. Her new friend is the new neighbor Jane (Julianne Moore), who comes over one night to give her a scented candle, drink some wino and chat about her teenage son Ethan (Fred Hechinger)–who we are told is allergic to the family Persian cat.

Later on, using binoculars, Anna believes she witnesses Jane being knifed by her controlling husband Alistair (Gary Oldman). But after calling the cops (Jeanine Serralles & Brian Tyree Henry) Anna learns that the Jane she met is not the one who now is seen with him as his wife. But this wife,  Jane 2, is played by Jennifer Jason Leigh and is the one Alistair swears is his real wife. When the cops hear this, they dismiss Anna as a mentally touched woman and leave.

"Woman" turns out to be a murky tale that falls apart from too much futile talk, as it reaches an unsatisfactory tractable ending. After learning only about Anna's current life and nothing of her past, she's viewed as an unsympathetic misanthropic protagonist in need of help.
The narrative is filled with many red herrings and the switching of plot devices. The sad story of an unhinged woman struggling to be believed, whose fabulous apartment seems to be her only comfort zone when stressed, is not believable.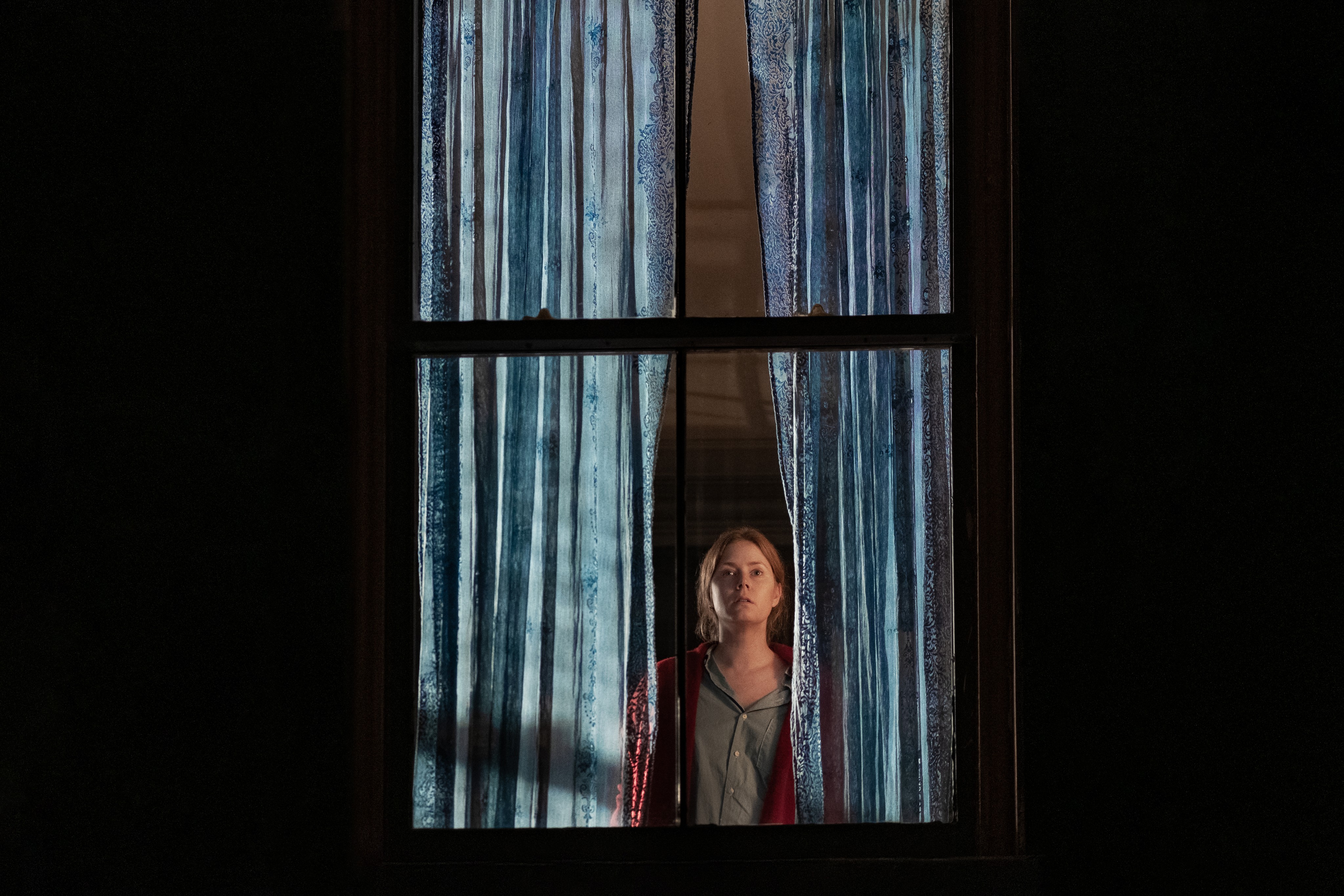 REVIEWED ON 5/25/2021 GRADE: C+