WEREWOLVES WITHIN
(director:  Josh Ruben; screenwriter: Mishna Wolff; cinematographer: Matt Wise; editor: Brett W. Bachman; music: Anna Drubich; cast: Sam Richardson (Finn), Milana Vayntrub (Cecily), George Basil (Marcus), Glenn Fleshler (Emerson Flint), Catherine Curtin (Jeanine), Cheyenne Jackson (Devon), Harvey Guillén (Joaquin Wolfson), Sarah Burns (Gwen), Michael Chernus (Pete), Wayne Duvall (Sam Parker), Rebecca Henderson (Dr. Ellis), Michaela Watkins (Trisha Anderton); Runtime: 97; MPAA Rating: R; producers; Jason Altman, Margaret Boykin, Andrew Lieberman, Natalie Metzger, Matt Miller, Benjamin Wiessner: IFC Films/ Vanishing Angle; 2021)
"A small-town based horror comedy that shoots for funny."
Reviewed by Dennis Schwartz

A small-town based horror comedy that shoots for funny. It's snappily directed by Josh Ruben ("Scare Me") as if a SNL skit and is written with more comical whiffs than hits by Mishna Wolff. It's based very loosely on the video game of the same name, the murder mystery whodunit called the Ubisoft game. An able ensemble cast built for comedy is featured.

It's set in the northeastern hamlet of Beaverfield, Vermont, where a bunch of goofy characters are central to the crime narrative–that include a loner mountain man survivalist (Glenn Fleshler), the redneck couple of the mechanic Gwen (Sarah Burns) and her boyfriend Marcus (George Basil), the always mumbling eccentric innkeeper Jeanine (Catherine Curtin), a retired from the city rich busybody gay couple (Cheyenne Jackson and Harvey Guillén), Trisha (Michaela Watkins) as the small-dog loving kooky gift-shop owner and, the first vic, her conservative hubby Pete (Michael Chernus).

The residents are promised a big cash payoff for turning their hamlet over to Midland Gas so they can put in a pipeline, but have differing opinions on what to do. The scheming rich oilman resident (Wayne Duvall) is the one pushing the pipeline. To ensure things go smoothly, the company assigns the park ranger Finn Wheeler (Sam Richardson) to watch over the operation. The Black dude living in the all-white town, arrives for assignment during a full moon and a blizzard. In the opening scenes we hear some nice Mister Rogers quotes about being a friendly neighbor.

The snowstorm traps the residents and a visiting environmentalist scientist (Rebecca Henderson), "here to stop the pipeline," in a secluded inn. To alleviate tensions after the first murder is reported, soon after Finn's visit, the ranger teams up with the new feminist postal chief Cecily (Milana Vayntrub), whereby she gives him the low-down on everyone in town.

When the killings begin in earnest some residents spot a mysterious furry creature on the loose. Some think it could be a werewolf: some think it's outside in the woods, others think the werewolf is inside the inn with them.

The film turns to a mix of horror, visual gags and sniping jokes that take a shot at everything thought to be politically sacred. It's more funny than scary.

Everyone is a suspect who has a motive and is fit enough to possibly commit murder, as they're mocked by the filmmakers for being either rigid conservatives, elite liberals, heavy boozers or ruffians. 

It's silly stuff, with the likable Sam Richardson providing a warm performance in the snow that might sway you to like such funny fluff despite its characters lacking depth and the bickering townies narrowly viewed as stereotyped adherents of either red or blue state values.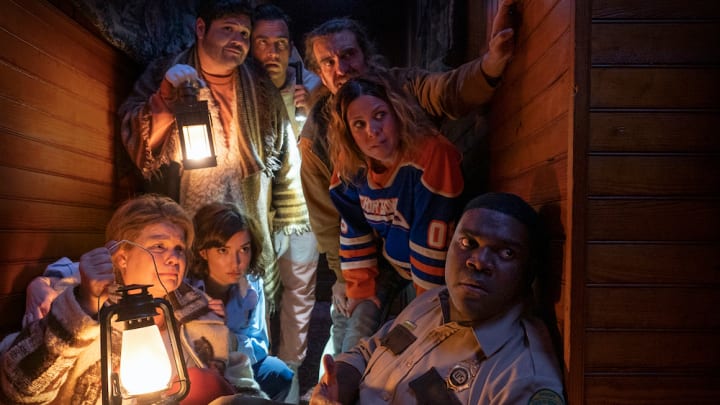 REVIEWED ON 6/27/2021  GRADE: B-