VIOLENT ROAD
(director: Howard W. Koch; screenwriters: Richard Landau/story by Don Martin; cinematographer: Carl Guthrie; editor: John F. Schrier; music: Leith Stevens; cast: Brian Keith (Mitch Barton), Dick Foran (Frank "Sarge" Miller), Efrem Zimbalist Jr. (George Lawrence), Sean Garrison (Ken Farley), JoAnna Barnes (Peg Lawrence), Merrie Anders (Carrie), Perry Lopez (Manuelo), Arthur Batanides (Ben), Ed Prentiss (Mr. Nelson), Ann Doran (Edith Miller), John Dennis (Pat Farley), Asa Maynor (Agnes), Charmienne Hawker (Margaret), Susan Adams (Kathy), John Veitch (Track), Venetia Stevenson (Doreen); Runtime: 86; MPAA Rating: NR; producer: Aubrey Schenck; Warner Bros.; 1958-b/w)
"Should have been better than a routine film."
Reviewed by Dennis Schwartz
Howard W. Koch ("The Last Mile"/"The Girl in Black Stockings") directs this similar thriller to French director Clouzot's Wages of Fear and the American Friedkin's redo of that film called Sorcerer–about truckers risking their lives for money to carry explosives over dangerous roads. All are good films, with Wages of Fear being the cream of the crop.

In this low-budget version, filled with credibility issues, six desperate truckers (Brian Keith, Dick Foran, Efrem Zimbalist Jr., Arthur Batanides, Sean Garrison, Perry Lopez), on three trucks, are hired by the nervous cigar smoking owner, Mr. Nelson (Ed Prentiss), of a rocket-fuel chemical plant out west to drive the trucks carrying the highly explosive chemicals over a bumpy mountain desert back road to a missile base some distance away that needs the fuel immediately because an accident at the site requires the base to relocate its rockets.

Tough guy, ladies man trucker, Mitch (Keith), arrives in town with a sexy lady who gave him a hitch (Merry Anders) and then talks his way into being hired by the boss, Nelson, to be the trucker leader and hire the truckers for $5,000 each. Manuelo (Lopez) is the dependable and brave mechanic with ambitions to be an engineer. Ben (Batanides) is the cowardly gambler who loves money. Sarge (Dick Foran) feels unneeded when no longer wanted by the Marines and nagged by his neglected, meaning-well wife Edith (Ann Doran), so joins the convoy to prove he's still fit. Ken Farley (Garrison) is the young hot-rodder who takes his lush older brother Pat's (John Dennis) place when he's too drunk to drive. And, the sixth driver is the guilt-ridden George (Efrem Zimbalist Jr.), the rocket scientist who put together the mixture of chemicals being transported to the base, whose experiment at the missile base exploded killing his wife (JoAnna Barnes) and children.

The perils on the road go from a rock slide to large rocks blocking the road, to mechanical problems from the trucks to leakage on one of the fuel tanks.

The Violent Road should have been better than a routine film, but things went wrong with its dreary story–like the bad acting was too much and all the contrived incidents kept adding up in a corrosive way.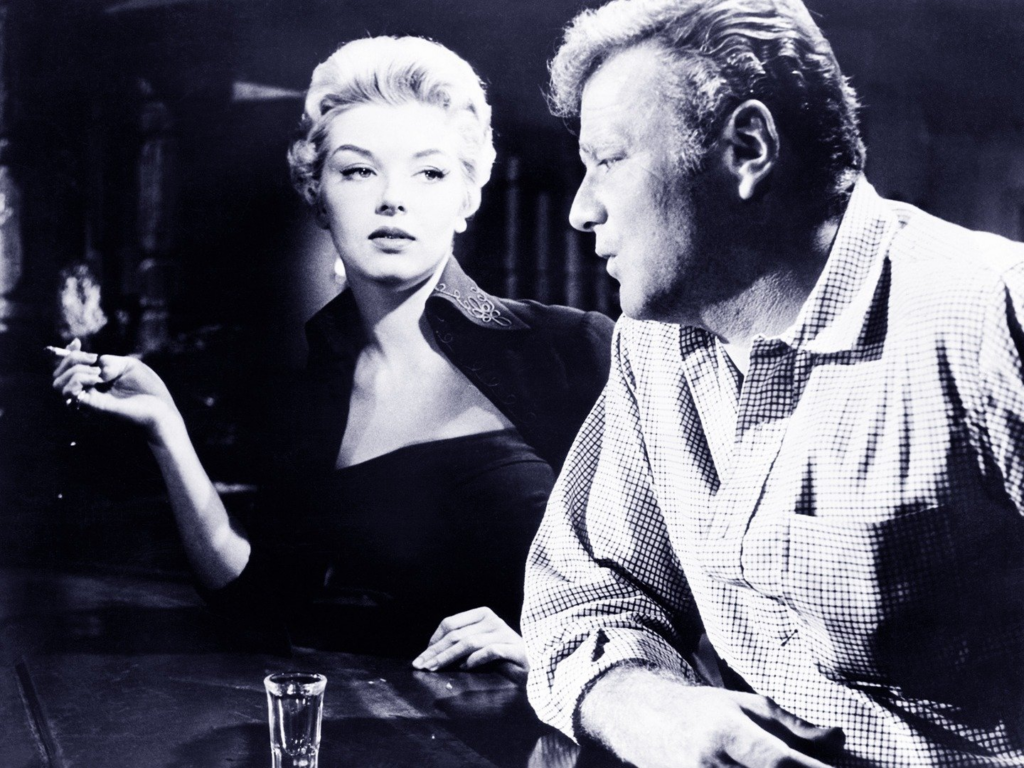 REVIEWED ON 11/24/2022 GRADE: B-