UTAH BLAINE
(director: Fred F. Sears; screenwriters: novel by Louis L'Amour/Robert E. Kent/James B. Gordon; cinematographer: Benjamin Kline; editor: Charles Nelson; music: George Duning; cast: Rory Calhoun (Utah Blaine),  Max Baer (Gus Ortmann),  Ray Teal (Russ Nevers), Angela Stevens (Mary Blake), Susan Cummings (Angie Kinyon), Gene Roth (Tom Cory), Ken Christy (Joe Neal), Norman Frederic (Jug Davis), Paul Langton (Rip Corker), George Keymas (Rink Witter), Jack Ingram (Clel Miller), Steve Darrell (Lud Fuller); Runtime: 65; MPAA Rating: NR; producer: Sam Katzman; Columbia; 1957-B/W)
"Action-packed western about land grabbers in the Old West is robust and fast-paced, but way too predictable and underdeveloped."
Reviewed by Dennis Schwartz

Fred F. Sears ("Rumble On The Docks "/"Earth vs. the Flying Saucers") is a pretty good B film director of low-budget films. His B/W action-packed western about land grabbers in the Old West is robust and fast-paced, but way too predictable and underdeveloped. Writers Robert E. Kent and James B. Gordon base it on a novel by Louis L'Amour.

The hero is Utah Blaine (Rory Calhoun), a rugged professional gunslinger for hire with a sense of morality and fair-play, who just crossed the Mexican border into Texas after busting out of jail during the Mexican Revolution. After a gang of vigilantes string up Red Creek's 46 Plus Ranch owner, Joe Neal (Ken Christy), owner of the territory's biggest spread, he's saved in time by Utah who was hiding nearby. As a reward, Neal offers a half share in the ranch if he'll be foreman on it and file papers in the bank.

The greedy ruthless bad guy is Russ Nevers (Ray Teal), who runs the vigilantes so they can kill off the big ranchers and divide the spoils among their gang.

Utah is aided in protecting the property by the daughter of another big spread rancher, Angie Kinyon (Susan Cummings), whose father was killed by Nevers' hired gunman Rink Witter (George Keymas). Though no ranch hands are left at the 46 Plus Ranch, Utah attracts help from the shotgun wielding foreman of the neighboring Bar B Ranch, Rip Corker (Paul Langton), and the bruiser from a dry goods store in town, Gus Ortmann (Max Baer, the former boxer).
The unflinching Utah starts picking off the bad guys one by one. Also the neighboring Bar B ranch owner, Mary Blake (Angela Stevens), along with Utah and Angie rally the townspeople against Nevers and his gang. While Neal hides from the gang in El Paso until they catch up with him, but not before he leaves his spread in his will to Angie and Utah.
I enjoyed it, but it could have been better served with a more lucid story and characters more fully developed.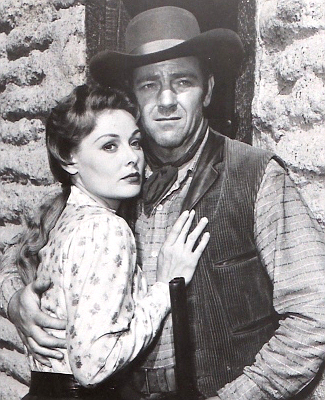 REVIEWED ON 3/21/2020  GRADE: B