UNITED STATES VS. BILLIE HOLIDAY, THE
(director: Lee Daniels; screenwriters: Suzan-Lori Parks/based on the book "Chasing the Scream" by Johann Hari; cinematographer: Andrew Dunn; editor: Jay Rabinowitz; music: Kris Bowers; cast: Andra Day (Billie Holiday), Trevante Rhodes (Jimmy Fletcher), Garrett Hedlund (Commissioner Harry J. Anslinger), Natasha Lyonne (Tallulah Bankhead), Da'Vine Joy Randolph (Roslyn), Dusan Dukic (Joe Glaser),  Rosie Lawrence (Miss Freddie), Leslie Jordan (Reginald Lord Devine), Rob Morgan (McKay), Evan Ross (Agent Williams), Tyler James Williams (Lester Young), Tone Bell (John Levy), Blake DeLong (Agent Carter), Dana Gourrier (Sadie), Melvin Gregg (Joe Guy), Erik LaRay Harvey (James Monroe), Ray Shell (Carl the drummer); Runtime: 130; MPAA Rating: NR; producer: Tucker Tooley/Joe Roth/Joe Fudge/Jeff Kirschenbaum/Lee Daniels/Pamela Oas Williams; Hulu; 2021)
"Billie deserves a better telling of her story."
Reviewed by Dennis Schwartz

A biopic on the last 12 years on the life of the legendary Billie Holiday (Andra Day), one of the greatest jazz musicians of all time, who put up with abuse (from a horrible childhood & a number of monster men suitors), addiction (she was a heroin addict) and government persecution (she was entrapped by the FBI).
Billie was 44 when she died of a liver disease, in 1959.
The impactful tragic story of her life is poorly directed by Lee Daniels ("Shadowboxer"/"Precious"). The lady deserves better treatment. The screenplay is by the prize-winning playwright Suzan-Lori Parks. It's based on the book "Chasing the Scream" by Johann Hari. While the film seems to be off key at times, you can at least take pleasure in the great sound track and the outstanding performance, acting and singing, by Andra Day as Billie, who should be a candidate for an Oscar as Best Actress.


The scenes shot in nightclubs and concert-halls, scored well with the rich songs belted out by Day. It gives us a good idea of the singer's charisma, powerful voice and hold on an audience.


The songs in the film include: "All of Me," "Ain't Nobody's Business," "Them There Eyes" and her biggest hit "Strange Fruit".


Mistakenly telling only about her problems and not how she honed her craft, the film lacks energy between songs. The lady's creative saxophone partner, Lester Young (Tyler James Williams), wrongly appears as her addict partner more than he does as her creative partner.


The gist of the film tells how Billie was betrayed by a Black informer and lover, a Judas for the FBI, named Jimmy Fletcher (Trevante Rhodes). He was just one of nine Black FBI agents at the time, who takes orders from a boss who openly hates Black Americans and jazz, which he refers to as "the devil's work."


This was the wrong director for the great singer, Billie deserves a better telling of her story. She needed a director sensitive enough to tell things the way she sees it.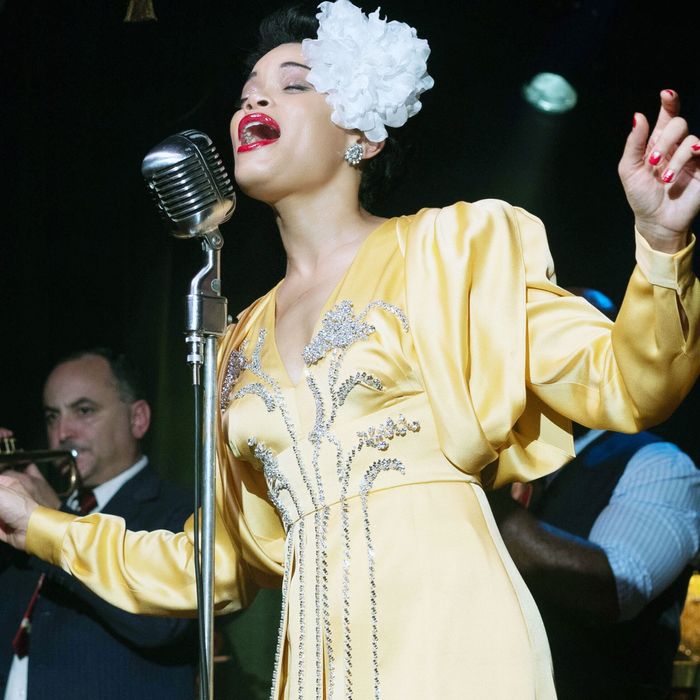 REVIEWED ON 3/5/2021  GRADE: C+