UNHOLY ROLLERS, THE
(director: Vernon Zimmerman; screenwriter: Howard R. Cohen/story by Cohen & Zimmerman; cinematographer: ike Shea; editor: George Trigoroff/Yeu-Bun Yee ; music: Bobby Hart; cast: Claudia Jennings (Karen Walker),  Louis Quinn (Stern), Joe E. Tata (Marshall), Betty Anne Rees  (Mickey Martinez), John Harmon (Doctor), John Mitchell (Horace McKay). John Steadman (Guard),Kathleen Freeman (Karen's Mother),  Maxine Gates (Angie Striker), Roberta Collins (Jennifer), Alan Vint (Greg), Candice Roman (Donna), Jay Varela (Nick), Charlene Jones (Beverly Brayton); Runtime: 88; MPAA Rating: R; producer: John Prizer; Orion; 1972)
"A campy cult classic."
Reviewed by Dennis Schwartz
Vernon Zimmerman ("Deadhead Miles/"Fade to Black") directs this funny farcical comedy on the roller derby that's based on a story he wrote with co-writer Howard R. Cohen. Roger Corman is the executive producer and Martin Scorsese is the supervising editor. It's a campy cult classic, with plenty of titty shots.

Karen Walker (Claudia Jennings, the former Playboy Playmate of the year, who died in a car accident in 1979) shares an apartment with the lovers Donna (Candice Roman) and Greg (Alan Vint ). She quits her dead-end factory job after sexually harassed by her boss. She likes watching the roller derby on TV and so tries out for the Los Angeles Avenger Roller Derby team. The cheap owner of the team, Stern (Louis Quinn), hires the spunky gal mainly for her looks. When the star of the Avengers, Mickey Martinez (Betty Anne Rees), a lesbian, propositions Karen at the team hang-out bar after the games and is turned down, she attacks Karen with other teammates. They strip Karen on a pool table. The only member of the team to come to her aid is Nick (Jay Varela). He becomes her boyfriend even after she learns he's married.

On a whim, the impulsive Karen gets an Avenger tattoo on her arm, and soon becomes the team star and is popular with the fans. But since she doesn't play by the team's unwritten rules for its staged fights, she becomes a hated member even as she earns a big paycheck and becomes a roller derby queen. Her downfall comes after a meltdown with the players and the unctuous team owner, as she goes out of control and ends up in the street.

It's an absurd film of excesses and bad taste, but is funny as a raunchy low-budget comedy featuring oddball characters. It's a tongue-in-cheek homage to the crazy roller derby lifestyle and their bogus sport is mainly mocked for pretending to be a sport. Its heroine is depicted as a vicious loner fighting to survive in a hostile world.

The film came out just after another roller derby film in 1972, the  Kansas City Bomber,  with a larger budget and Raquel Welch.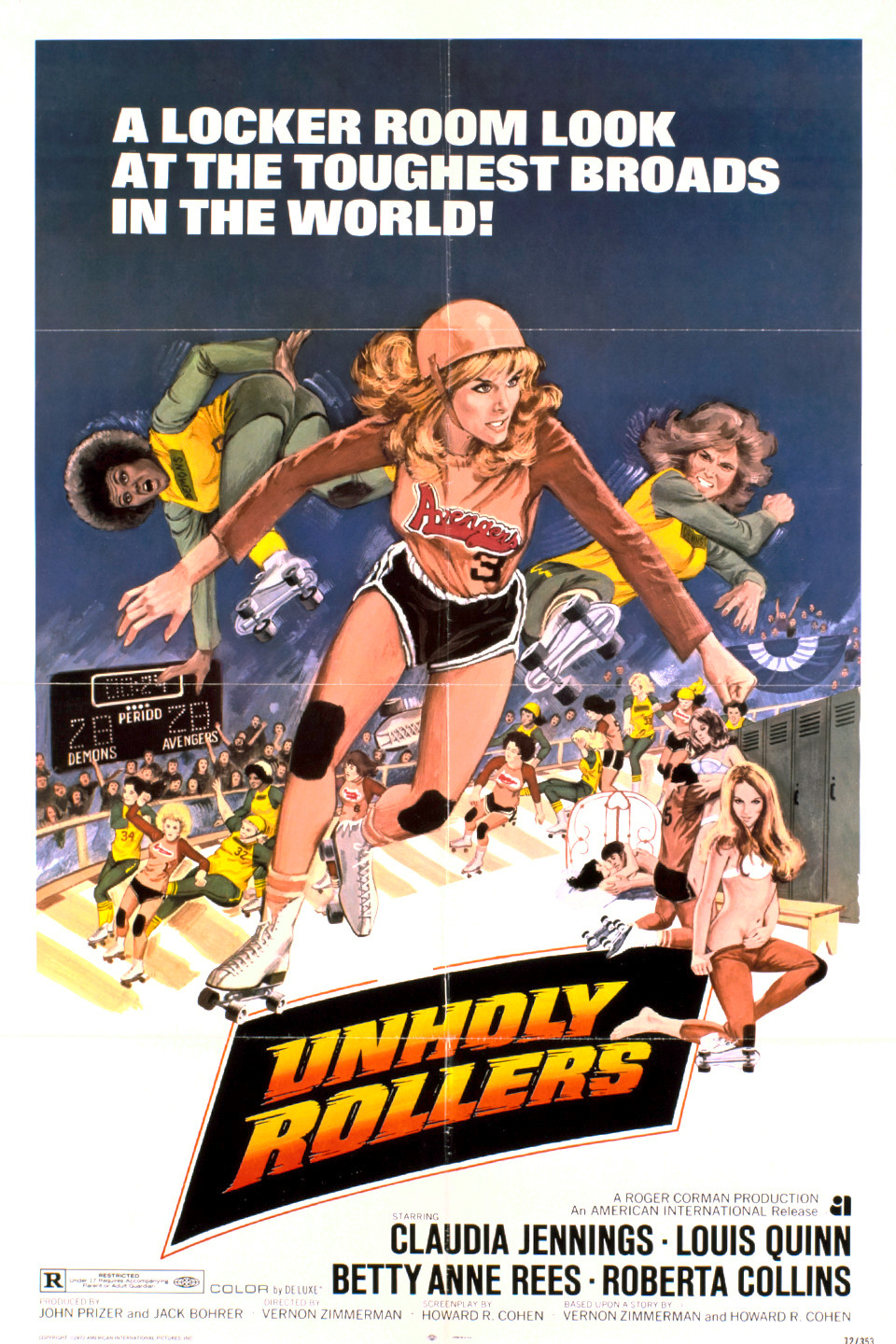 REVIEWED ON 1/11/2018 GRADE: B+