TORNADO RANGE
(director: Ray Taylor; screenwriter: William Lively; cinematographer: James Brown Jr.; editor: Joseph Gluck; music: Allen & Curt Massey; cast: Eddie Dean (Marshal Eddie Dean), Roscoe Ates (Soapy Jones), Brad Slavin (Jebby Sawyer), Jennifer Holt (Mary King), George Chesebro (Lance King), Russell Arms (Killer Dorgan), Steve Clark (Pop Sawyer), Terry Frost (Thayer), Andy Parker (Musician), Lane Bradford (Thorne), Marshall Reed (Wilson); Runtime: 55; MPAA Rating: NR; producer: Jerry Thomas; PRC; 1948-B/W)
"A familiar B Western range war film between ranchers and nesters."
Reviewed by Dennis Schwartz

Ray Taylor ("Jungle Safari"/"Range Justice") directs a familiar B Western range war film between ranchers and nesters. It's penned by William Lively.

With the passage by Congress of the Homestead Act, farmers are allowed to settle on grazing land. A wagon train of settlers arrive in range country in the Old West and are led by a marshal appointed by the land-grant office, Eddie Dean, and his sidekick Soapy Jones (Roscoe Ates). They wish to keep the peace between the rival groups. Lance King (George Chesebro) is head of the rancher's group and vows to not let the homesteaders settle down on their range. Lance's daughter Mary (Jennifer Holt) has little regard for the nesters but wants the courts to settle things to avoid bloodshed in a range war. The crooked town politician Thayer (Terry Frost) hopes to egg on the ranchers to slaughter the homesteaders so he can steal their horses and in the end grab their ranches. Thayer has hired Killer Dorgan (Russell Arms), a killer with a rep for killing innocents during the range wars to stir things up. His gang shoots down in cold blood the homesteader leader Pop Sawyer (Steve Clark). The Sawyer son Jebby (Brad Slavin) vows revenge and goes after Lance. But Dorgan ambushes Lance and the blame for the shooting goes to Jebby and Dean. Thayer arranges for a quickie trial, where the innocent men are sentenced to be hanged. But Soapy frees the accused. While in the jail Mary hears the crooked sheriff Thorne (Lane Bradford) talking with Thayer about their plans to get the homesteaders and ranchers to shoot it out in a gun battle.

Predictably things end well, and Eddie Dean leaves the area for his next gig with a song about the splendors of the range.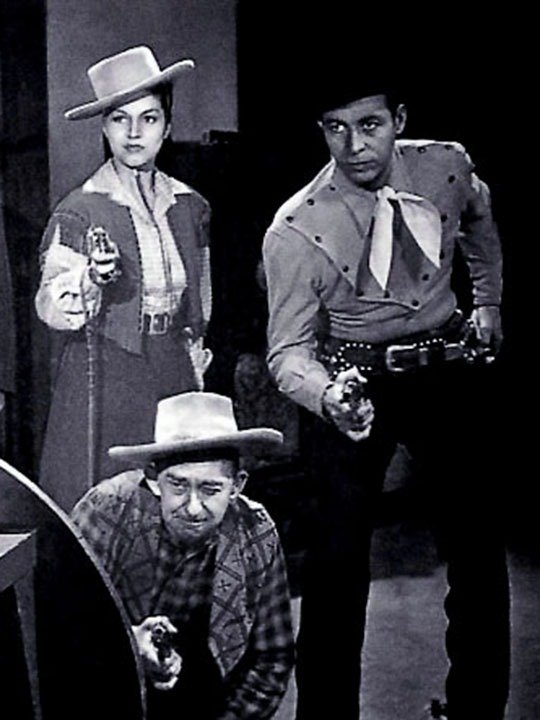 REVIEWED ON 5/7/2018 GRADE: B-