THREE THOUSAND YEARS OF LONGING
(director/writer: George Miller; screenwriter: Augusta Gore/the short story "The Djinn in the Nightingalr's Eye" by A.S. Byatt; cinematographer: John Seale; editor: Margaret Sixel; music: Tom Holkenborg; cast:  Tilda Swinton (Dr. Alithea Binnie), Idris Elba (Djinn), Pia Thunderbolt (Orhan's Pa), Ece Yüksel (Gülten), Aska Karem (Airport Security Officer), Aamito Lagum (Sheba), Nicolas Mouawad (His Royal Hotness King Solomon), Alya Browne (Young Alithea), Kaan Guldur (Young Murad IV), Matteo Bocelli (Prince Mustafa), Lachy Hulme (Sultan Su leiman), Oğulcan Arman Uslu (4 Murad), Jack Braddy (Ibrahim), Anna "Betty" Adams ("Sugar Lump"), Burcu Gölgedar (Zefir); Runtime: 108; MPAA Rating: R; producers:  Doug Mitchell, George Miller; United Artists; 2022-Australia/USA-in English & Greek, with English subtitles)
"The stories the djinn told were dull."
Reviewed by Dennis Schwartz

This is the 77-year-old Australian director George Miller's ("Lorenzo's Oil"/"Happy Feet") followup to his 2015's Mad Max: Fury Road. It's an unfashionable time-traveling fantasy film, whose imagery is mostly computer generated. It's about a cautious academic, Dr. Alithea Binnie (Tilda Swinton), and a chatty genie, the Djlnn (Idris Elb). The flawed film is a consciously unfashionable fantasy pic as it tells about a wary academic (who thinks the pointy eared djinn might be shifty) and a chatty genie who can't close his mouth.
It's adapted to the screen by the writer Augusta Gore from the British author A.S. Byatt's 1994 novella "The Djinn in the Nightingale's Eye."

Alithea Binnie, a professor of narratology, who tells stories about stories, is alone in her Istanbul hotel suite when she opens a glass bottle she just bought at the bazaar and out pops the Djinn (Idris Elb), vowing to deliver her heart's desires for his freedom after granting her three wishes. He's spent three thousand years in confinement and loves to talk about it. And both sit wrapped in white towel bathrobes as he recounts his various adventures and incarcerations, telling Alithea about such things as the Queen of Sheba and the Ottoman Empire while encouraging the reluctant professor to come up with a wish. The puzzled professor complains "This wishing is a hazardous business."

My complaint was the stories the djinn told were dull and failed to catch my interest.

The guileless film is out of fashion with the times, as its talented character actors are play-acting in a ponderous film that disappoints by having nothing new to say about the familiar plot and adds nothing exciting to the screen (which deserves for its colorful visuals to be seen on the Big Screen). I thought it was kitsch trying to pass itself off as something academic.
It screened at the Cannes film festival.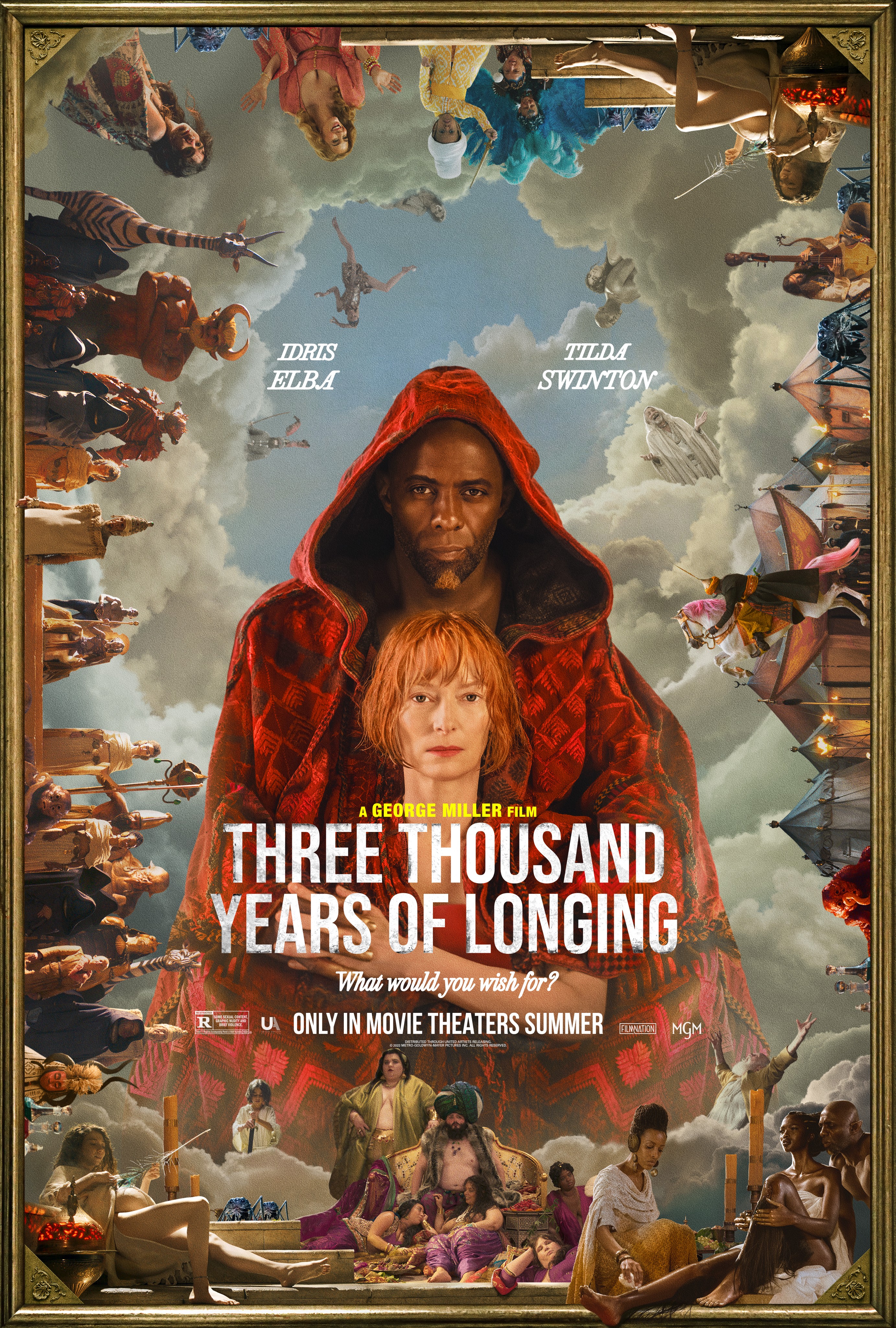 REVIEWED ON 7/10/2022 GRADE: C+