THOROUGHBREDS DON'T CRY
(director: Alfred Green; screenwriters: Lawrence Hazard/from a story by Eleanore Griffin & J. Walter Ruben; cinematographer: Leonard Smith; editor: Elmo Veron; music: Arthur Freed/ Nacio Herb Brown/Al Jolson/Joseph Meyer; cast: Ronald Sinclair (Roger Calverton), Judy Garland (Cricket West), Mickey Rooney (Timmie Donovan), C. Aubrey Smith (Sir Peter Calverton), Sophie Tucker (Mother Ralph), Forrester Harvey (Mr. Wilkins), Charles D. Brown ("Click" Donovan); Runtime: 80; MPAA Rating: NR; producer: Harry Rapf; MGM; 1937)

"The combo of Judy and Mickey was magical, and makes for an entertaining film despite its many flaws."
Reviewed by Dennis Schwartz
Top billing goes to the 15-year-old Judy Garland, in her first teaming with the 17-year-old Mickey Rooney. They made many more films together but Judy never again got top billing. MGM's fast-paced racetrack musical/comedy/drama was a box office hit. It's illogical and Alfred Green ("Dangerous"/"Baby Face"/"Copacabana") modestly directs it according to sports drama formula, but it's at least spunky. "Thoroughbreds" is based ona story by Eleanore Griffin & J. Walter Ruben, and is written by Lawrence Hazard.
The aristocrat Englishman Sir Peter Calverton (C. Aubrey Smith) takes his prized thoroughbred horse "The Pookah" to California to run in the Santa Anita Cup race, counting on winning enough money to save his financially troubled estate. Calverton takes along his schoolboy grandson Roger (Ronald Sinclair, child actor from New Zealand), and his trainer, Wilkins (Forrester Harvey), comes along as a ship stowaway after told he can't come for economic reasons. The grandson convinces Sir Peter that the arrogant and aggressive Timmy Donovan (Mickey Rooney) would be the perfect jockey for The Pookah, even if he's a "swelled head," and to secure his services the polite kid visits him at his resident boardinghouse filled with roughneck jockeys run by Mother Ralph (Sophie Tucker, blues singer). The proprietor's niece Cricket West (Judy Garland), an aspiring singer, is charmed by the cultured Roger and forces Timmy to make nice with him and agree to ride The Pookah after the two initially didn't get along and fought. Roger urges Tim to see his estranged father (Charles D. Brown), a member of a crooked gambling syndicate, who abandoned him as a youth. Dad claims he's dying and needs an iron lung to survive, but can't afford it. He convinces his reluctant son to throw the prep race to the Cup, where The Pookah is the favorite. When The Pookah loses, Sir Peter dies from a heart attack. Tim is guilt-ridden and vanishes, but when he finds his old man tricked him he takes some of his winnings in the hopes of paying for The Pookah's entry fee for the Cup. Meanwhile the track officials are told of the fix by Cricket. After admitting this to the board, Tim gets a lifetime ban from racing. With the financial help of Mother Ralph, Roger pays the Cup entrance fee and rides The Pookah. If I were a betting man, knowing the back story and the Hollywood formula for sports stories, I'd put at least a sawbuck down on The Pookah winning the big race.
Judy with youthful frolic sings "Got a Pair of New Shoes." The combo of Judy and Mickey was magical, and makes for an entertaining film despite its many flaws.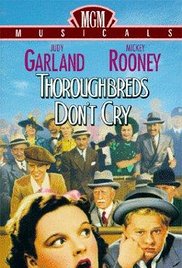 REVIEWED ON 8/6/2014 GRADE: B-