TENDER BAR, THE
(director: George Clooney; screenwriters: William Monohan/book by J.R. Moehringer; cinematographer: Martin Ruhe; editor: Tanya M. Swerling ; music: Dara Taylor; cast: Tye Sheridan (J.R), Ben Affleck (Uncle Charlie),Christopher Lloyd (Grandpa), Sondra James (Grandma), Lily Rabe (Dorothy), Michael Braun (Bobo), Max Casella (Chief), Briana Middleton (Sidney), Rhenzi Felix (Wesley), Max Martini (The Voice), Matthew Delamater (Joey D), Daniel Ranieri (Young JR); Runtime: 104; MPAA Rating: R; producers; George Clooney, Grant Heslov, Ted Hope: Amazon Studios; 2021)
"A safe, middlebrow, comic drama directed with a bartender's tact for avoiding trouble."
Reviewed by Dennis Schwartz

A safe, middlebrow, comic drama directed with a bartender's tact for avoiding trouble by George Clooney ("The Midnight Sky"/"Leatherheads"). The Pulitzer Prize-winning journalist J.R. Moehringer's 2005 memoir is the basis of William Monohan's adaptation. It plays out as an episodic and sentimental drama–a feel-good coming-of-age film, with plenty of one-liners, nostalgia and anecdotes. The film is most concerned with class and family, and of making something of yourself.

It's 1973 and the setting is in a bustling neighborhood bar in Manhasset, Long Island named the Dickens, after the writer Charles Dickens. Hanging around the place is the 11-year-old J.R. (Daniel Ranieri, recruited from a Tik Tok video, who when older is played by Tye Sheridan). The future NY Times journalist kid, whose dad (Max Martini), a radio personality known as The Voice, is a deadbeat who abandoned the family and when located by the older J.R. later on in the story turns out to be a selfish, violent and dark person. Luckily the kid when growing up looks up to his bookworm working-class Uncle Charlie (Ben Affleck), the joint's friendly bartender/owner, who takes an interest in mentoring the wide-eyed kid and influences him to be a writer.

Uncle Charlie becomes the kid's surrogate father, while the kid is surrounded by a chatty extended family, and a sweet mom (Lily Rabe) who wants him to go to Yale, which he does in the 1980s–only he becomes a writer instead of mom's wish that he become a lawyer.

The kid lives with his single mom in his grouchy and farting grandpa's (Christopher Lloyd) run-down house, hangs around with the regulars at the bar (Max Casella, Michael Braun and Matthew Delamater) who give him simplistic life lessons, and has little success with the ladies at college but dates on and off a wealthy but troubled mixed-race girlfriend at Yale, Sidney (Briana Middleton).

The revered former actor Clooney as a director is awkward in executing many of the scenes that should have been done loose and easy, and keeps everything too superficial for my taste. To some it might be a warm and fuzzy film, but to me it's a jejune film whose protagonist has 'daddy issues' and evidently overcame them and his humble working-class roots to now apparently become a brilliant writer (I know this because I was told), successful, respected and endowed with a wonderful life. But his memoir never is particularly interesting.

Though there's nothing egregiously wrong with the film, it nevertheless seems to lack a literary quality that would make it a bona fide literary film.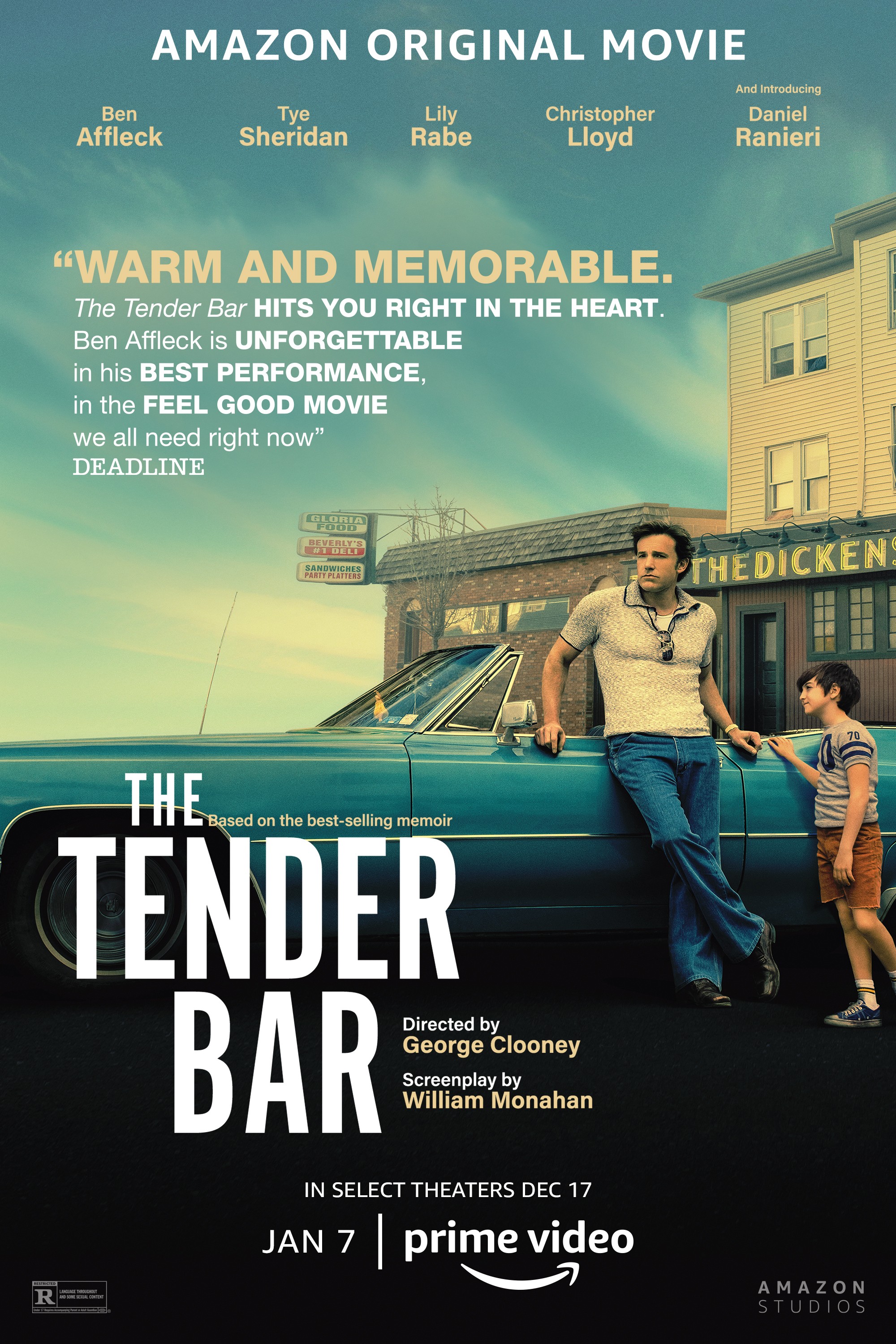 REVIEWED ON 12/9/2021  GRADE: C+