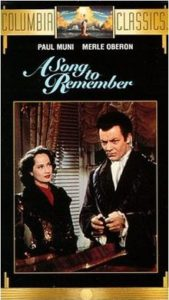 A SONG TO REMEMBER
(director: Charles Vidor; screenwriters: Sidney Buchman/based on a story by Ernst Marischka; cinematographers: Allen M. Davey/Tony Gaudio; editor: Charles Nelson; music: Chopin; cast: Cornel Wilde (Frederic Chopin), Paul Muni (Prof. Elsner), Merle Oberon (George Sand), Stephen Bekassy (Franz Liszt), Nina Foch (Constantia), George Coulouris(Louis Pleyel), Maurice Tauzin (Chopin at 11), Michael Visaroff (Russian Governor), Ivan Triesault(Mr. Chopin); Runtime: 112; MPAA Rating: NR; producers: Sidney Buchman/Louis F. Edelman; Columbia Pictures; 1945)

"The music is fine, but the story is not."
Reviewed by Dennis Schwartz
Charles Vidor ("Gilda"/"The Joker is Wild"/"The Swan")directs this inadequate biopic onthe great Polish composer Frederic Chopin (1810-1845). The music is fine, but the story is not.Chopin's music was played by the distinguished pianist Jose Iturbi. It'sbased on a story by Ernst Marischka and is written by Sidney Buchman.
We're introduced to Chopin (Maurice Tauzin) as a child prodigy of 11. He has working-class Polish parents, and is tutored by kind-hearted eccentric German music teacher Prof. Elsner (Paul Muni).It then skips to 11 years later, when as a young adult of 22 Chopin (Cornel Wilde) is part of a Polish revolutionary group seeking separation from Czarist Russia. After playing a piano concert at a count's house, Chopin insultingly confronts the unexpected late arrival of the Russian Governor General of Poland (Michael Visaroff) by calling him "a Czarist butcher" and refusing to play for him. To avoid arrest, he flees to Paris with his music teacher. There Franz Liszt (Stephen Bekassy) befriends the Polish musical genius and impresario Pleyel (George Coulouris) signs him to a contract. Chopin soon gains musical fame. Unfortunately he falls in with the selfish French author George Sand (Merle Oberon), dressed in drag, and gets too drunk on the good life in Majorca to remember the Polish cause. When Chopin is forced to return to Paris because of his poor health, Sand battles with the teacher for Chopin's soul. Although frail, Chopin finally remembers he's a Polish freedom fighter during the Polish uprising and goes on an exhausting concert tour of European capitals to raise money for his fellow revolutionaries fighting for freedom back home. Thefilm's most talked about scene occurs when the tubercular Chopin begins hemorrhaging as he performs for the first time his Polonaise. At his final concert on the tour, Chopin will literally die for the cause.
The stilted melodrama inspite of all its inaccuracies, kitsch, and the hammy unconnected performance by Muni, not only became a box-office hit but had the robust Wilde win as Best Actor (this is the pic that made Wilde a star). It also received 5 Academy Award nominations: Cinematography, Editing, Music Scoring, Sound Recording, and Original Story.
REVIEWED ON 7/12/2011 GRADE: C
© ALL RIGHTS RESERVED DENNIS SCHWARTZ