TASTE THE BLOOD OF DRACULA
(director: Peter Sasdy; screenwriters: John Elder/characters by Bram Stoker; cinematographer: Arthur Grant; editor: Chris Barnes; music: James Bernard; cast: Christopher Lee  (Dracula), Geoffrey Keen (William Hargood), Gwn Watford  (Martha Hargood), Linda Hayden (Alice Hargood), Peter Sallis (Samuel Paxton), Roy Kinnear (Weller), Isla Blair (Lucy Paxton), John Carson (Jonathan Secker), Martin Jarvis (Jeremy Secker), Anthony Corlan (Paul Paxton), Roy Kinnear (Weller), Michael Ripper (Insp. Cobb), Ralph Bates (Lord Courtley), Russell Hunter (Felix); Runtime: 95; MPAA Rating: R; producer: Aida Young; Warner Bros./Hammer; 1970-UK)
"A routine Dracula film, though well made."
Reviewed by Dennis Schwartz
A routine Dracula film, though well made. It's the fifth of Hammer's B-film Dracula series. It's set in Victorian times in England and is stylishly directed by the Hungarian-born Brit filmmaker Peter Sasdy ("Hands of the Ripper"/"Doomwatch"), and is written by John Elder.
warning: spoilers throughout.

Three wealthy respectable family men, pretending to be of high moral character–William Hargood (Geoffrey Keen), Samuel Paxton (Peter Sallis), and Jonathan Secker (John Carson )–go to an exotic London bordello once a month to be raunchily entertained by the prostitutes but tell their loved ones they are doing charity work. They meet there the depraved agent of evil, the occultist libertine Lord Courtley (Ralph Bates), who tells the thrill-seekers to sell their souls to the devil and he can give them their greatest thrill if the trio buy from an antique dealer (Roy Kinnear) the ring, the black cape and the powdered blood of Dracula that he has, so he can revive the evil vampire Dracula (Christopher Lee) by performing a black mass ceremony in an abandoned church. At the ritual, the thrill seekers refuse to drink Dracula's blood and force Lord Courtly to. But he spills some before the agitated trio strike him fatally with their canes and flee. A red-eyed Dracula returns by emerging from Courtley's corpse and vows revenge on the men for killing one of his servants.

Under the spell of Dracula, Hargood's ill-treated daughter Alice (Linda Hayden) becomes a vampire and kills her despicable dad, who rejected the boy she loved, by hitting dad over the head with a shovel. Paxton's daughter Lucy (Isla Blair) is lured by Alice into Dracula's hold and she kills her father. Before Secker dies, he warns his son Paul (Anthony Corlan), Lucy's brother and Alice's lover, of the dangerous vampire. When Paul destroys the vampire, the spell is broken.

It starts out lively but turns into something dreary. Lee looks bored (just showing off his commanding presence), as he's given too little to do. The film points out the hypocrisy of the Victorian family values among the featured upper-class pillars of society.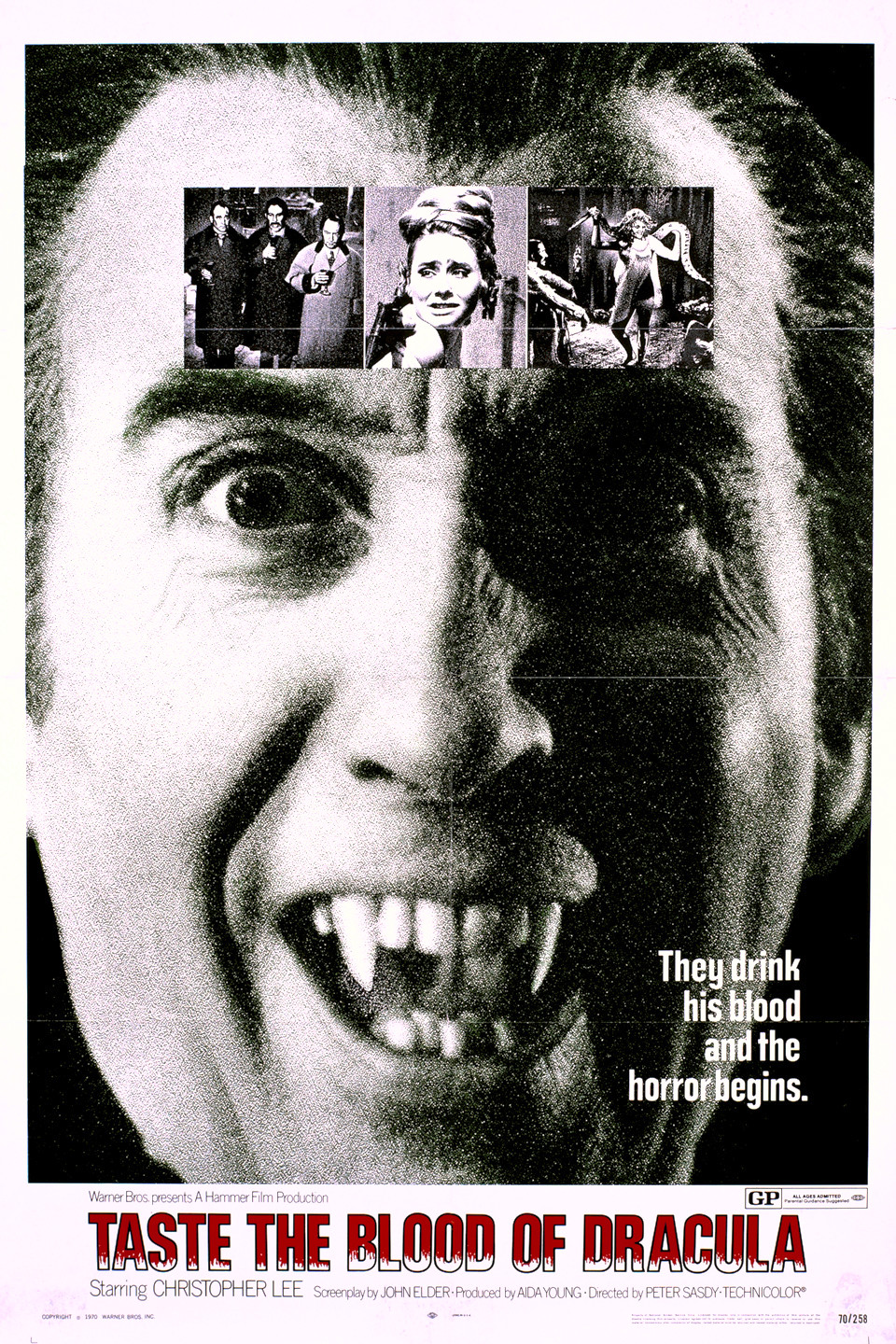 REVIEWED ON 10/30/2022  GRADE: C+