TARTARS, THE
(director: Richard Thorpe; screenwriters: Sabatino Ciuffini, Domenico Salvati, Oreste Palella, Gaio Frattini, Ambrogio Molteni, Julian De Kassel/story by Julian De Kassel; cinematographer: Amerigo Gengarelli; editor: Maurizio Lucidi; music: Renzo Rossellini; cast:  Victor Mature (Oleg), Liana Orfei (Helga), Orson Welles (Burandai), Arnoldo Foà (Ciu Lang), Folco Lulli (Togrul), Luciano Marin (Eric), Furio Meniconi (Sigrun), Bella Cortez (Samia), Renato Terra (Vichingo), Pietro Ceccarelli (Tartaro); Runtime: 83; MPAA Rating: NR; producer: Riccardo Gualino; MGM; 1961-Italy/Yugoslavia-in English, Italian, with English subtitles)
"Mature and Welles do not make it a better flick."
Reviewed by Dennis Schwartz

A comic strip adventure film meant for the drive-in crowd. Itt is directed in a formulaic way by Richard Thorpe ("That Funny Feeling"/"Follow The Boys"), known for his epic costume dramas, and is written by Sabatino Ciuffini, Domenico Salvati, Oreste Palella, Gaio Frattini, Ambrogio Molteni, Julian De Kassel from a story by De Kassel.

It's set in the Middle Ages. Vikings settlers on the Russian steppes must fight the Tartar invaders.

The fight starts when the Viking chieftain, Oleg (Victor Mature), refuses to join Togrul the Tartar (Folco Lulli) in warring against the Slavs.

Oleg kills Togrul and takes his daughter, Samia (Bella Cortez), as hostage.

Togrul's brother, Burandai (Orson Welles), the new brutish Tartar chief, thereby kidnaps Oleg's wife, Helga (Liana Orfei), drugging her, and then allowing his men to rape her at an orgy.

A hostage exchange is arranged, but Samia no longer wishes to return to her country since she met Eric (Luciano Marin), the younger brother of Oleg, and has fallen in love with him. Her shame leads to her attempted suicide of jumping off a fortress.

The Tartars respond to the kidnapping by attacking the Vikings. In the bloody war both Oleg and Burandai are killed, and the Viking fortress is burned to the ground. Eric and Samia escape and take refuge on a ship, which carries them to safety in the North.

It's a bloody routine action exploitation B-film, where the American stars Mature and Welles do not make it a better flick. Though the action sequences are well-staged and the film competently made, the entertaining film was still a stinker.

It was filmed in Italy and Yugoslavia.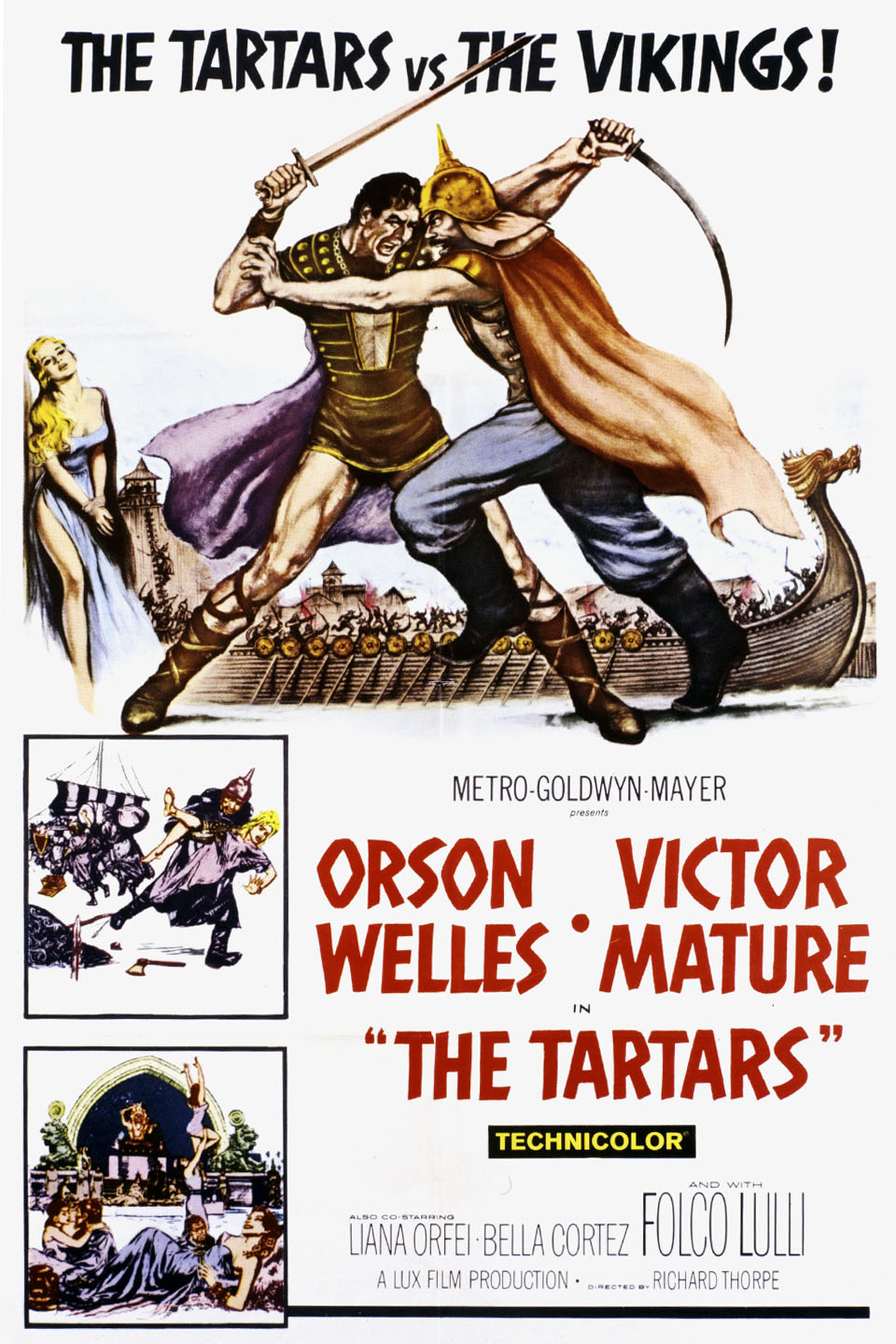 REVIEWED ON 8/13/2022 GRADE: C+