TANK GIRL
(director: Rachel Talalay; screenwriters: Tedi Sarafian, based on the Comic Book by Jamie Hewlett & Alan Martin; cinematographer: Gale Tattersall; editor: James R. Symons; music: Graeme Revell; cast: Lori Petty (Rebecca Buck, Tank Girl), Malcolm McDowell (Kesslee), Naomi Watts (Jet Girl), Don Harvey (Sergeant Small), Ice-T (T-Saint), Jeff Kober (Booger), Reg E. Cathey (D.T.), Stacy Lynn Ramsower (Sam); Runtime: 104; MPAA Rating: R; producers: Pen Densham, Richard B. Lewis, John Watson; United Artists, MGM/UA Home Entertainment; 1995)
"I found it entertaining in a pleasingly odd way."
Reviewed by Dennis Schwartz

Rachel Talalay ("Freddy's Dead: The Final Nightmare"/"Ghost in the Machine") directs this British futuristic sci-fi comic-book adventure story. She co-writes it with Tedi Sarafian. It's based on the comic book by Jamie Hewlett & Alan Martin.

The director strains to make it cutting edge and hip, while keeping it low-tech and stylish.

By 2033, the planet is a barren desert after a comet interferes with the Earth's rain cycle. With a limited supply of resources on the planet, the silver-haired tyrant Kesslee (Malcolm McDowell), the head honcho at the powerful Water & Power Corporation, the de facto government, has seized control of the water supply and through his monopoly schemes to gain control of the planet.
 
Kesslee's power-grab takes him to the desert wilderness, where his men kill the friends of Tank Girl (Lori Petty) and take her prisoner when she returns from a foraging mission. After grilled by Kesslee, the quick-witted Tank Girl escapes with the shy Jet Girl (Naomi Watts). In the desert she finds an old tank and reconditions it. The armed ladies then join forces with both the fierce Rippers (latexed kangaroo-human mutants) and with the mutant dogs to try and overthrow the corrupt system run by the power-hungry villain. 

The action pieces and visuals are below average (though the comic book's graphic artist, Hewlett, during interludes in the action introduces some interesting original comic book artwork).

It rocks when the wise-ass Tank Girl hits us with some funny quips, while the Rippers give the sci-fi film a unique look. There's also an enjoyable freaky Busby Berkeley-like dance number in a bordello.

I found it to be entertaining in a pleasingly odd way.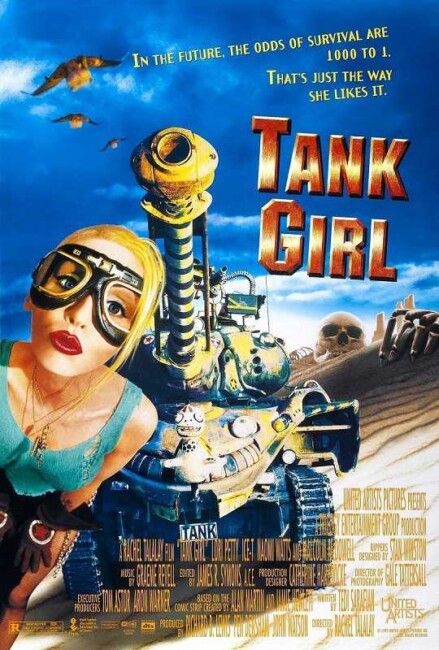 REVIEWED ON 10/8/2023  GRADE: B