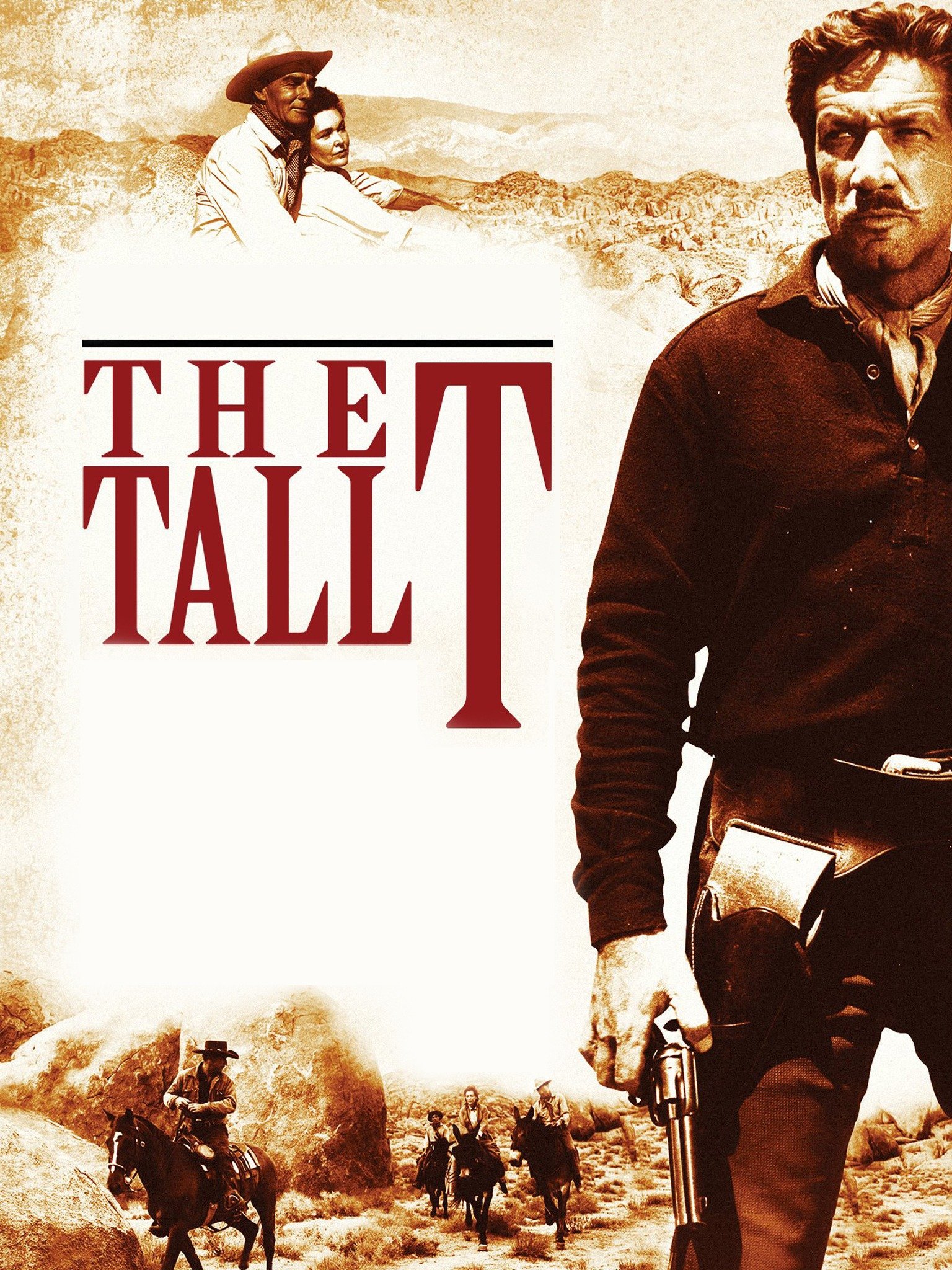 TALL T, THE
(director: Budd Boetticher; screenwriters: Burt Kennedy/from an Elmore Leonard short story "The Captive"; cinematographer: Charles Lawton; editor: Al Clark; music: Mischa Bakaleinikoff; cast: Randolph Scott (Pat Brennan), Richard Boone (Frank Usher), Maureen O'Sullivan (Doretta Mims), John Hubbard (Willard Mims), Fred E. Sherman (Hank), Christopher Olsen (Jeff), Arthur Hunnicutt (Ed Rintoon), Henry Silva (Chink), Skip Homeier (Billy Jack), Robert Burton (Tenvoorde), Robert Anderson (Jace); Runtime: 77; Columbia; 1957)
"A marvelous but bleak psychological Western."
Reviewed by Dennis Schwartz
Warning: spoilers throughout.
A marvelous but bleak psychological Western presenting a brilliant character study about a lonely outlaw yearning to settle down and a world-weary homesteader. These two desperate men face off against each other, but who can't help finding what they have in common is their loneliness. It was scripted by Burt Kennedy from an Elmore Leonard short story "The Captive."
Pat Brennan (Randolph Scott) is a former ace ramrod who now owns a small spread and returns to his old ranch to bargain with his former boss (Robert Burton) over a bull. But Pat loses his horse over the wager that he can ride on a bull of his choice without falling off. Pat hitches a ride back to his ranch on the special stage to Bisbee, that is set aside for the honeymoon couple of Willard and Doretta Mims (John Hubbard & Maureen O'Sullivan). It's driven by an old-time muleskinner Ed Rintoon. The stage driver can't stand Willard, a wormy bookkeeper who married the only daughter of the richest man in the county. Doretta is considered plain-looking and married him only out of desperation. Willard married her solely because her dad owns the biggest copper mine in the town of Contention, Arizona.
Brennan stops off at an isolated stagecoach station to deliver striped candy to a young freckle-faced boy, Jeff, who lives with his widow father Hank. But the stage is held hostage by a ruthless outlaw Frank Usher (Richard Boone) and his animal-like henchmen, Chink (Henry Silva) and Billy Jack (Skip Homeier), who show what they are capable of by killing Rintoon after having already killed the boy and his father.
Willard shows his cowardly nature by making a deal with the outlaws to save his own skin and sell-out his wife and Pat. Willard tells the outlaws about the money his wife has and gets the bandits to write a ransom note for $50,000 to get her back alive. Frank finds Willard so contemptuous that he has Chink shoot him after he uses him to make the money arrangements with her dad, and just when Willard thinks he's being allowed to ride away free with his wife still a hostage.
The film tensely builds to its final showdown between Randolph Scottand Richard Boone. Boone has kept Scott alive for the perverse reason he prefers talking to him than to his lowlife partners. Some pertinent questions are quietly raised during this hostage situation about justice, marriage, morality, and society responsibilities in dealing with children from dysfunctional homes. The gripping character study aspects about the film and the starkly done final shootout where all the bodies piling up amid the dark caves and barren landscape, give an eerie voice to this intelligent narrative. Though, what could be questioned was where the law was in all this since one would think a wealthy man just wouldn't come out alone to the desert to hand over money to untrustworthy bandits without setting some trap or having some guarantee his daughter will be returned alive.
But this first-rate Western is armed with a sharp script, edgy performances, especially by Boone and Scott. Even the happy ending seemed less than happy and slightly differs from the usual Western. And if memory serves me right, this is the only Western where Randolph Scott walks off with the lady. Just don't ask me where the film got its title The Tall T, since that was never explained.
REVIEWED ON 11/10/2001 GRADE: B +