(director: Joe Lynch; screenwriters: based on the short story The Thing on the Doorstep by H.P. Lovecraft, Dennis Paoli; cinematographer: David Matthews; editor: Jack N. Gracie; music: (Steve Moore); cast: Heather Graham (Dr. Elizabeth Derby), Judah Lewis (Asa Waite), Bruce Davison (Ephraim), Barbra Crampton ( Daniella Upton), Johnathon Schaech (Edward), Brett Newton (Prof. Fisk), JD Evermore (Detective Ledger), Drake Malone (Resident), Graham Skipper (Pathologist & hospital morgue attendant), Chris McKenna (Stuart Crawley), Ann Mahoney (Susan), Jonah Ray (Dave), Hunter Womack (Mace JR, security guard); Runtime: 104; MPAA Rating: NR; producers: Bob Portal, Barbra Crampton, Joe Wicker, Inderpal Singh; RLJE/Shudder; 2023)
"To its credit, the film is not afraid to be kinky and have sex be the driving force of its weird story."
Reviewed by Dennis Schwartz

A loose but still faithful adaptation of the 1933 H.P. Lovecraft's short story The Thing on the Doorstep, a supernatural, psychological horror story about body-swapping that's updated to a modern setting. It's assuredly directed by the badass filmmaker Joe Lynch ("Knights of Badassdom"/"Mayhem") as a sleazy retro 1980s type of horror pic. It's the first screenplay after a decade that's written by Dennis Paoli (scripted Stuart Gordon's classic RE-ANIMATOR), noted for his edgy screenplays on Lovecraft stories.

It opens with the once successful psychiatrist, Dr. Elizabeth Derby (Heather Graham), locked-up in the padded cell of the psych ward of Miskatonic University Hospital, her workplace, for killing Ephraim, the father (Bruce Davison) of her unstable young patient, Asa Waite (Judah Lewis). Her best friend is the doctor treating her, Daniella Upton (Barbra Crampton), who listens carefully to her nightmare story, but finds its weirdness hard to comprehend.

In flashback, we get to know about Elizabeth's possession and sexual obsession with Asa through her story she tells Daniela when treated.

We're told a rattled Asa visited Elizabeth's office and is told by him that his father wanted to use his body in a dysfunctional relationship of body-swapping. After calming down, Asa makes sexual advances on Elizabeth, until she stops him. But she thinks he has a story she can use as a break-through psychological case study that will get her notoriety in her field when published, and acts to get his crazy story out of him and therefore waives his patient fee. Elizabeth believes he is psychologically ill, suffering from multiple personalities. When she visits his ailing crazy father in his house to uncover their perverse father-son relationship, Ephraim threatens her with a long knife.

Afterwards Elizabeth has sex with her loving husband Ed (Johnathon Schaech), but during sex she envisions Asa and his evil entity, created from an ancient curse, that is trying to possess her.

In the final act, things become increasingly more violent and more depraved. Elizabeth after sex with the disturbed Asa, visits Ephraim in his home. When he attacks her, she kills him with his knife.

Graham gives a captivating performance capturing both her character's terror and perverse curiosity she has with her patient's mental condition. Crampton maintains the right tone of seriousness for her twisty supporting character role. Lewis is just fine doing his nutty act.

To its credit, the film is not afraid to be kinky and have sex be the driving force of its weird story. The story gets better the crazier it gets, as it boldly blends together its grossness and sexual perversions with its bawdy humor.


It played at the The Tribeca Film Festival.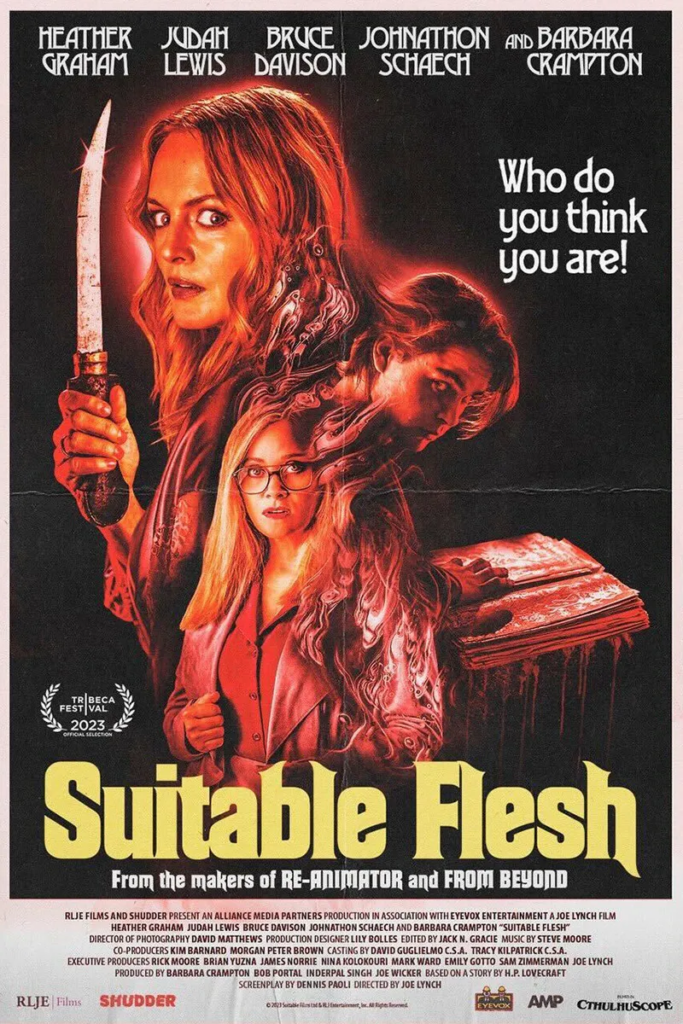 REVIEWED ON 10/17/2023  GRADE: B