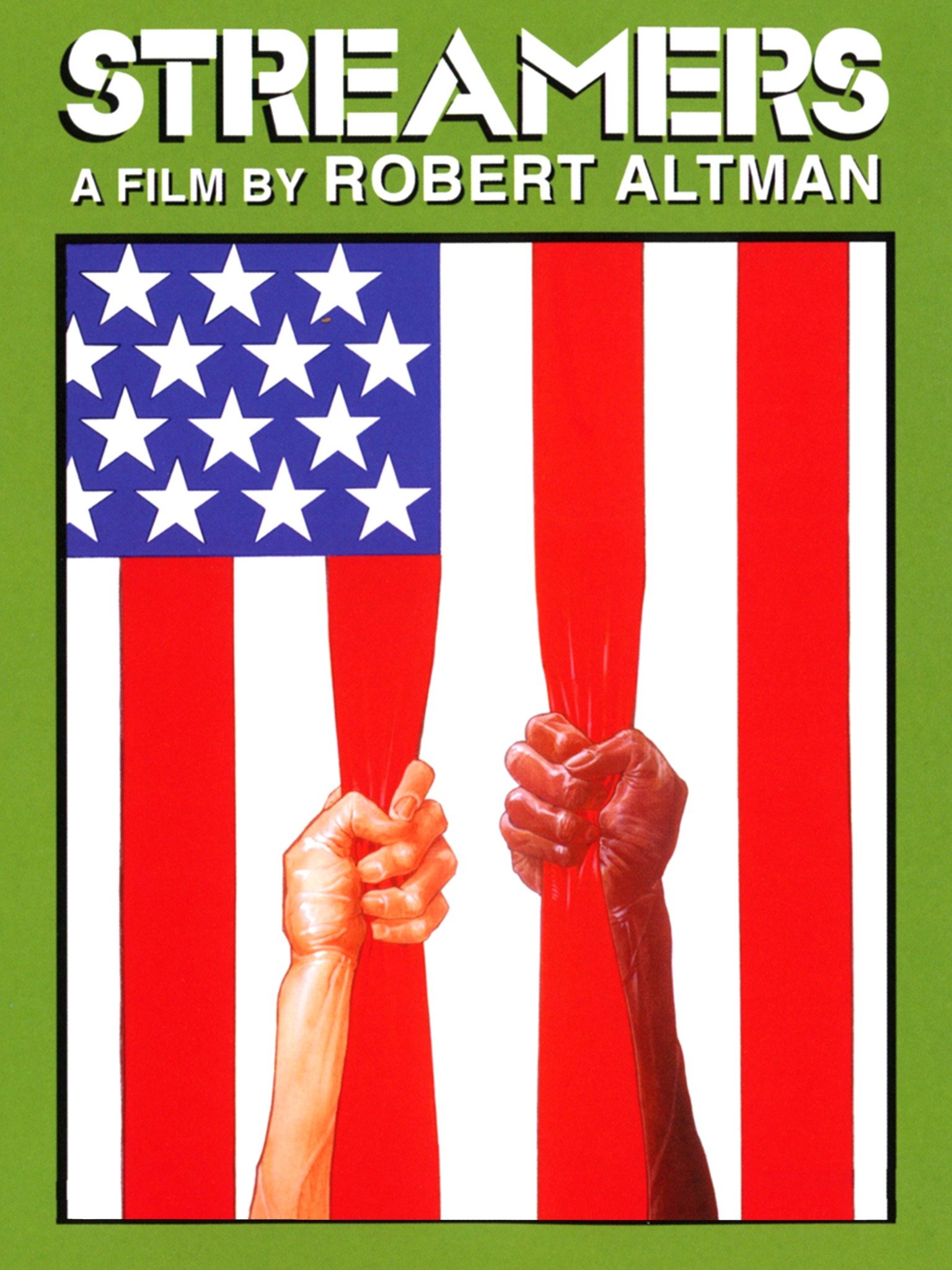 STREAMERS

(director/writer: Robert Altman; screenwriter: from the play by David Rabe/David Rabe; cinematographer: Pierre Mignot; editor: Norman Smith; cast: Matthew Modine (Billy), Michael Wright (Carlyle), Mitchell Lichtenstein (Richie), David Alan Grier (Roger), Guy Boyd (Rooney), George Dzundza (Cokes), Albert Macklin (Martin); Runtime: 118; MPAA Rating: R; producers: Robert Altman/Nick J. Mileti; Media Home Entertainment; 1883)
"The ensemble cast comes up smart with some fine spontaneous performances."
Reviewed by Dennis Schwartz
Robert Altman's hard-hitting intense dramatic follow-up to his other theatrical movie "Come Back to the 5 & Dime Jimmy Dean, Jimmy Dean" is based on David Rabe's brutally uncompromising antimilitary hit play from 1976. Streamers is set entirely in a Vietnam-era Army barracks where a group of anxious recruits relate to each other by getting drunk, horsing around and laying into each other while waiting to be sent to the warzone. The conversations revolve around sex, status, race and war, which are brought to an uncomfortable boiling point by the rants of an intruding angry young ghetto-bred black soldier Carlyle (Michael Wright) who visits the only black in the barracks–the accommodating easy-going middle-class country recruit Roger (David Alan Grier). It's marvelous the way Altman keeps the play's sharp dialogue intact, as he successfully transforms the theater production to film by effectively using close-ups and staying with the claustrophobic setting that's pictured as a scenario from hell. The ensemble cast comes up smart with some fine spontaneous performances, ably showing how their Army experience has dehumanized them.
Billy (Matthew Modine), a straight cornbred college grad from Wisconsin, and Roger (David Alan Grier), overlook their racial differences to become friends. Richie (Mitchell Lichtenstein) is a wealthy effeminate soldier from New York whose good-natured personality wins the others over even though he's the outsider and that he might be a homosexual upsets them. Upon Carlyle's arrival, the usual joshing becomes stoked with real rage as he stirs up the hidden racial tensions and picks on Roger for being so docile and living in a white barracks. He also gracelessly exposes Richie's homosexuality.
Violence and death always seems to be around the corner. There's a suicide attempt by a young soldier who cuts his wrists (Albert Macklin) to get out of the service, the ominous presence of two grizzly hard-nosed heavy drinking career NCO's, Rooney (Guy Boyd) and Cokes (George Dzundz), who have been to Vietnam and are anxious to return and spend their time waiting by getting drunk and reenacting their war experiences, and finally there's the jive-assed Carlyle's madman interpretation of the racial situation that mixes truth with fiction and takes a violent turn that has the men in the barracks getting riled at each other and forced to face their hidden fears and bigotry.
REVIEWED ON 10/25/2005 GRADE: A-