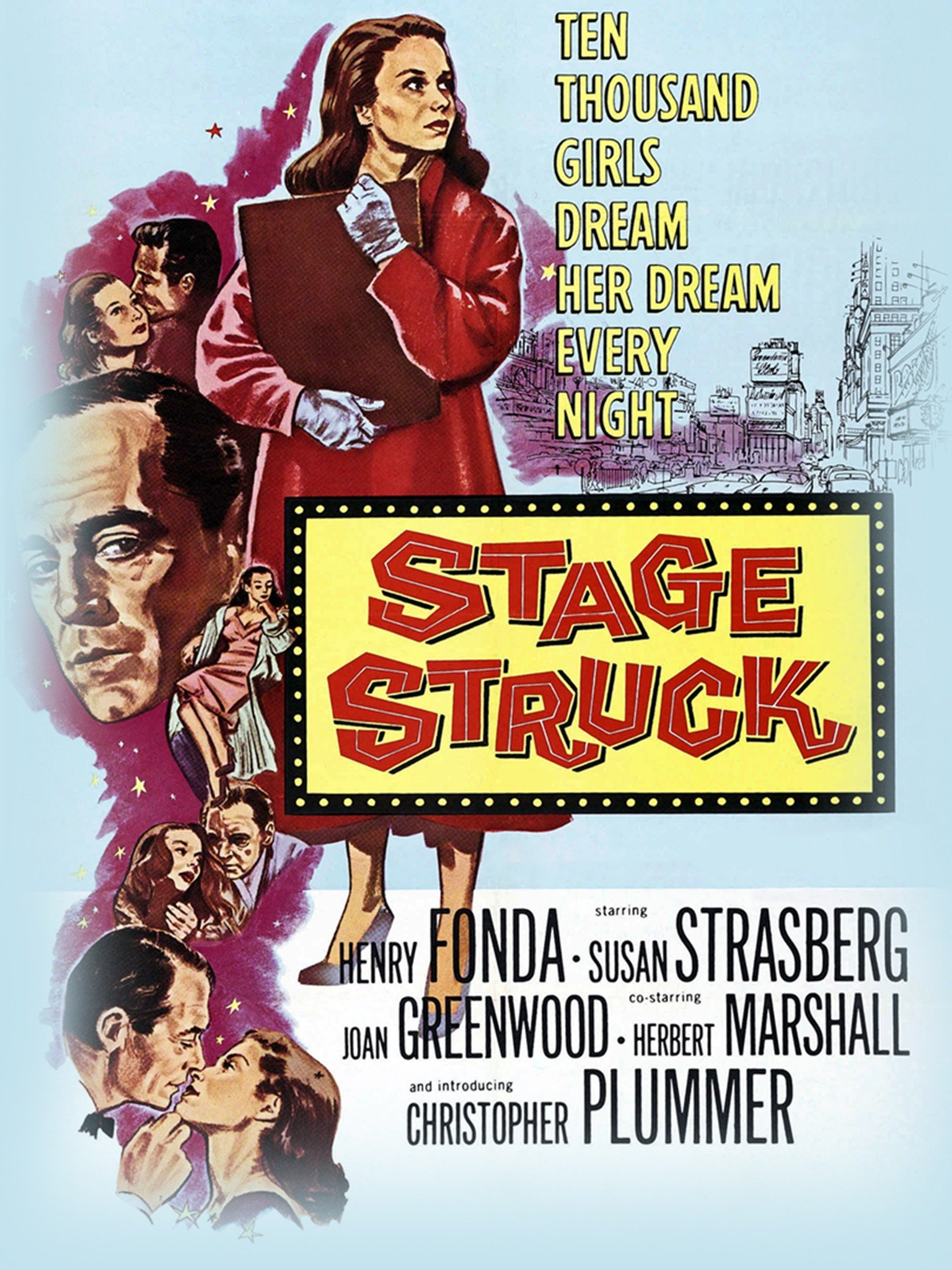 STAGE STRUCK

(director: Sidney Lumet; screenwriters: from the play Morning Glory by Zoë Akins/Augustus and Ruth Goetz; cinematographers: Franz Planer/Maurice Hartzband; editor: Stuart Gilmore; music: Alex North; cast: Henry Fonda (Lewis Easton), Susan Strasberg (Eva Lovelace), Joan Greenwood (Rita Vernon), Herbert Marshall (Robert Marley Hedges), Christopher Plummer (Joe Sheridan), Daniel Ocko (Constantine), Jack Weston (Stage Manager, Frank); Runtime: 95; MPAA Rating: NR; producer: Stuart Millar; RKO Pictures; 1958)
"It never gets past its clichés."
Reviewed by Dennis Schwartz
Sidney Lumet's ("12 Angry Men") second film, Stage Struck, is a weak remake of the middling 1933 Morning Glory with Katharine Hepburn, who somehow won an Oscar. It unduly suffers because of Susan Strasberg's (the daughter of the founder of the Actors Studio Lee Strasberg) tiresome performance as the grating star and the phony Broadway backstage clichéd atmosphere. Though its best scenes were the authentic street shots of Manhattan, especially the shot from inside the taxi window as it treks down Broadway on a rainy night. It's based on Zoë Akins's play Morning Glory; the writing team of Augustus and Ruth Goetz provide the screenplay. Sidney Lumet handles the directing without bringing the narrative to life. It never gets past its clichés.
Pushy Eva Lovelace (Susan Strasberg), a name changed for the stage, comes from rural Vermont to Broadway hoping to become a stage star. In producer Lewis Easton's (Henry Fonda) office she tries desperately to get a part in his latest play by ingratiating herself to everyone in the office, that includes the aloof Easton, gracious older veteran actor Robert Marley Hedges (Herbert Marshall), vain actress Rita Vernon (Joan Greenwood) and the play's author Joe Sheridan (Christopher Plummer, in his film debut).
At a Broadway party the nervy Eva catches Easton's attention by play acting and the heart of the film is about their brief and tragic fling, which makes it possible for her to have her dream of stardom come true.
It was painful watching the shrill and obnoxious Strasberg monopolize almost every scene; it was also unbelievable that Strasberg and Fonda would have a romantic relationship, they seemed to go together like oil and water. That Plummer and Marshall also fall head and heels over the dull ingénue, is more laughable than plausible.
REVIEWED ON 10/13/2005 GRADE: C-