SPRINGFIELD RIFLE, THE
(director: André De Toth; screenwriters: Frank Davis /Charles Marquis Warren/from story by Sloan Nibley; cinematographer: Edwin Du Par; editor: Robert L. Swanson; music: Max Steiner; cast: Gary Cooper (Major Lex Kearney), Phyllis Thaxter (Erin), Lon Chaney, Jr. (Pete Elm ), Philip Carey (Captain Tennick), David Brian (Austin McCool ), Paul Kelly (Lieutenant Colonel Hudson ), Guinn Williams (Sergeant Snow ), Alan Hale Jr. (Mizzel), Michael Chapin (Kearney's Son and son Jamie); Runtime: 93; MPAA Rating: NR; producer: Louis Edelman; Warner Brothers; 1952)
"An incurious Western set during the Civil War days."
Reviewed by Dennis Schwartz
An incurious Western set during the Civil War days that is competently directed by André De Toth ("Crime Wave"), but is not terribly thrilling or inventive. It is taken from a story by Sloan Nibley (a veteran of countless Roy Rogers' scripts) and economically written by Frank Davis and Charles Marquis Warren. It is a counter-espionage tale featuring Gary Cooper in the same year as his High Noon did wonders for the Western. It tried to make use of some of the usual Western themes in its Civil War story, but by making slight variations: It introduced the idea of counter-espionage as part of army intelligence and the value of the army's new weapon, the Springfield rifle, that could fire repeatedly. And, it also showed how Cooper, cashiered out of the service for cowardice, reacts when his decent wife (Thaxter) and loving son (Chapin) don't understand him anymore. They have no idea what he's up to and are stunned by his odd behavior, believing him to be really cashiered and permanently disgraced. But his assignment is considered so important it's kept top-secret–even from them.
Gary Cooper plays Major Lex Kearney, a man who pretends he's an outlaw in order to catch a gang. Cooper is the Union officer cashiered for cowardice in battle and for being someone with Southern sympathies, as he's painted with a yellow stripe down his back. He thereby has an opportunity to go undercover and infiltrate a band of Confederates who are rustling shipments of horses during the Civil War.
At first Cooper sticks around the post and works for local rancher, Austin McCool (David Brian) to follow the trail of the horses. Fort Hedley, the station that quarters the 5th Cavalry, is at a critical point after raiders steal thousands of horses in transit to waiting Union cavalry units. Commanding officer Lt. Colonel Hudson (Paul Kelly) fears a Confederate spy is in their midst and tipping off the raiders.
Cooper's investigation leads him to a remote cavalry post, where he discovers that a gang of Jayhawkers and renegade Reb soldiers have been conducting raids to steal horses and selling them to the South. Falling in with this gang and gradually gaining their trust he is now in a position to discover who has been the rustlers' "inside man" at the Union post giving the gang the vital secret information about the horse shipments.
It ends after many surprises in the plot, as the Springfield rifles are used at last in the final battle. The Springfield rifles are only marginally related to the rest of the twisty plot. They seem to be an afterthought, another element thrown into an already complex plot.
Though entertaining and tautly directed it never becomes more than a modest Western, and is actually more like a mystery story. Trivia buffs, take note: Cooper's horse was named Wildfire.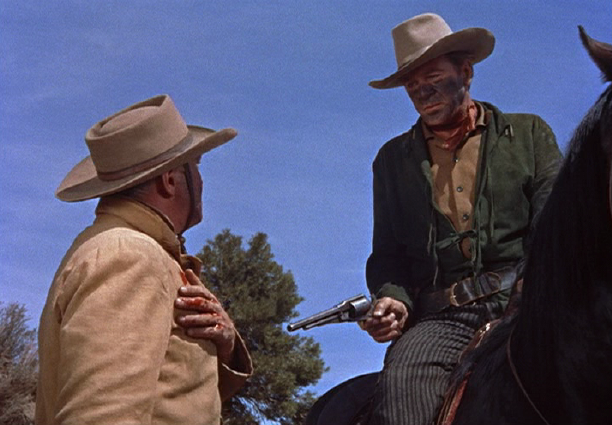 REVIEWED ON 3/30/2004 GRADE: C+