SPACEWAYS
(director: Terence Fisher; screenwriters: Paul Talbot/from the radio play Charles Eric Maine/Richard Landau; cinematographer: Reginald Wyer; editor: Maurice Rootes ; music: Ivor Slaney; cast: Howard Duff (Dr. Stephen Mitchell), Eva Bartok (Dr. Lisa Frank), Alan Wheatley (Dr. Smith), Philip Leaver (Professor Koepler), Michael Medwin (Dr. Toby Andrews), Andrew Osborn (Dr. Philip Crenshaw), Anthony Ireland (General Hayes), David Horne (Minister), Cecile Chevreau (Vanessa Mitchell ), Hugh Moxey (Col. Alfred Daniels), Leo Philips (Sergeant Peterson), Jean Webster-Brough (Mrs. Daniels) Marianne Stone (Mrs. Rogers); Runtime: 76; MPAA Rating: NR; producer: Michael Carreras; Image Entertainment (Hammer Films & and America's Lippert Studios); 1953)-in B&W

"A minor curio sci-fi fantasy."
Reviewed by Dennis Schwartz
A minor curio sci-fi fantasy helmed by horror pic maven Terence Fisher("Dracula"/"The Mummy"/"Blackout") at an infuriatingly mournful pace, but was intriguing enough to please this viewer. Its slight but offbeat story is based on a radio play by Charles Eric Maine. It was a program lifted from the popular British radio serial of the same name, Spaceways. This was the first sci-fi film made by Hammer Films.
In England, at Deanfield, a classified top secret government space exploration center, a group of dedicated patriotic scientists work under guard on rocket systems to launch Britain's first satellite. Marital tensions arise in the close surroundings. The hard-working American scientist, Dr. Stephen Mitchell (Howard Duff), discovers his wife Vanessa (Cecile Chevreau) is having an affair with the scientist Dr. Philip Crenshaw (Andrew Osborn). The sci-fi film turns into a murder mystery after an unsuccessful launch and the discovery that Vanessa and Philip have disappeared. The possibility arises that their bodies were hidden in the missiles for the launch by the perturbed hubby, Dr. Mitchell. At least the investigating military intelligence detective, Dr. Smith (Alan Wheatley), thinks that's a possibility.
It gets reduced to a trite marital drama taking place in a more interesting but shuttled sci-fi background. But despite many faults in its murder plot, the low-budget, B&W shot film, is intelligently presented and Fisher manages to entertain us with authentic atmosphere and tech talk.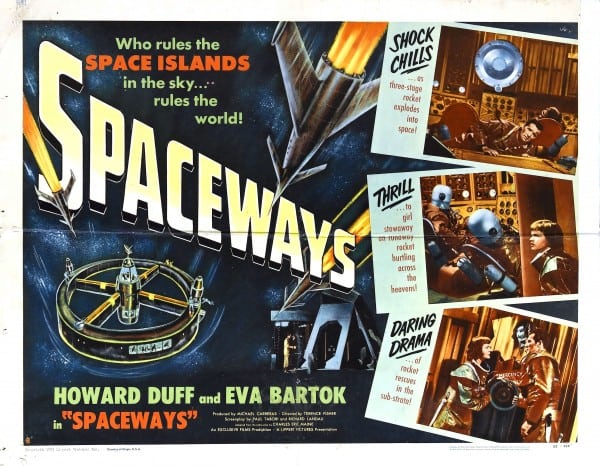 REVIEWED ON 10/2/2015 GRADE: B-