SOUND OF SILENCE, THE
(director/writer: Michael Tyburski; screenwriter: Ben Nabors/based on a short film by Tyburski & Nabors; cinematographer: Eric Lin; editor: Matthew C. Hart; music: Will Bates; cast: Peter Sarsgaard (Peter Lucian), Tony Revolori (Samuel Diaz), Rashida Jones (Ellen), Tina Benko (Dr. Elizabeth Brookings), Austin Pendleton (Robert Feinway), Bruce Altman (Harold Carlyle), Alex Karpovsky (Landon), Tracee Chimo (Hillary), Kate Lyn Sheil (Nancy), Rachel Oyama (Francesca-Sensory Associate); Runtime: 88; MPAA Rating: NR; producers: Tariq Merhab, Ben Nabors, Michael Prall, Charlie Scully, Mandy Tagger Brockey, Adi Erzoni; Group Therapy/IFC Films; 2019)
"The uniquely intellectual drama runs with a soulfully promising story as far as it can go before getting backed into a corner by a director who doesn't know how to handle it."
Reviewed by Dennis Schwartz
Michael Tyburski ("Brooklyn Farmer") directs with a quiet passion this undeveloped sci-fi mood piece, that tries to cash in on its original good idea but almost blows it by going off track and in being so slight. It's an ambitious contemplative drama and droll comedy reflecting on the quality of life in an active place like Manhattan effected by noise pollution. This film is an expanded version of the 2013 Sundance award-winning short Palimpsest, also by Tyburski & Nabors and not a reference to the popular song by Simon & Garfunkle. The uniquely intellectual drama runs with a soulfully promising story as far as it can go before getting backed into a corner by a director who doesn't know how to handle it.

You're asked to believe that there's such a profession in Manhattan as a "house tuner" and that it actually works wonders in curing such disorders as insomnia, anxiety, depression and stress for its high-powered city residents. The sensitively attuned, soft-spoken, nerd Peter Lucian (Peter Sarsgaard), living a monastic life in his bare basement apartment, identifies and fixes, with the help of homemade high-tech sound equipment, the frequencies and harmonies that drive people nuts in their apartments–mainly electrical appliances.The self-taught scientist invented this profession and relies on word of mouth to show he's made the lives of his clients better by relieving their psychological problems due to unpleasant apartment noises.
When the single Ohio transplant Ellen (Rashida Jones) moves to the city, she experiences chronic fatigue and depression. When not helped by her physician and with acupuncture administered by Nancy (Kate Lyn Sheil), Ellen's yuppie Brooklyn friends (Tracee Chimo and Alex Karpovsky) recommend seeing a "house hunter" as a last resort after reading a story in the New Yorker on Peter entitled "The Devil's in the Dischord." 
Ellen meets with Peter outside her apartment in a nearby park. He then goes in alone to do his unique room testing, even analyzing such unlikely things as faucets, radiators, appliances and outlets. It's a hoot since they all play it straight.The lonely Ellen wishes to get closer romantically to the celibate Peter, finding him an interesting New Yorker. But he yearns only for academic respectability and all his energy is devoted to publishing his paper on "Sound Patterns in the Urban Experience" in the New American Journal of Sound.

It's a pip when Peter impugns Ellen's apartment by calling it a C Minor.Trouble is after that slur and misdiagnosing her problem as a toaster problem, she backs off from wanting him and her cool attitude to him reverberates in the continuing narrative.With no chance of a romance blooming, the story never ignites any sparks as it goes fully into a misplaced subplot of  how his fickle assistant helping him catalog his findings, Samuel Diaz (Tony Revolori), is trying to steal his high concept and that his oily friend, the Columbia professor Robert Feinway (Austin Pendleton), does not support him as solidly as first thought. But the biggest blow is when academia rejects him through his disappointing encounter with a leading expert in audio science, Dr. Elizabeth Brookings (Tina Benko).Peter will then be further devastated by his dealings with the greedy corporate world. When a company called Sensory Holdings makes overtures toward funding his work, it turns into a satire on how corporate America slickly handles taking on mental therapeutic and sleep-aid programs as a business problem to make money and not as science problem. The tech companies unscrupulous head, Harold Carlyle (Bruce Altman), plans on sacrificing Peter's scientific agenda to make his program something profitable even if it's a scam.

We might feel sorry for Peter even if he's a prude and a neurotic and afraid of human contact, but at least the sad-sack believes in what he's doing at work is in accordance with real science and will be a real benefit to his clients.

The film turns dull in its time consuming subplot but regains some of its early luster with a powerful final scene reflecting on soundscapes, when a thunderstorm causes a NYC power outage and the obsessive Peter makes a magical connection with those in need of inspiration (in other words, reconnecting with the viewers). This visually stunning scene takes the film back in the direction it mistakenly went off for some ill-advised reason.Though melancholy and weakly executed, it's still compelling because it's weird enough for a right audience of indie film viewers to feel at home in. Also because the finely tuned harmonious performance by Sarsgaard just sounds good.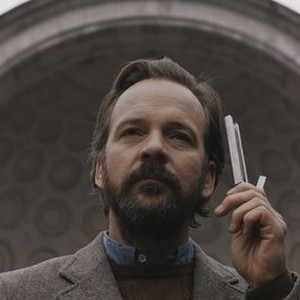 REVIEWED ON 11/21/2019 GRADE: B- https://dennisschwartzreviews.com/