SOUL MATES
(director: Mark Gantt; screenwriters: Chris Lamont, Joseph S. Russo; cinematographer: Andrew Russo; editor: Zachary Weintraub; music: Sean Murray; cast: Annie Ilonzeh (Allison), Charlie Weber (Jason), Michael Terrell Williams (Mike), Neal McDonough (Matchmaker), Kayla Eva (Liana); Runtime: 87; MPAA Rating: R; producers: Manny Halley, Rodney Turner II, William K. Baker, Yolanda Halley; A Faith Media Distribution; 2023)
"Repulsive torture-styled horror film."
Reviewed by Dennis Schwartz

Mark Gantt ("The Surrogate"/"Model Citizen") directs this repulsive torture-styled horror film, part Saw and part Escape Room. It's a downer about an evil online dating service and the pain it inflicts on its unwitting players. Writers Chris Lamont and Joseph S. Russo never get their twisted story straight in this well-crafted piece of dreck.


Strangers Allison (Annie Ilonzeh) and Jason (Charlie Weber) wake up in a dungeon bedroom shackled together in bed. They were put there after being jumped. The person responsible for that has info on their lives and is playing some kind of sicko game with them, as they are toyed with as they are dragged into different rooms and questioned on touch-screen computers as The King and I's song "Getting to Know You," innocently plays in th background.


On the video screens the frightened innocents, he's a wealthy techie and she's an ordinary girl who frowns upon online dating, are wickedly interrogated by the creepy grey-haired guy, known as the Matchmaker (Neal McDonough), whose the enigmatic villain behind this dangerous scam. It seems he runs a dating service called Soul Mates, a version of the Newlywed game, and asks them questions as if they were on a first-date. Why he does so, comes as the big reveal.

It's a trashy turn-off film with a demented story (which is not much of a story). When the couple are ushered into a ritzy Italian restaurant, we learn if they don't eat their fancy bruschetta appetizer, their innocent waitress, wearing an electric neck bracelet, will be electrocuted for their failure to do the right thing (they could have gotten that storyline from Hamas).

If anything is decent here, its the performances of the innocent couple, who try their best to follow the absurd script even when in pain.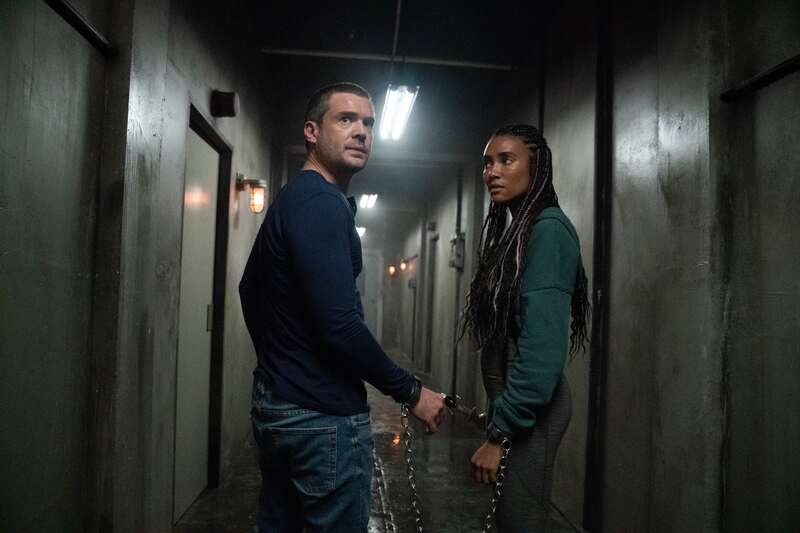 REVIEWED ON 10/31/2023  GRADE: C-