SNAKE EYES: G.I. JOE ORIGINS

(director:Robert Schwentke; screenwriters: Evan Spiliotopoulos, Anna Waterhouse, Joe Shrapnel/story by Evan Spiliotopoulos; cinematographer: Bojan Bazelli; editor: Stuart Levy; music: Martin Todsharow; cast: Henry Golding (Snake Eyes), Andrew Koji (Tommy Arashikage), Úrsula Corberó (Baroness), Samara Weaving (Scarlett), Haruka Abe (Akiko), Takehiro Hira (Kenta, Yakuza thug), Iko Uwais (Hard Master), Steven Allerick (Father), Eri Ishida (Sen), Samuel Finzi (Mr. Augustine), Max Archibald (Young Snake Eyes), Simon Chin (Hama), Peter Mensah (Blind Master); Runtime: 121; MPAA Rating: PG-13; producers; Brian Goldner, Erik Howsam, Lorenzo di Bonaventura: Paramount/MGM; 2021)

"A conventional action pic that's a blend of ninja mythology with urban crime thriller."
Reviewed by Dennis Schwartz
  
This is the third film in the G.I. Joe franchise. It's an elaborate origin film that turns out to be a boring action figure toy film joylessly directed by Robert Schwentke ("The Divergent Series: Insurgent"/"The Captain"). It's based on a story by Evan Spiliotopoulos that he co-writes with Anna Waterhouse and Joe Shrapnel. The bloodless attack sequences are a turn off, as is the plastic performance by the star Harry Golding. It plays out as a conventional action pic that's a blend of ninja mythology with urban crime thriller.

Snake Eyes as a boy (as a child played by Max Archibald, as a young man played by Harry Golding), witnessed a bad guy force his father (Steven Allerick) to roll a pair of dice to determine his fate. When he rolled two ones — snake eyes — Dad was executed and the kid vowed revenge.

 Skip to twenty years later and Snake Eye's is a lost soul as a drifter underground fighter, who still wants revenge. He'll do anything to get his Dad's killer. When promised help in this matter by a Yakuza thug, Kenta (Takehiro Hira), he works for him until told he must assassinate someone.

The doubting soul, trusting no one, is then recruited by Tommy Arashikage (Andrew Koji) to train as a warrior in a Japanese ninja clan known as the Arashikage.

Snake Eyes has a choice of assignments between working for G.I. Joe agent Scarlett (Samara Weaving) or Baroness (Ursula Corbero), an operative for the evil Cobra syndicate. He feels his best chance of getting his dad's killer
is to work for Cobra as a double agent.

The fight choreography includes swordplay, motorcycle stunts, martial arts, and an ineffective CGI set piece pitting Snake Eyes against three oversized serpents. All the fight scenes are hindered by the murky screenplay and all the clumsy executions. That it's still probably better than the other two franchise films should tell you this one is not too hot.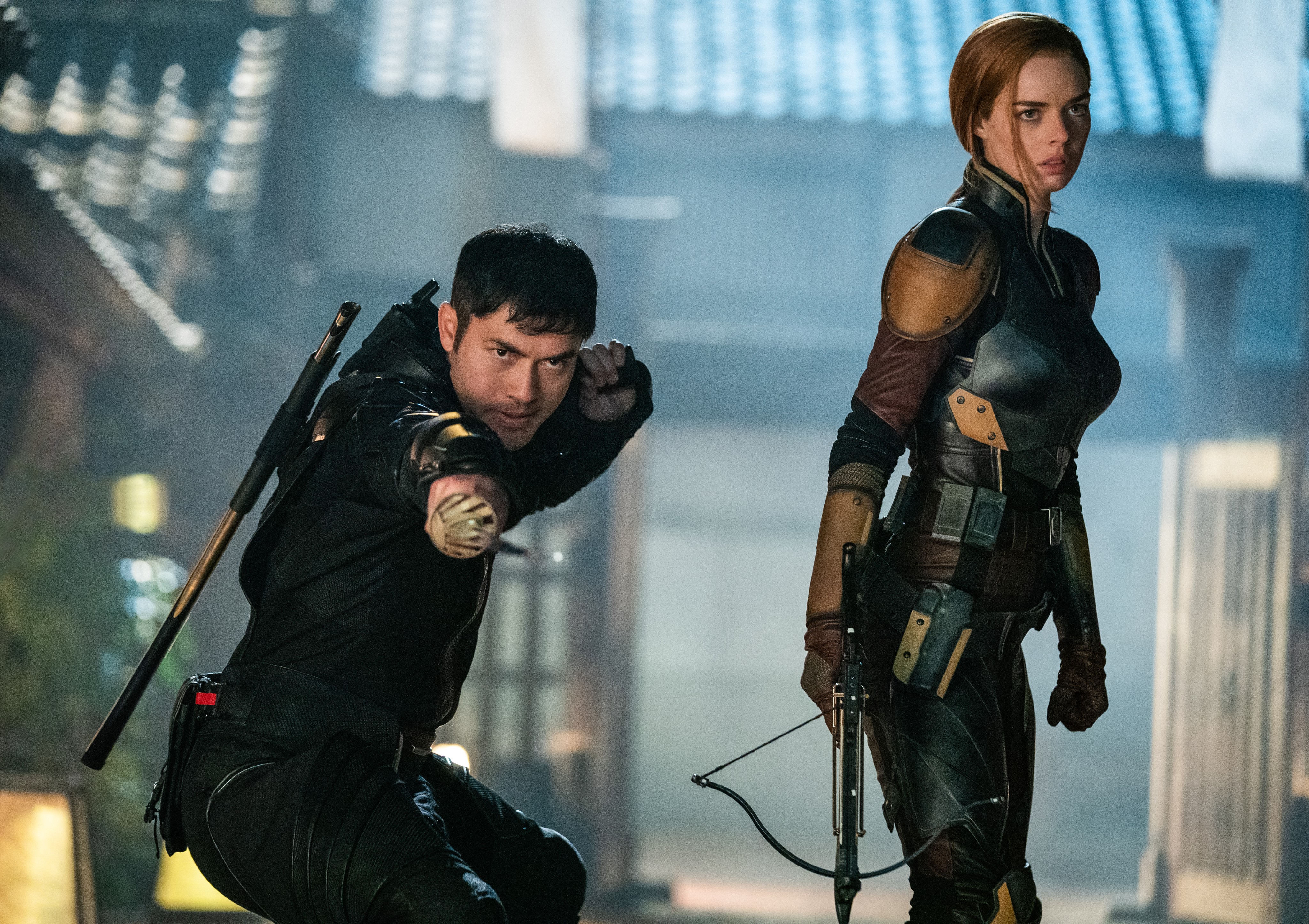 REVIEWED ON 7/28/2021 GRADE: C+