SICK
(director: John Hyams; screenwriters: Kevin Williamson/Katelyn Crabb; cinematographer: Yaron Levy; editor: Andrew Drazek; music: Nima Fakhrara; cast: Gideon Adlon (Parker Mason), Beth Million (Miri Woodlow), Dylan Sprayberry (DJ Cole), Marc Menchaka (Jason), Jane Adams (Pamela), Joel Courtney (Tyler), Chris Reid (Jeb), Duane Stephens (Mr. Lyons); Runtime: 83; MPAA Rating: R; producers: Ben Fast/Bill Block/Kevin Williamson; Miramax/streaming on Peacock; 2022)
"A nasty slasher film from the early days of the COVID period."
Reviewed by Dennis Schwartz

A nasty slasher film from the early days of the COVID period. It's adequately directed by longtime TV director John Hyams ("Alone"/"All Square") and written by Kevin Williamson (scream writer) and Katelyn Crabb. Its slCDC ick plot reminds us of Blood Shack.

It's set in April 2020 during a time 98% of America is in lockdown.

Tyler (Joel Courtney) is a college student single guy, who is attacked in his dorm room by a black-masked knife-wielding intruder, dressed in an outfit that's all-black.

The film then turns to its stars as we see that the country has two kinds of people, those who took the virus seriously and those who took it as a joke.

At a California college that's been shut down, the self-absorbed rich sorority girl Parker (Gideon Adlon, daughter of Pamela) plans to spend her free time away from the college at her family's remote mountain lake cabin, two miles from any neighbor, with her best friend Miri (Beth Million). Miri abides to all the safety rules called for by the health department while Parker goes maskless and freely parties during this same period.

Parker's on-and-off boyfriend DJ (Dylan Sprayberry) comes by without an invite, and they smoke weed.

But lurking on the grounds is a masked intruder with a hunting knife, the same psychopath who earlier attacked Tyler, now invades the vacation cabin. The body count amounts to only a handful, with one killing creatively done. And one scene that was oddly funny, where Parker is running away from her cabin after the masked-killer killed her house guests and is refused a ride by the driver (Jane Adams, indie movie legend) until she puts on a mask.

Though standard fare as a slasher pic, it's well-structured and the fear generated among the vics goes over well even if the killings never seemed to connect with the pandemic as the filmmaker imagined.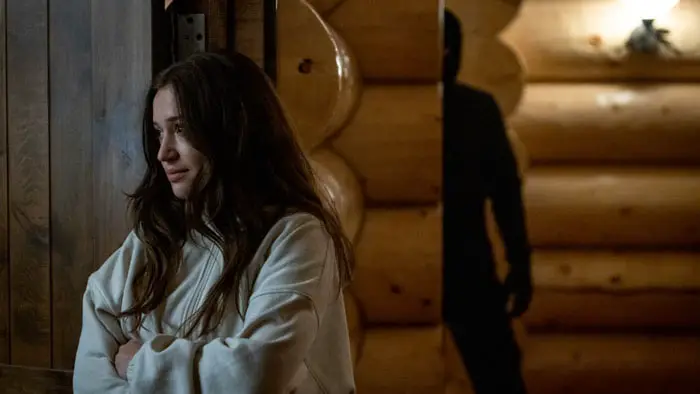 REVIEWED ON 4/19/2023 GRADE: B-